Aviation stocks soar as China restarts Vietnam group tours
Dat Nguyen
Thursday |

03/09/2023 20:00
---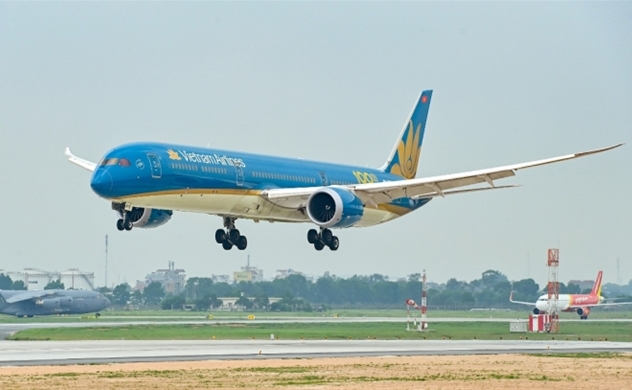 An aircraft lands at Noi Bai International Airport in Hanoi in April 2022. Photo by VnExpress/Giang Huy.
Vietnam's aviation sector saw stocks soar Thursday after China added Vietnam to the list of countries approved for outbound tours.
Vietnam Airlines' stock hit a ceiling price while that of Vietjet is set to close the third trading day in the green.
The national flag carrier, Vietnam Airlines, saw shares hit VND13,300 ($0.56) at 2:03 p.m., up 6.8% from Wednesday, and the highest value since Feb. 1.
Low-cost airline Vietjet rose 2.2% to VND100,500. It is set to close the third straight session in the green.
China, the largest source of tourism for Vietnam, has decided to resume group toursto the Southeast Asian country starting March 15.
After years of struggle due to Covid-19, Vietnam's tourism industry has been waiting anxiously for China's decision. In 2019, 5.8 million Chinese tourists arrived in Vietnam, accounting for a third of international arrivals.
China is also the top travel destination for Vietnamese tourists, with 4.5 million Vietnamese traveling to China that same year.
Also in 2019, Vietnam Airlines carried 8.1 million passengers on its routes between the two countries, making China its third largest market.
As Vietnam was not included in the list of safe destinations for Chinese tourists at the end of last month, Vietnam Airlines had to suspend its plan to expand its flight network to this market. Currently the carrier has six flights to China a week.
Other aviation stocks that went up Thursday afternoon included Airports Corporation of Vietnam, up 1.2% to a near three-week high.
Southern Airports Services posted a growth of 5.8%, and Saigon Ground Services 3.5%.
Source: VnExpress
Same category news