Authorities freeze FLC ex-chairman's asset
Pham Du
Friday |

04/15/2022 10:36
---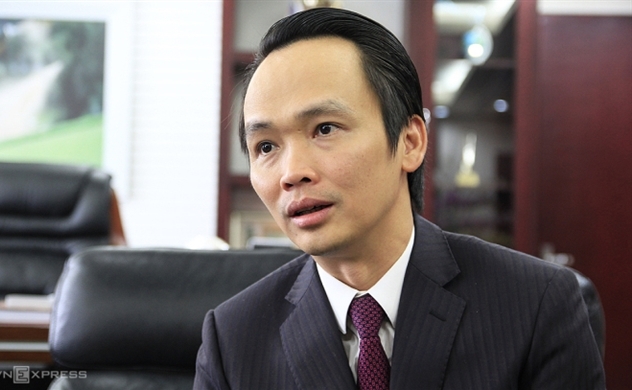 FLC ex-chairman Trinh Van Quyet. Photo by VnExpress/Anh Tu
The Ministry of Public Security has ordered localities to suspend all trading activities concerning FLC ex-chairman Trinh Van Quyet's real estate and shares after arresting him for alleged stock manipulation.
All details concerning assets held by him and his two sisters Trinh Thi Thuy and Trinh Thi Minh Hue, who have also been arrested, need to be submitted to the ministry by Friday, it stated.
The ministry had earlier required eight banks to provide transaction details of the bank accounts of Quyet and some people involved.
Quyet was arrested on March 29. Police have also arrested Huong Tran Kieu Dung, deputy chairwoman of FLC, and Nguyen Quynh Anh, CEO of BOS Securities Corp.
They alleged that from Dec. 1 last year to Jan. 10 this year, Quyet ordered leaders of BOS and other companies to use 20 stock accounts to trade back and forth FLC shares to create fake demand.
The moves pushed Quyet's prices up, and he sold 74.8 million shares to gain VND1.69 trillion ($73.8 million), of which VND530 billion was gained illegally, the security ministry revealed.
Quyet only disclosed information regarding the sale after completion, while the law requires a three-working-day notice in advance.
Quyet, 47, has a large stock portfolio and was once one of the wealthiest people on the Vietnamese stock exchange.
He began his career as a lawyer in 2001, when he and his associates established SMiC Law Office, which later became SMiC Law Firm. He also established several businesses, with the FLC brand formed in early 2010 after merging all of them.
FLC's charter capital stood at VND10.5 trillion (over $459 million) in early 2021, after more than 10 years of operation.
As of January 2022, Quyet owned over 215 million FLC shares, equivalent to approximately 30 percent, as well as tens of millions of stocks in related companies like ROS.
Source: VnExpress
Same category news