Vietnamese-born duo make world's first sneakers from residual coffee grounds
VietnamPlus
Tuesday |

10/12/2021 10:44
---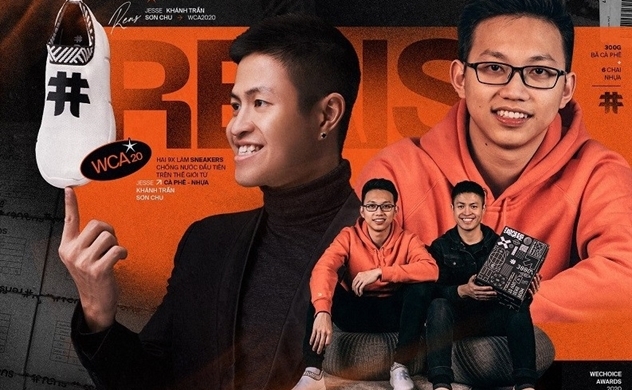 Rens Original is a sustainable fashion startup co-founded by Jesse Khanh Tran and Son Chu, two Vietnamese young men studying and living in Finland. (Photo: Rens Original)
Vietnamese-born duo, who are among youngsters committing themselves to finding innovative solutions to environmental problems, has made sneakers from coffee grounds
More and more startups nowadays are committed themselves to finding innovative solutions to environmental problems. Rens Original, a sustainable fashion startup co-founded by Jesse Khanh Tran and Son Chu, two Vietnamese young men studying and living in Finland, is one of them.

Established in 2019, Rens Original wants to reduce the impact that sneaker production has on the environment by using residual coffee grounds and recycled plastic as raw material for shoes, the first time ever that it has been done globally.

The Helsinki-based startup launched its first coffee sneakers the same year and raised over half a million USD in less than 24 hours, making it a global phenomenon.

The Vietnamese-born duo made it into Forbes's 30 Under 30 Europe and Forbes's 30 Under 30 Vietnam in the following year.

In August this year, the brand went one step further by launching a brand-new sneaker model – Rens Nomad. It only took them two hours to successfully secure new funding.

Rens Nomad, the first ever performance sneakers made from coffee grounds, feature the company's latest innovation, the SkyStep Performance Midsole. "Precision air intakes placed at the heel and sole increase ventilation and breathability while maintaining total waterproof protection," according to the brand.

Jesse Khanh Tran and Son Chu have become a role model for young people who are keen to start an entrepreneur.

Jesse Khanh Tran has been invited by the Ministry of Science and Technology and the Ministry of Foreign Affairs to join the "Supporting the National Innovation Startup Ecosystem by 2025," or Project 844, as an advisor who shares his experience and contributes ideas to support the startup ecosystem in Vietnam.
Source: VietnamPlus