Vietnamese auction floor lost ground at home
Hoang Linh Lan
Wednesday |

11/08/2023 10:16
---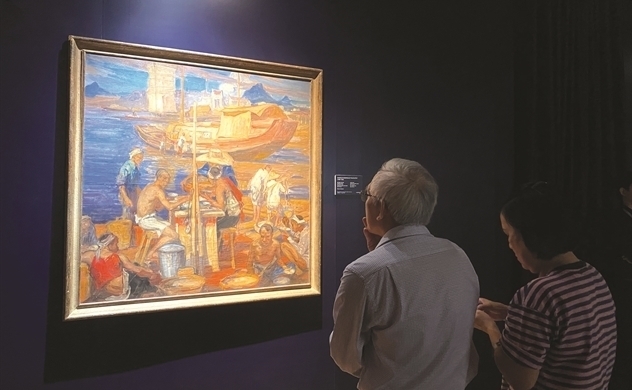 The failure of Vietnamese auction houses at home, according to researcher Ngo Kim Khoi, has three reasons. Photo: Quy Hoa.
In 2016, four auction houses appeared in the Vietnamese art market in Ho Chi Minh City and Hanoi.
However, after about 1-2 years, these auction houses all closed or were converted into galleries.
The second non-commercial exhibition of the famous auction house Sotheby's has just ended in mid-August 2023. Unlike the first exhibition, which took place a year ago, on this occasion Sotheby's also officially introduced its Managing Director in the Vietnamese market.
Vietnamese art researchers predict Sotheby's opening of an office in Ho Chi Minh City soon. Asia dominates the art market, surpassing Europe and North America, according to auction sales. Vietnam has two representatives in the top 30 artists with the highest sales in Asia in 2021: Mai Trung Thu (20th with 34 sold paintings) and Le Pho (25th with 54 sold paintings).
In Southeast Asia, although Singapore is a convergence point for many large-scale exhibitions, displays, and auctions, bringing together many artists and investors in the region, Vietnam has many first-time domestic collectors. appearing in public has shown the enormous potential of the market. Evidence for this is that Sotheby's Hong Kong opened a separate Vietnam segment in auction categories in 2018.
Christie's auction house and Millon, known for their "Emperor's Treasure" gold seal auction, are exploring the Vietnamese market and planning to open an exhibition later this year. This is due to concerns about the tax mechanism and the unclear legal corridor for the Vietnamese art market.
"To form an auction floor in accordance with international standards, there need to be many parts and components, including tax mechanisms and legal corridors, to operate," said art researcher Ngo Kim Khoi.
The Vietnamese art market is at a primitive level, with only collectors and the rise of art galleries playing a significant role. Auction houses act as intermediaries between buyers and sellers, determining the value of art through competition based on purchase price and purchasing power. The absence of reputable auction houses and art fairs can have negative consequences for the development of the art market and the overall development of the art industry.
According to a collector in Hanoi, if the infrastructure is lacking, it will be difficult for a professional game to form. Once a work of art is not assessed for originality by reputable institutions, collectors can easily lose confidence in the market. In fact, for a long time, the buying and selling of paintings between domestic collectors, or between the artist's family and the collector, has mostly taken place in the form of "buying and selling", with one's own understanding of the origin. Paint based on experience or rely on a private appraisal.
In the long run, such transactions cause the state to lose a significant amount of tax revenue when the market is not officially formed. "Although investors have long considered paintings in particular and works of art in general to be a form of asset, even an asset, Vietnamese law has not yet recognized this. Transferring a name or selling a valuable asset such as a car or real estate is many times easier than selling a painting," said a collector.
The Vietnamese art market is set to enter a new phase if three auction houses, Lac Viet, Ly Thi, Chon, and PI Auction House, successfully enter the market. These Vietnamese-owned auction houses, which have been operating since 2016, have faced challenges due to a lack of experience and a young market.
Researchers Ngo Kim Khoi argue that the failure of these auction houses is due to the lack of professional appraisers, which makes it difficult to distinguish between real and fake paintings. Additionally, these auction houses have not learned from international auction house models, leading to increased prices and competition, which can cause collectors to lose confidence.
Ultimately, the presence or absence of these auction houses does not contribute to the Vietnamese art market's promotion due to a lack of clear development direction.
Vietnam's domestic market is attracting international auction houses, attracting collectors and investors. They expect the state to establish laws to guide financial flows and regulate macro-level aspects like taxes and financial institutions. These units view paintings as collateral or have good liquidity, indicating a positive sign for the domestic market.
It is very difficult for Vietnamese auction houses to compete with reputable and long-standing auction houses. However, attracting them to Vietnam with transparent policies is an opportunity to create a healthy art market that is competitive with other countries in the region. From there, Vietnamese auction houses will have the opportunity to practice and operate more professionally.