Vietnam should act to revive inbound tourism amid sluggish growth: business execs
Hong Ngan - N.An - N.Binh
Friday |

11/17/2023 15:28
---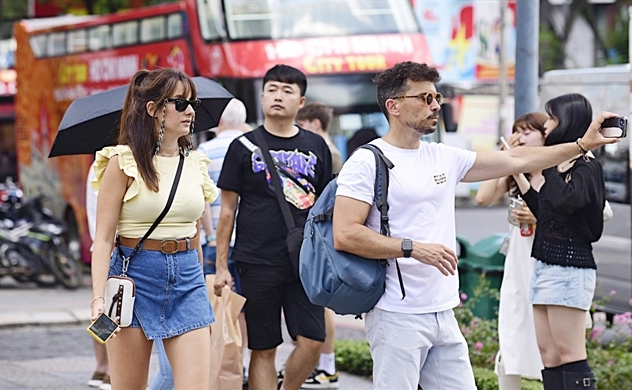 Vietnam should consider allocating much more funding to serve tourism promotion campaigns to woo international tourists. Photo by Tuoi Tre News.
Vietnam needs to take into account a number of solutions to quickly remove bottlenecks in the international tourism sector, including expanding its visa waiver program, developing new travel products and services.
The national teleconference discussing measures to develop Vietnamese tourism fast and sustainably was chaired by Prime Minister Pham Minh Chinh.
Speaking at the event, PM Chinh asked the Ministry of Culture, Sports, and Tourism to send him a master tourism zoning plan for the 2021-30 period, with a vision toward 2045.
During the January-October period, the number of international visitors to Vietnam reached some 10 million, equivalent to 69 percent of the pre-pandemic level in 2019.
Vu The Binh, chairman of the Vietnam Tourism Association, said that the country remained less attractive to international tourists. He suggested that the national tourism authority should revise its tourism promotion campaigns and make proper changes.
The number of tourism promotion events held overseas remained modest. The country missed many global travel trade shows or failed to actively promote the image of Vietnamese tourism while joining similar travel fairs, Binh said.
Nguyen Thi Phuong Thao, board chairwoman at Vietnam's Sovico Group, which provides products and services in finance-banking, aviation, asset management, real estate, and energy, expressed her concern over many Vietnamese destinations being hit with poor sales.
Dozens of thousands of hotel rooms, entertainment and restaurant services on Phu Quoc Island off southern Kien Giang Province and multiple beach destinations in central Vietnam, such as Hue, Da Nang, Nha Trang, have been dampened by poor demand, Thao said.
Nguyen Thai Hoai Anh, vice-general director at Vietnamese conglomerate Sun Group, said Vietnam should consider allocating much more funding to serve tourism promotion campaigns.
Besides, the Vietnamese government should extend a list of countries that are unilaterally exempted from visas to enter Vietnam, especially visitors with higher average spending and a tendency to stay longer from Australia, Canada, the U.S., EU countries, and some Middle East nations, the Sun Group representative added.
Nguyen Quoc Ky, chairman at Vietravel Holdings, suggested the national tourism authority should set a higher target of welcoming 18-20 million international tourist arrivals in 2024, compared to this year's target of 12-14 million arrivals.
"Setting a bigger goal will motivate us to come up with more breakthrough solutions and policies to boost tourism growth," Ky elaborated.
Since the Law on Immigration came into effect on August 15 this year, roughly 5.6 million foreigners had entered Vietnam as of November 14, up 1.8-fold against 2022, said Luong Tam Quang, Deputy Minister of Public Security.
Of the total, 85 percent entered Vietnam for tourism purposes, while the rest came to the country to do business, work, visit relatives, or study.
Source: Tuoi Tre News
Same category news