Second-hand clothing shops a favorite in Ho Chi Minh City given economic downturn
Thanh Ha - Nhat Xuan
Wednesday |

05/17/2023 15:20
---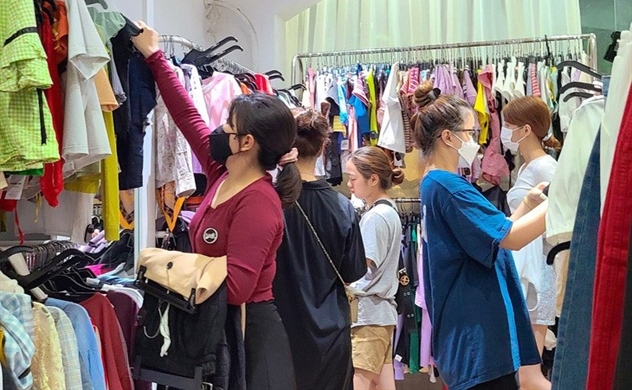 Young consumers shop at a second-hand clothing store on Nguyen Gia Tri Street in Binh Thanh District, Ho Chi Minh City. Photo by N.Xuan /Tuoi Tre.
Second-hand clothing shops in Ho Chi Minh City have seen their business results thriving as local consumers have tightened their budgets considering economic difficulties.
In particular, crowds of customers are seen during the operation time of Give Away, a second-hand clothing shop in Binh Thanh District, which is contrary to the gloomy situation at fashion stalls at traditional markets.
Two cashiers and three sales clerks busily serve customers to try on clothes, arrange products, and prepare bills.
Customers sometimes have to queue up to try on clothes or make payments.
Products at the shop are priced at VND30,000-150,000 (US$1.3-6.4) each. They remain new and diversified, so they are preferred by the young.
Holding five T-shirts and three dresses in her arms, Vu Thu Huong, a 23-year-old office worker, said she wanted to buy clothes for her upcoming trip to Da Lat, a popular tourist destination in the Central Highlands province of Lam Dong.
Huong added that she began using second-hand outfits half a year ago.
"I think of used clothing when I want to wear beautiful clothes despite falling salary and allowances," Huong said.
"I am easily fed up with clothes, while new clothing is expensive and hand-me-downs are beautiful and special."
Buying old clothes helps increase their life cycle and protect the environment, so she does not feel embarrassed, she added.
Similarly, another office worker in Go Vap District named Linh Chi said most of her clothes are second-hand, except for socks and underwear.
"The cost-saving choice helps me have more beautiful clothes," Chi said.
She also sells her unused items to earn money while reducing the discharge of fashion waste into the environment.
At Labb shop, which is 500 meters from Give Away, fitting rooms are also filled.
Customers have to line up for three to five minutes for their turns.
The shop offers items of Vietnamese brands, which are 80-90 percent new and cost VND30,000-120,000 ($1.3-5.1) apiece.
It can sell 300-400 items on each peak day, said Nguyen Thuy Chau, the owner of Labb.
"As the summer travel season is coming, the shopping and beauty care demands are increasing, resulting in a 20-percent rise in the shop's sales," Chau shared.
Bustling online second-hand clothing shopping
Second-hand clothing passing groups on social media and e-commerce platforms also attract hundreds of thousands of members.
Nguyen Thanh Hai, a 25-year-old resident in Binh Thanh District, have bought items from online shops instead of visiting bricks-and-mortar shops.
"Each item costs only VND50,000-100,000 [$2.1-4.3]. I have almost switched to pre-owned outfits," Hai said.
The purchasing power on Cho Tot, a leading recommerce platform in Vietnam, inched up in the first months of the year.
In particular, the number of users seeking second-hand items grew 13.1 percent over the final quarter of last year.
Consumers often seek mid-end products, said Hoang Thi Minh Ngoc, strategy and growth director of Cho Tot.
They prioritize money for necessities and has a low demand for promotion programs for unnecessary products.
They have been open-minded about second-hand clothes in recent years, Ngoc said.
Amid the current economic difficulties, the use of hand-me-downs helps households save costs and cover their other needs, she remarked.
Source: Tuoi Tre News
Same category news