Publishers compete to buy copyright of bestselling books
Tinh Le
Wednesday |

04/27/2022 10:54
---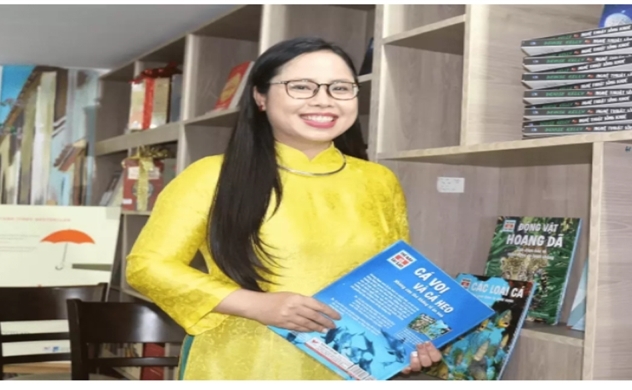 Thu Trang of Tan Viet Books
Stiff competition among publishers exists to buy the copyright of books, especially best-sellers.
Xuan Hong, a respected translator, said at a workshop on the copyright of foreign books held recently on the occasion of the 2022 World Book and Copyright Day that the people of his generation mostly read Russian, French and Chinese books. Now, young people have many more choices. 
"Bookstores are big and beautiful with a wide range of books, including copyrighted books from many countries. This is good news. The problem is whether readers spend money to buy and read the books," he said. 
Every foreign book, when published in Vietnam, has to go through the following steps: copyright purchase, translation, proofreading, licensing, printing and distribution. Hong said the variety of books in the market is due to the stiff competition among publishers. 
"I'm not involved in the negotiation for copyright purchase, but I know that what is behind the books that people can read now is the very stiff competition. And the price publishers have to pay to obtain the copyright is very high," he said. 
Most recently, publishers competed for three novels of Dan Brown, including Lost symbol, Inferno, and Origin. Up to eight publishers competed to obtain the right to translate Origin, and the winner has to satisfy many requirements. 
"But it is the competition that makes publishers acknowledge valuable works and want the books to reach Vietnamese readers. This is really good news," he said. 
Tuan Anh, who spent 20 years working for Sinh Vien Viet Nam and Hoa Hoc Tro, which bought  copyright to publish books in Vietnam, said it is very risky and nerve wracking negotiating for book copyrights. 
Some books published in Vietnam have 20,000 copies printed each time. But there also books that cannot be published though the copyright has been bought.
"There is a fine line between success and failure," he said.  
Thu Trang from Tan Viet Books said buying the copyright is difficult as no one can be sure that the books will be favored in Vietnam, even though the books are bestsellers in the world market. 
Publishers follow the 20-80 principle, which means that 20 percent of revenue from bestsellers will make up for the loss of the remaining 80 percent of books. Trang likes books about arts and movies, but this segment is risky. However, she still tries to buy the copyright for these books because she wants to enrich people's bookcases.
Source: vietnamnet
Same category news