Minimalist beauty care trend on the rise
Le Phan
Wednesday |

09/06/2023 13:17
---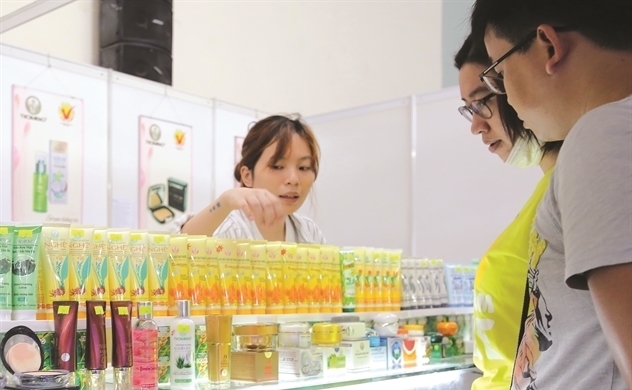 Although it is the trend of the future, creating minimalist beauty products is not simple. Photo: Quy Hoa.
In response to the shifting demands of consumers, cosmetic manufacturers have had to alter their business plans.
As minimalist beauty becomes a trend, people are rapidly forgetting the 77–49 skincare routines that take hours every day. Since 2022, the skin care business has seen a growth in demand for effective, focused skincare from Generation Z. According to Mirror, Gen Z buys presents for themselves 51 times a year, spending an average of $828 every year. 
Approximately 37% pamper themselves by spending on skin care products, spa services, cosmetics, and jewelry.
Since 5 years ago, this trend has prospered during and after the COVID-19 pandemic. Many people's skin improved throughout the pandemic owing to staying inside and not wearing makeup. That behavior continues today. "Integrated products reduce beauty steps to 3 or 2 per day. That gives them more time for other things, says Mr. Tran Thanh Hai, Personal Care Branch Manager, Chemical Materials Industry, DKSH Vietnam.
Notably, minimalist beauty contributes to sustainability by encouraging less shopping and consumption. This is also a simple, time-saving skin care method. That is also the reason why this new trend stirs up the cosmetics industry globally.
About 90% of people are concerned and feel natural beauty components are healthy for them and the environment. In which 60% of shoppers want natural items and are prepared to pay extra. Organic, vegan, animal-free, and upcycled indicators are also important. According to DKSH, this figure is 30% and rising in Vietnam.
Environmental awareness has affected customers' behavior, said Mr. Hai. "Beauty products benefit users, the environment, and future generations. Beauty must also be responsible."
Minimalist beauty saves customers time, money, and the environment, but it also saves manufacturers operational and manufacturing expenses. export, store, and minimize environmental emissions.
In addition to natural components, today's beauty products fulfill formula stability and microbiota safety norms. Responsible, non-tested animal products... Many manufacturers, from budget to luxury, have reduced packaging, tags, and ingredient bottles. biodegradable or recyclable...
Despite being the future trend, minimalist cosmetic products are difficult to make. Manufacturers don't only blend materials to make multifunctional products. They must invest in innovative manufacturing technologies and extensive research to assure user safety and efficiency. This is a significant beauty business problem.
Dr. Cynthia Bailey, President and Founder of DrBaileySkinCare.com, told Nylon that although many minimalist beauty products claim to provide natural-looking effects or be easy to apply, their formula is not simple. This explains why most minimalist beauty products in Vietnam are imported.
The world's largest cosmetic chemical companies also struggle to adapt manufacturing technologies and commercial strategies to aesthetic trends. Kline's study found that Johnson & Johnson, Unilever, and Estée Lauder barely met one-third of their sales targets.
The advantage belongs to the new brands and more timely adaptation. Kopari, Youth to People, and Beauty Counter have increased sales by triple digits in recent years. "Opportunities are divided equally between brands big and small," said Franca Zanovello, CEO of Zanovello Consultants.
In anticipation of this trend, more than 5 years ago, DKSH gathered experts in many fields such as market research, marketing, dermatology, cosmetic chemistry... to establish new formulas at 16 research and development centers in the personal care industry globally.
Mr. Natale Capri, General Director of Chemical Materials Industry, member of the Board of Directors of DKSH Group, said that thanks to the timely transition and smooth coordination between research and development centers globally and in other countries. In addition, DKSH has launched product lines that catch up with market needs, and at the same time "educate" the market. One of the effective ways to reach consumers, according to DKSH, is through the annual beauty shows organized by this unit.
Mr. Capri assessed that the Vietnamese beauty market is dynamic and has the same growth rate as Southeast Asian countries, if not the region's leader. He believes that the dynamism and enthusiasm of Vietnamese people will help create new trends.
Same category news