Matsuo Tomoyuki farms buckwheat in Vietnam and exports to Japan
Hoang Huyen
Thursday |

08/31/2023 16:27
---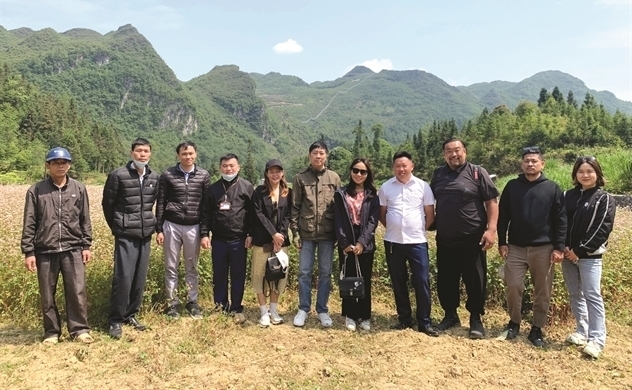 Mr. Matsuo Tomoyuki (3rd from right) with staff and local authorities survey buckwheat fields in Dong Van, Ha Giang in 2022.
Falling in love with Vietnamese buckwheat, Matsuo Tomoyuki diligently brought this product to his home country.
In March 3023, the Japan-Vietnam Food Association (JVGA) presented 63 Vietnamese items to the International Food Industry Exhibition in Tokyo. It's hard to know that Matsuo Tomoyuki is the man behind this achievement.
Matsuo, the organizer of JVGA, has a great affection for the culture, people, and food in Vietnam. He started with buckwheat, a plant with minimal economic worth, and soba, a popular Japanese noodle dish.
Every year, Japan imports roughly 100,000 tons of buckwheat seeds from China. This plant is also prevalent in Vietnam's hilly northwestern region. However, since tourists only use the buckwheat to make wine and feed animals, it is of little economic significance to the locals. But for Matsuo, this is an undiscovered gold mine.
Arriving in Vietnam in 2013 after visiting the US and Singapore to look for investment opportunities, Matsuo set up a business in Binh Duong at the suggestion of a friend. "We have pretty similar family backgrounds. Your grandfather is a golf course owner; my grandfather works as a bank manager. As the next generation, the success of our family puts pressure on us to go further. But the business environment in Japan is no longer what it used to be," recalled Matsuo.
Being passionate about cuisine, Matsuo did not hesitate to accept the invitation to open a food court serving Vietnamese people with a scale of 600 permanent guests and 600 visiting guests. The challenge for Matsuo is that the price for each meal is only VND 30,000, but it must be Japanese style. He immediately thought of soba noodles, a famous specialty of his homeland, because it is easy to combine with native Vietnamese ingredients and easily imports ingredients from China to optimize costs.
Matsuo unintentionally witnessed large vistas of buckwheat blossom fields while ordering. Matsuo took his motorcycle to Ha Giang in early 2014 on the advice of a Japanese professor in search of raw minerals. Matsuo recognized that buckwheat in Ha Giang is a pure breed after seeing it with his own eyes in Pho Cao, Dong Van, and from his childhood days living with his grandmother in Nagano, Japan's buckwheat capital. Matsuo said with delight that the challenging challenge had been solved.
During trips to the northern mountains, Matsuo found that Cao Bang, Bac Kan, and Lao Cai all have buckwheat, but only buckwheat in Ha Giang, with its unique climate and soil conditions, produces seeds with the highest quality. Matsuo calculated that if Ha Giang can grow 500–600 tons of seeds to export to Japan, people's lives here will be stable and change a lot. Therefore, Matsuo drove over the cat-ear rocks to work with the Ha Giang government, suggesting the export of buckwheat to Japan. Compared to corn and rice, Matsuo's proposal was so new that no one believed it to be true. Everything stood still.
Undeterred by the experience of a media company executive in Japan, Matsuo decided to bring a Japanese-style soba shop with Vietnamese prices out of Binh Duong under a chain model. Thanks to the new way of doing things, this chain has achieved success in Ho Chi Minh City, Hanoi, and Da Nang.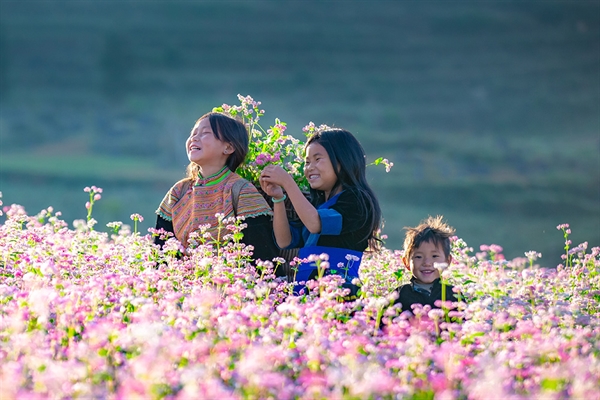 Photo: danangxanh.com
When things gradually stabilized, he opened another soba noodle shop in Ha Giang. Matsuo printed 1,000 flyers, introduced himself, talked about buckwheat and soba noodles, and clearly needed employees. He brought leaflets to schools everywhere in Ha Giang, but there was no response. Matsuo printed another 1,000 leaflets, another 1,000 more—just a few emails, two or three phone calls—and everything fell into place. Matsuo changed the approach strategy.
"I went to meet people one by one and asked if they wanted to work at a noodle shop. So I recruited staff," Matsuo recalled. At the shop, he went directly to the kitchen to pass the recipe to the chef. After a while, he rotated employees everywhere there were stores. Matsuo said this approach makes both sides trust each other, support each other, and understand the value of the work being done.
Not only is Matsuo looking for staff for the noodle shop, but he also rents land from Ha Giang people for 3-5 months per year; the rent is 4 million VND per ha. He hired local people to plant and take care of the buckwheat fields until harvest day. The efforts of 200 employees and local farmers brought back the first bumper crop of buckwheat. In 2021, all 50 tons of seeds were exported to Japan. Matsuo's target is 300 tons. "What I want is to change the business model so that not only Ha Giang but other provinces and cities that are suitable for growing buckwheat can apply my model for development," he said.
He said he considers Vietnam his second home. He spent more time in Vietnam than in Japan. The love of Vietnam and Vietnamese products in Matsuo grows with each trip.
"I realized that Vietnam has too many rare and unique ingredients. In Ha Giang alone, in addition to buckwheat, there are other farm products. Each locality has typical products that Japan does not have. What makes me most excited is going to remote places and discovering special products to enrich my collection and introduce them to everyone," he said.
Matsuo founded JVGA in early 2020 to enable agricultural, product production, commerce and sales, and cultural and gastronomic interactions between the two nations. This organization is working on a project named 110VJ.LOVE (the number 110 refers to a combination of 63 provinces and cities in Vietnam and 47 provinces and cities in Japan).
As a result, the organization will choose a product and build up an online sales network in each Vietnamese and Japanese province and city. Each product is presented with a backstory, including topics such as quality, farming, processing, culture, and local attractions. The number of 110 goods will be changed every six months or less.
Matsuo said this approach not only promotes trade and cultural exchange between the two countries but also affirms to consumers that Vietnamese products are fully comparable to Japanese products.