Jewelry firm opens mini supermarket to support pandemic-hit citizens
Bich Phuong
Friday |

07/02/2021 16:10
---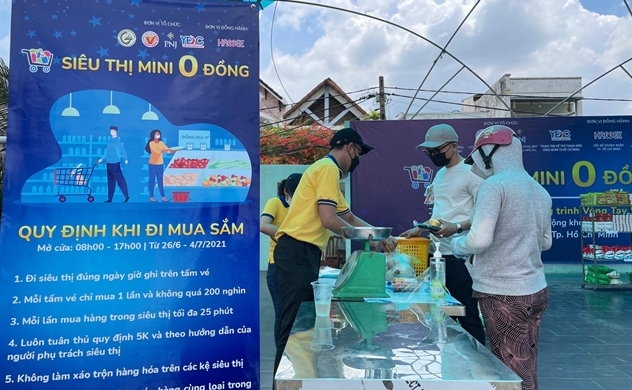 Phu Nhuan Jewelry JSC has launched a campaign, in which the "0 dong" mini supermarket is the first meaningful activity opened on weekend in Thu Duc City.
The mini supermarket that offer foods to pandemic-hit people in the locality was part of the "Vong Tay Viet" campaign which was implemented under the coordination between PNJ and the Department of Industry and Trade of Ho Chi Minh City, the Association of Vietnam High-Quality Goods Enterprises, the Youth Workers Support Center, Women Entrepreneurs Association of HCMC and Young Entrepreneurs Association.
The mini supermarket offers more than 60 items of necessities, food, medical supplies such as sugar, milk, rice, eggs, cooking oil, fish sauce, noodles, fresh vegetables, and fruits,…
Each family will receive 3 tickets (worth 200,000 VND/ticket) to buy goods. More than 200 households in Hiep Binh Phuoc area received the first tickets for the first "0 dong" mini supermarket. The supermarket opens from 8 am to 17 pm every day, so they can buy goods at different time frames in many days to ensure social distancing.
"The "0 dong" mini supermarket under the "Vong Tay Viet" campaign has brought small warm gifts to the poor workers in Ho Chi Minh City, supporting them with material as well as spiritual life. We hope that these small things can help people here temporarily forget the worry of food and money during the difficult epidemic," said Chairwoman of PNJ Cao Thi Ngoc Dung.
Through this activity, the company would like to offer not only material gifts but also trust and motivation to difficult workers in the city to overcome this difficult period.
The mini supermarket initiated by PNJ has been supported by groups and individuals at PNJ company as well as other organizations, enterprises, and many benefactors.
Same category news