In Vietnam's Da Nang, locals send cash, food as lockdown hits city's poorest
SCMP | Zoe Osborne
Wednesday |

08/19/2020 20:18
---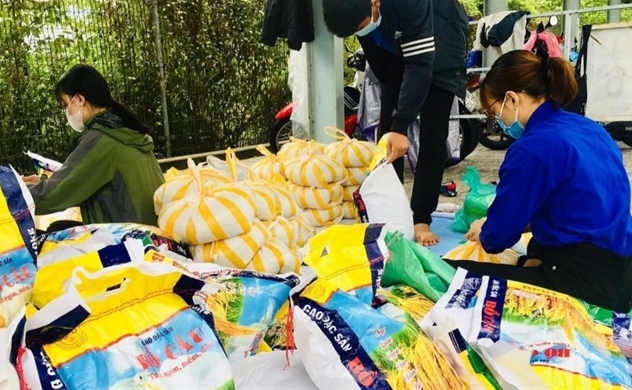 Volunteers from Vietnamese organisation Karma Waters Charitable Association organise food donations for the needy. Photo: Handout
Months after Vietnam saw no local cases, a new outbreak in Da Nang has sent people back indoors, with many unable to afford food and rent
When Vietnam went over three months without recording new local cases, people were hopeful that the country was returning to pre-pandemic normalcy.
Many had lost their jobs and businesses took a hit as the government announced 
coronavirusstrictsocial distancing measures, shut its borders, and launched a centralised quarantine system to curb community transmission.
Parts of the country began to reopen from May as the measures took effect, but a 
new wave of infections that hit the central city of Da Nang in July has sent people back indoors, with health workers overloaded and many locals again under financial strain.
The second virus wave – which has seen more than 470 cases linked to the Da Nang cluster – has prompted organisations, locals and entrepreneurs to carry out grass roots initiatives, such as food distribution and mental wellness activities, to support struggling residents in Da Nang and elsewhere.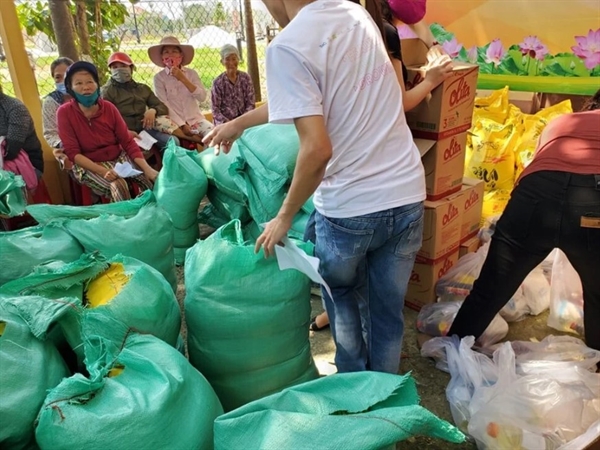 Struggling families in Hoi An, Vietnam, turn up to receive care packages. Photo: Kim Le Sambolec
Kim Le Sambolec, an Australian-Vietnamese business owner, has been providing care packages to families in Hoi An, Quang Nam Province.
"Hoi An is majority tourist-based, and so without any tourists coming here, [many] people lost their jobs," she said.
People have been relying on government assistance, charities and individuals like her for their essentials.
"I source items from suppliers willing to give items needed at cost price," Kim said. "[Then] I ask for help to divide the items into packs to easily give to each family coming to collect."
The Ministry of Labour – Invalids and Social Affairs and Children's Hope in Action (CHIA), a Quang Nam NGO, distribute vouchers to people who have registered to receive help, who then come to collect care packages.
"Hundreds of people turn up," Kim said.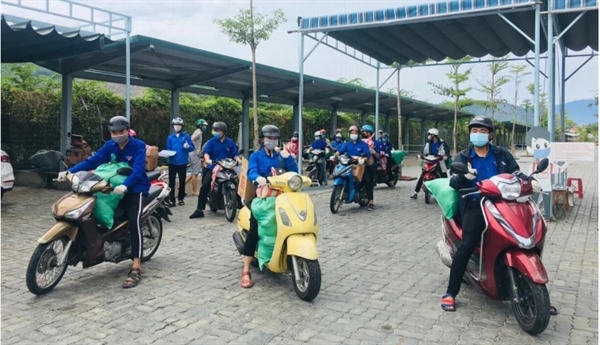 Volunteers from the Karma Waters Charitable Association deliver food packs for the needy. Photo: Handout
Grace Nguyen, co-founder of the Karma Waters Charitable Association in Hoi An, said she had seen a rise in students running out of funds for food and rent. Many cannot return home due to travel restrictions.
Nguyen and her sister, Trang Nguyen, run a programme to financially support students from Duy Tan University, where Trang works, and are expanding the programme to other universities.
One of their beneficiaries said he had lost his job and was living off instant noodles in the dormitory where he lived.
Managers at the dorm hired a company to deliver subsidised meals as students were banned from going out, but he could not afford the food.
"In the dormitory you're not allowed to cook. You only can eat instant noodles or you have to go out to eat," Nguyen said. "[The student said]: 'during the lockdown, so for two weeks already … I have been eating instant noodles, it really makes me sick, but I'm not allowed to go outside."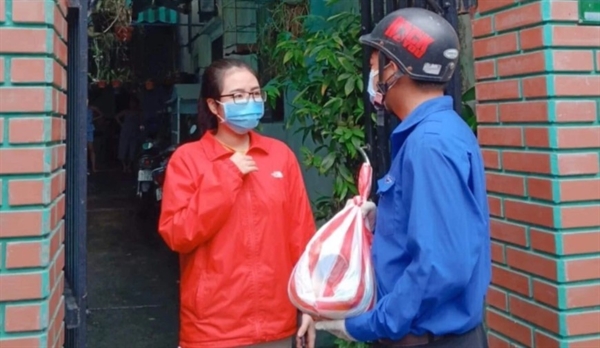 A volunteer from Karma Waters Charitable Association delivers a food pack in Vietnam. Photo: Handout
Another issue during lockdown is the strain on residents' mental health.
Expat Ethan Levy, based in Da Nang, established Dork Dancing in June to promote mental wellness through freestyle dance.
"It's especially relevant during this difficult time in lockdown," he said. "Something as lighthearted and simple as dancing has gone a long way."
Levy used to hold dance sessions at the beach but is now running them online. People need to move, get out and socialise to feel good, "so we do what we can, moving and socialising within limits".
The initiative has branched out in other areas, including Dork Meetups, which allows people to explore their mental health and wellness journeys. A third programme, Dork Art, is in the works.
Dork Meetups founder Mily Carroll said that "sometimes the silence of our internal existence can become deafening" for the weeks at home during social distancing. Dork Meetups create a safe space for people to face their inner selves.
Meanwhile, Vietnam's new outbreak has overwhelmed many hospitals in Da Nang.
According to Ho Ngoc Thanh, a restaurant owner and long-time volunteer in Da Nang, many hospitals have been put into periodic phases of lockdown as infections broke out among patients and workers. This has put a strain on their staff and resources.
The city has just converted a sport centre to a field hospital holding 500 beds, which received its first Covid patients on August 12. It is the second facility designed to ease the pressure on Da Nang's health care system.
Vietnam's Ministry of Health has also sent top medical staff from other parts of the country to support Da Nang.
On top of that, there are grass roots groups providing food and care packages for hospital staff.
Kim, the Hoi An businesswoman, sends packages to clinics, hospitals and quarantine facilities. Her packages include essentials for hospital workers, including hand sanitiser, sanitary packs and instant noodles.
"[We send] packaged food so they can eat it late at night, because these hospital staff are working around the clock on call," she said.
Members of a Da Nang pickup truck enthusiasts club deliver food packs to hospitals. Photo: Vinh Tranh
Ho Ngoc Thanh, the restaurant owner and volunteer, belongs to a pickup truck enthusiasts club, and has been volunteering with members to transport medical supplies and source food for hospitals and struggling communities in Da Nang, Quang Nam and Quang Tri Provinces.
Thanh and another local, Vinh Tran, raise donations and the club helps to transport them.
According to Thanh, the demand on hospital canteens has quadrupled through the new outbreak.
"Before, the staff would go to work in the morning, go home for lunch and then return to work at 1pm before going home at 5pm," he said.
"When Covid happened, everyone had to stay inside the hospital and quarantine," he said.
They are not equipped to cook staff three meals a day, and the hospitals are struggling to cope.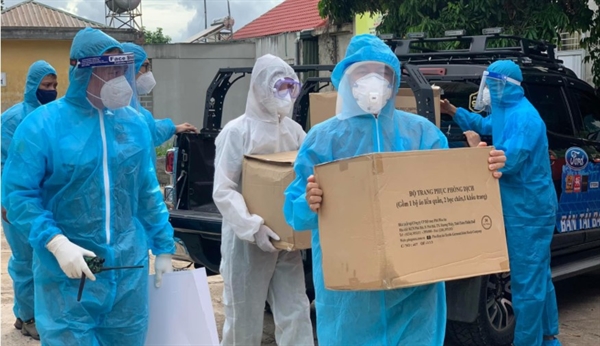 Volunteers deliver supplies to hospitals amid a second coronavirus wave in Vietnam. Photo: Vinh Tranh
Thanh said he does not feel nervous about his work, despite the danger of working in high-risk areas, as he and his team wear personal protective equipment.
"If Covid-19 [is eliminated] then my friends and family will not be infected … and all the city will be safer, which is better for all," he said. "That's why I'm doing this for the city."
Source: SCMP