Immerse in the greatest sunshine season in Phu Quoc Island
Bich Phuong
Friday |

10/23/2020 14:00
---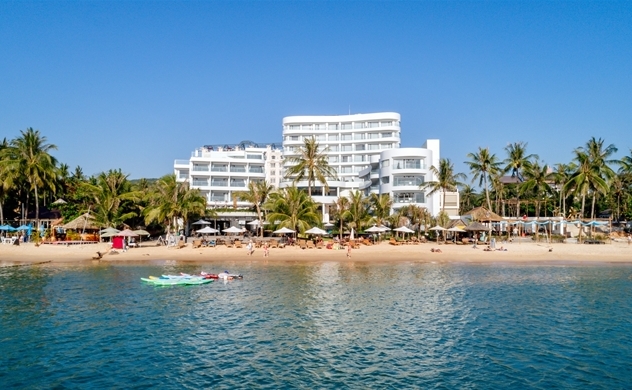 Photo: Sunset Beach Resort & Spa
Phu Quoc island has changed its into the greatest season with golden sunshine, blue sea, fresh nature and the wind bringing "aftertaste" of the sea. It brings tourists a real paradise.
Phu Quoc island is hidden with lots of attractions, a paradise fullfilled with magical sunlight amidst the green coconut trees and stretching fine white sand. There are several beautiful resorts in Phu Quoc. And Sunset Beach Resort & Spa will be a great choice.
Sunset Beach Resort & Spa is located in the center of Duong Dong town, next to Bai Truong - one of the most beautiful beaches in Phu Quoc, created from the inspiration of ocean waves bringing the boat out to the big sea.
All 118 rooms at the resort have modern, sophisticated style and classy service, creating a "complete experience" vacation. There are many room types with sea views, visitors will have moments of rest, maximum relaxation and immerse in the magical purple sunset falling on the horizon.
Not only possessing the ultimate resort space, Sunset Beach Resort & Spa also offers a tasty culinary journey, bringing your taste buds through the quintessence of Vietnamese cuisine and delicate European flavors with talented hands of professional chefs at Soleil Fusion restaurant.
With a special menu from the chef of Soleil Fusion restaurant, you will have romantic moments with your beloved one enjoying the most exquisite and attractive dishes, sipping a glass of sweet wine and immersed in the sun scene "changes to a new shirt" from bright yellow to crimson.
The resort's beautiful private beach is also a place to record laughter and happy moments for family, friends and relatives.
Sunset Beach Resort & Spa's indoor and outdoor infinity pool offers immersive experiences with panoramic sea views and the majestic natural space of Phu Quoc island.Sunset Beach Bar & Restaurant is not only an attractive entertainment destination, but also a place to fully admire the romantic scenery of the most beautiful and beautiful sunset in Phu Quoc.
Completely relaxing with special treatments, sauna, steam bath at Sunset Spa or recharge at the resort's modernly equipped gym will be the perfect choice after a long day of exploring "new land" in Phu Quoc island.Completely handcrafted with all the devotion by "witches concoction" at Sunset Beach Bar & Restaurant - Top 1 night entertainment service and restaurant in Phu Quoc on TripAdvisor, you could enjoy cocktails with unique flavors, awaken the taste buds and open up new stories in the vibrant and classy music space with special art performances.
Experience a luxurious vacation at Sunset Beach Resort & Spa, welcome the sun in Phu Quoc with the special package "Phu Quoc Oi!" very attractive in November, only from VND3,400,000 for 02 guests.
In November 2020, visitors will have the opportunity to enjoy attractive offers from only VND3,400,000 for 01 Deluxe Ocean Panorama room with 02 nights of vacation and 01 VND 800,000 cash voucher to experience all services at Soleil Fusion Restaurant and Sunset Beach Bar & Restaurant, free buffet breakfast for 02 guests, free surcharge for children under 6 years old, free scheduled airport shuttle of the resort and many other amenities.