Expats see business opportunity while getting pandemic "stuck" in Vietnam
Xuan Thinh
Tuesday |

01/12/2021 15:41
---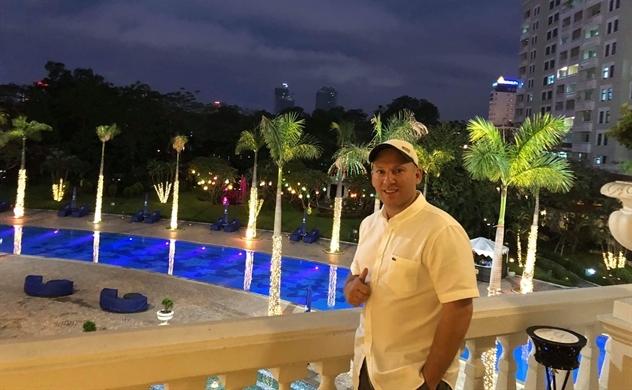 Steve Csikos is seen while staying in Hanoi. Photo: Steve
Getting "stuck" in Vietnam is great. IPO advisor from Wall Street - Steve Csikos shared the same feeling with several other expats who stayed in Vietnam during in the pandemic-hit year.
Stuck? I feel it is like winning the lottery. Best thing is to be here this winter!
Steve Csikos, an IPO expert from Wall Street answered a question for foreigners who stayed in Vietnam during the past year due to COVID-19 pandemic.  
Business and pleasure brought him to Vietnam though her prefers Central Eastern European culture and lifestyle. But getting away from cold European winters was a priority in his life, and Vietnam was the top choice while visiting South-East Asia for holidays and business. Steve came to Vietnam to visit an oversea Vietnamese CEO.
He arrived a few months before the pandemic, so he could see and enjoy how the New Year was celebrated at Phu Quoc Island, where plenty of European tourists enjoyed the week long Episode music festival at the beach.
Steve said he loves the weather in Southern Vietnam, friendly locals, and the great variety of delicious food.
Even during the pandemic time, all of the stuffs in Vietnam made his stay as pleasant as possible for anyone living overseas with strict COVID restriction could only envy, he wrote to Vietnam Business Review.  
Lockdowns are never fun no matter where you are but Vietnam is one of the few that successfully managed to shorten necessary restrictions, he said.
The 'better to be safe than sorry' policy not only made Vietnam to remain one of the safest countries on earth but it has also provided a solid ground for such rapid economic growth that any country could only dream of during pandemic times.
Sharing opinion of Steve Csikos, another expat with Facebook account named Lamael 'miley Wiley' Petrus said: "It's hard not to laugh at the thousands of expats that fled back to their countries and called us stupid for staying in Asia when it all started, and now begging to come back. But I do feel for them."
"This is the safest place I could have been. I'm fortunate to still be here with a great job and no lockdowns or anything of the sort. This place is amazing."
Meanswhile, Bobbie Darker wrote: "STUCK? No no no my friend- Living well, happy and very very grateful! Spent nearly half my life here and love it!"
"I'm so lucky. What a choice, arrived a week before borders closed and have had a normal life and a job since. Really feel for people stuck at home," wrote Davy Prendergast.
Bob Sauler was in a worse situation. He wished he was one of the expats "stuck" in Vietnam. He had to move to Turkey from Da Lat when Covid locked the border.
"I've had to move to Turkey while waiting for Vietnam to open and have existed in perpetual lockdowns in both countries living on dwindling savings while if I was inside Vietnam I could be working right now and could have been working almost the whole time. I'm a performer and that isn't allowed in most places around the world. Vietnam is one of the very few places where life is actually alive, Bob wrote.
Paul Oeuvre, another expat in Vietnam, said he is ready for another 20 years stuck in Vietnam. "Frankly, it's cool here. Better than anywhere else in the world."
Like the above expats, Steve Csikos saw huge business opportunity in Vietnam, where the economic growth offers great real estate investment opportunities for those seeking "higher returns in Asia versus the US or EU where tourism and hotel industries can't be expected to grow any time soon."
"Manufacturing and employment are also considered high while most of the world struggles with bankruptcy in many industries." Steve expressed his optimistic view for Vietnam economic growth.  
Steve, who had over 10 years experience working in strategic roles with leading Manhattan, NYC-based investment banking firms, supplying capital market services for rapidly growing Asian and European SME companies in the United States, strongly believes that Vietnam is the true champion of 2020 and he came to Vietnam to seek to participate in these exciting developments.
The senior corporate advisor, business angel and SME mentor is putting in time to educate his US and EU investment network of publicly traded companies about these potentials.
"Vietnam provides a great alternative to end the 'Made in China' era! In fact, as the UK is leaving the EU, some European banks are now considering moving their investments to Vietnam and I am happy to introduce qualifying local projects and partners to them."
In Vietnam, Steve Csikos, who advises IPO investors and supplies off-market opportunities, plans to offer education and partners for their overseas expansion capital scenarios by going public on US and/or European stock exchanges. He is planning an IPO Conference in Hanoi this year.
"Listing overseas could be a great way to further monetize on potential overseas market entry and on the growing trust Vietnam enjoys by now from the international investment community known for seeking new ways for profits and exit strategies."
Same category news