Chef Sam Aisbett presents Akuna at the Le Méridien Saigon
Bich Phuong
Thursday |

08/31/2023 22:15
---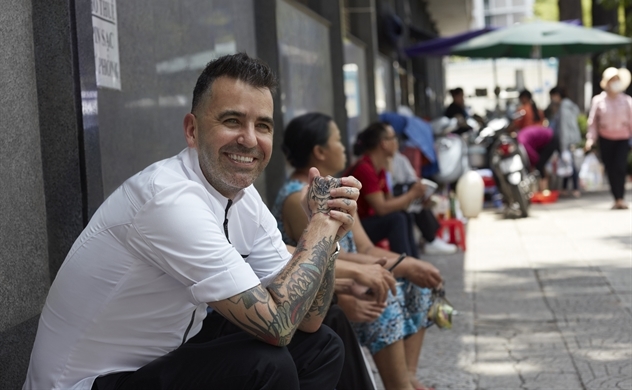 Chef Sam Aisbett. Photo: Le Méridien Saigon
Reinventing the fine dining experience with a no-rules style, Sam Aisbett opens Akuna at the Le Méridien Saigon.
After a three-year hiatus, multi-awarded chef Sam Aisbett unveils Akuna at the Le Méridien Saigon. Essaying his evolution as a chef and restaurateur, Akuna is an experience where Sam bends the norms and draws inspiration from the people and produce of Vietnam.
Akuna sees Sam leading a fine dining kitchen again and taking on the reins to present an experience that reflects his evolution and culinary journey, with an intentional nod to the people and produce of Vietnam.
Sam was last seen running the kitchens at the modern Australian restaurant Whitegrass at the historic Chijmes in Singapore. Under his leadership, It became one of the most prominent restaurants in Singapore's gastronomic landscape, earning a placement on Asia's 50 Best Restaurants list, and two consecutive MICHELIN Star wins.
At Akuna, he presents his most 'authentic cooking' yet. Empowered with the freedom to showcase food he loves and believes in, he actively decides against limiting the menus to the boundaries of a region or style.
Drawing inspiration from creative possibilities found in Vietnam's culinary landscape, expect indigenous ingredients, local herbs and spices, rare flavours and nuances from his adoptive home — many of which find their way to a fine dining menu for the very first time. Most importantly, guests can expect to taste an amalgamation of Sam's experiences as a chef, restaurateur, traveller and produce enthusiast.
Sam acknowledges that Australia forms the backbone of his culinary ethos, with its emphasis on provenance, produce quality and cultural diversity in flavours. Akuna will have intentional Japanese influences as well, reflective of his time spent in the kitchens of Tetsuya Wakuda's eponymous restaurant in Sydney.
He also plans to bend the rules with combinations and atypical presentations to actively steer away from fine dining norms. "Where does it say you cannot serve a dish with two forks," says Sam. At Akuna, diners should expect the unexpected, and get better acquainted with the unique brand of Chef Sam Aisbett.
"I want the world to see the culinary possibilities I see in Vietnam. In my time here I have tasted, sampled and cooked with amazing ingredients and met some highly skilled chefs – from street food vendors to seasoned professionals," he said.
"Vietnam is magical and manic, it has opened my eyes to toying with familiarity and allowed me to put a spin on things. At Akuna, I will be cooking and serving what truly makes me happy. Guests will see the real me in the food, and I cannot wait for that."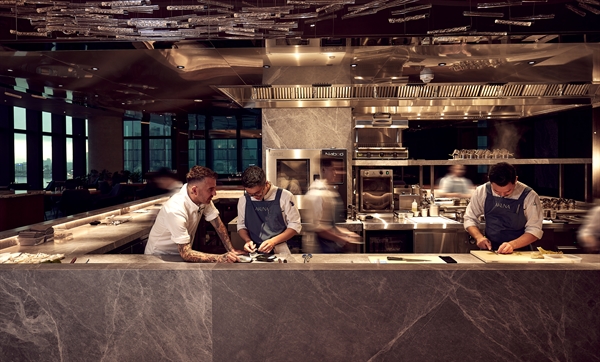 Culinary team of Akuna. Photo: Le Méridien Saigon
Sam's creativity is evident in dishes such as the amuse-bouche of Fresh Milk Curd With Snap Peas And Buffalo Tail Consommé, a dish recreated to mimic the silken texture of Vietnamese soybean curd. Here local cow's milk from Phu Dong is set into a silky curd and glides down with a savoury broth flavoured with browned local buffalo tails and the textural playfulness of white radish and sugar snap peas.
The Smoked Australian Free Range Pork Jowl is one where you can expect the unexpected with flavours of the land, earth and sea. 8-hour slow-cooked and cold-smoked pork jowl is served with "scallop banh cuon" a play on the Vietnamese rice noodle sheets, house-made instead with pureed scallops. The dish contains a bounty that includes Jade Tiger abalone, kohlrabi, silken tofu, termite mushrooms, shaved cabbage stems, cowslip flowers and lotus seeds, and all of this comes together with a poured-over broth enhanced with dried sandworms or 'sa sung', which is reminiscent of the umami Northern Vietnamese pho.
Sam's passion for presenting local produce in novel ways is reflected in the Shaved Saltwater Crocodile With Steamed Garlic Custard And Rose Heart Radish, where various parts of a locally-farmed saltwater crocodile are used—the tongue, sliced and poached, form the backbone of the dish and the tail which is used to form a sauce which is further enhanced with drops of crocodile fat. Clever textural nuances in this dish are also the use of the coastal herb agretti as a garnish, as well as Japanese Tonburi which is a seed also known as land caviar for its similar texture.
A signature dessert at Akuna is also inspired by a childhood taste memory. Cherry, Chocolate, Coconut, and Macadamia. With the Cherry Ripe – an Aussie chocolate bar icon – as inspiration, Sam creates a textural extravaganza of coconut cream, chocolate and macadamia cake, a cherry compote of three kinds of cherries and a delightful chocolate crumble topped with frozen chocolate and cherry rocks and more crisp bits on flavours reminiscent of cherries and chocolate.
At Akuna, guests can enhance their dining experience by picking from a wine list that features a variety of natural, organic and iconic wine bottles. These have been hand-picked by a Head Sommelier Huyen Ha and feature both great varietals as well as vintages from around the world. Akuna's beverage programme also features a curated list of cocktails that are reinvented classics. Here as well, experience local Vietnamese herbs, spices and rare flavours that complement Australian spirits to enhance Akuna's menus.
Akuna's cuisine is spearheaded by an impressively diverse culinary team. Sam's brigade includes a chef who worked with him at Quay Restaurant in Sydney, as well as Desiderio Bevilaqua, his former GM at Whitegrass who will be managing operations at Akuna. He also has experienced chefs from South Korea, Vietnam, Germany and France, who will be joining forces with him – all of whom will contribute towards pushing and blurring the boundaries in the Akuna experience.
Situated in Ho Chi Minh City's exhilarating District 1 area, Le Meridien Saigon provides illuminating experiences within its one-of-a-kind property, which is a destination in itself.
They offer a variety of F&B experiences including all-day dining restaurants, a bar and a nightclub. Their newest opening, the fine dining establishment Akuna, is all set to further cement their position as the discerning travellers' destination of choice.
Akuna opens its doors on 19 July 2023, with five (VND 3,000,000++/ US$ 128++) and seven-course (VND 3,900,000++/ US$165++ ) tasting menus for dinner. 
For reservations, go to website: http://akunarestaurant.com