AFC and Hung Thinh Land announce sponsorship deal
Bich Phuong
Thursday |

10/07/2021 21:39
---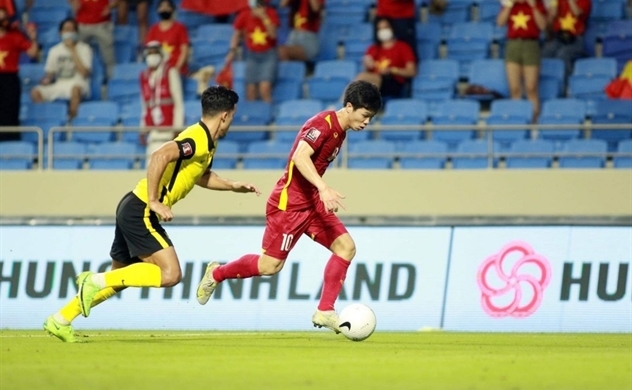 Fans are looking forward to thrilling matches from Vietnam. Photo: Tuan Huu
The Asian Football Confederation has today announced a new partnership with Hung Thinh Land, a leading property developer in Vietnam, for the AFC Asian Qualifiers – Road to Qatar.
The global sponsorship commences immediately from matchday three of the AFC Asian Qualifiers – Road to Qatar, which will see Vietnam face China PR on neutral soil in the United Arab Emirates. The final round of the qualification for the FIFA World Cup Qatar 2022 features Asia's top 12 national teams.
Dato' Windsor John, the AFC General Secretary, said: "The AFC is delighted to welcome Hung Thinh Land as the latest partner of the AFC's ever-expanding family of reputable brands.
"Vietnam's historic qualification for the final round of the AFC Asian Qualifiers is one of the most inspiring success stories of Asian football in recent history, one which further strengthens the undeniable passion for the game in the country".
"We would like to thank Hung Thinh Land for showcasing their faith in the AFC and for recognising the value proposition of our world-class competitions to enhance the connection with fans and consumers alike."
"Following the recent unprecedented advancement of Vietnam's national football team to the final round of the AFC Asian Qualifiers, a unique opportunity has opened up for Hung Thinh Land to partner with one of Asia's most prestigious competitions," Nguyen Dinh Trung, Chairman of Hung Thinh Corporation. 
"We are excited about the opportunity to engage with fans locally and across the region, and we are proud to bring our support as a Vietnamese business to a major sports event that is consumed and enjoyed globally."
"I would like to extend a warm welcome to Hung Thinh Land, the first Official Global Supporter of the AFC Asian Qualifiers – Road to Qatar from Vietnam. Hung Thinh Land joins the AFC family of sponsors at a critical time in the Vietnam national team's World Cup qualification campaign," said Patrick Murphy, Board Member and CEO at FMA. 
"Third matchday in October 8, 2021 will offer Hung Thinh Land a first major opportunity to reach and engage fans at home and all over Asia, especially during the much-anticipated China PR vs. Vietnam fixture. The team at FMA is looking forward to working with Hung Thinh Land."