Vinfast, Be Group, Digital Bank Cake by VPBank team up to support Be drivers switching to electric vehicles
Bao Han
Friday |

09/08/2023 16:14
---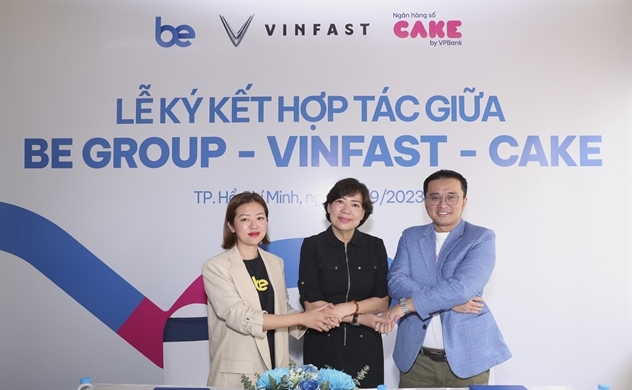 Vinfast, an EV arm of Vietnam's largest private conglomerate Vingroup, ride-hailing app Be Group, and Cake by VPBank digital bank have agreed to support Be drivers switching to electric vehicles.
Be, the on-demand multi-service consumer platform has formally signed a collaboration agreement with VinFast and the Cake by VPBank digital bank to encourage beBike drivers to migrate from fuel to electric motorcycles. The collaboration is part of an effort to further the green transformation trend. 
As a result of this cooperation, thousands of Be drivers will directly benefit from VinFast's support policies as well as have the opportunity to access optimal financial solutions from Cake by VPBank.
According to the first phase of the collaboration agreement, VinFast will assist Be drivers in moving from gasoline motorcycles to VinFast Feliz S electric motorcycles by granting a 4% discount on the quoted price for each motorcycle. Furthermore, Be drivers will benefit from all other VinFast stimulation programs in accordance with the company's general strategy.
Cake by VPBank Digital Bank offers Be drivers cutting-edge digital financing options to buy VinFast Feliz S at 0% interest. For instance, the loan application and approval process can be completed online in minutes without visiting a bank.
"The cooperation agreement of VinFast - Be Group - Cake by VPBank gives Be drivers the opportunity to own and use smart, modern, environmentally friendly electric motorbikes with optimal costs, simple and convenient procedures. This cooperation will give customers access to safe and refined transportation alternatives, contributing directly to the Government's net-zero carbon emission target by 2050," said Ms. Ho Thanh Huong, CEO of VinFast Vietnam. 
Thanks to the expertise and capabilities of the multi-service consumer platform Be, Be Group is confident in striving for higher targets in popularizing the culture of "green vehicles". 
Ms. Vu Hoang Yen - CEO of Be Group shared: "After the initial phase of collaboration, working with the GSM partner yielded a lot of positive signals and outcomes. In particular, the total number of electric taxi trips has seen steady growth. It now represents 6% of all car-trips in Be (compared to an average 2 – 5 per cent EV trip contribution of other ride-hailing platforms). Be hopes and expects to promote the plan to achieve the greater objective of popularizing the practice of utilizing green cars for Be drivers and encouraging the growth of green transportation across the country. Be will keep introducing products and services that are more suited to the demands of Vietnamese consumers in the future."
Observations about the newly signed cooperation agreement, Mr. Nguyen Huu Quang - CEO of Cake by VPBank, stated: "The program brings fast, creative credit financing solutions, with the highest benefits for drivers. In particular, the trio-party cooperation between Cake - Be - VinFast will open up a development strategy in all aspects between Vietnam's leading financial, technology, and manufacturing enterprises to promote comprehensive digital services, popularize electric vehicles, and foster environmental protection. In the near future, Cake will keep working with VinFast to research the best financing options  for customers  looking to acquire electric automobiles."