Vietnam among world's top 10 cheapest countries for EV charging
Xuan Thinh
Thursday |

09/14/2023 11:34
---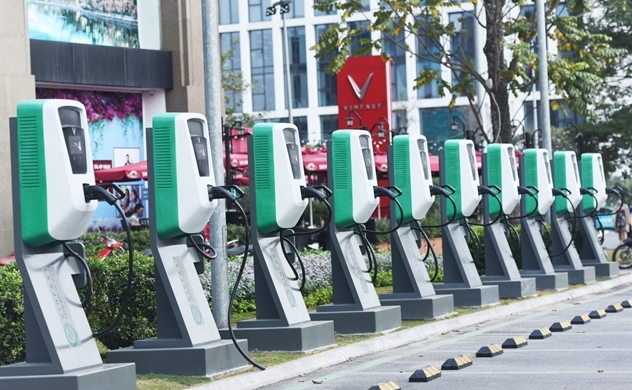 Photo: Vinfast
Vietnam is fifth on the list of the 10 cheapest countries to charge an electric car, according to a survey by Australia's Compare the Market.
The study looked at how much it costs to charge the newest Hyundai Kona EV in 50 countries around the world. The countries were ranked by how much energy they used per 100 kilometers of driving. It also figured out how much you could save on gas if you drove an EV instead of a car with an internal combustion engine.
According to the study, Vietnamese people who own EVs only spend AUD1.55, or about $1, for every 100 kilometers of driving.
The cheapest place to fully charge an EV is Argentina, where it costs $0.70. Malaysia and India are next on the list, with prices of $0.97 and $1.42, respectively.
The countries with the most expensive EV charging costs were picked to be Denmark and Italy, where a full charge for the same type of EV costs $11.26.
In 2022, only 2.9% of vehicles in Vietnam were electric. The rate was expected to hit 13.6% by 2030 because both local and foreign companies would increase their production.
BMI Research, a part of Fitch Solutions, predicts that sales of electric vehicles will grow by an average of 25.8% per year from 2023 to 2032. By 2032, they could reach up to 65,000 units, which is a nearly eight-fold increase from 2022.
From 2023 to 2032, when VinFast, Wuling HongGuang, Skoda, and Hyundai EVs will be made, the market will grow quickly, the report said.
The EV charge network in Vietnam is growing, and even though VinFast is the leader in this field right now, there will be more competitors starting this year.
Foxconn had said before that it would spend $250 million to build a plant in Vietnam that would charge electric vehicles and make parts for them. This would help the charging business grow more quickly.
Source: VGP