Lava Digital and Dailymotion announce exclusive ads sales partnership in Vietnam
Khanh Minh
Friday |

12/10/2021 12:30
---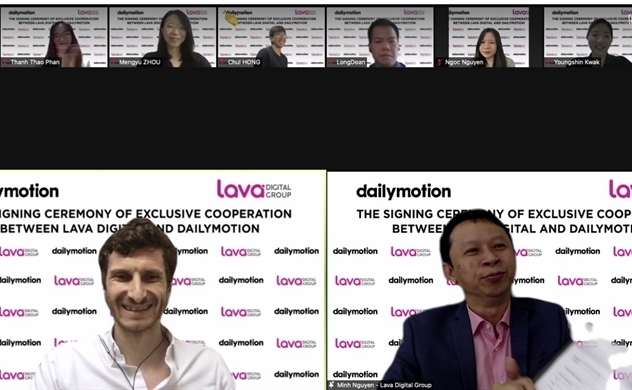 Mr. Antoine Nazaret, Dailymotion's VP of Asia Pacific and Mr. Nguyen Ha Duc Minh CEO of Lava Digital Group were seen in an online meeting. Photo: Lava Digital Group
Lava Digital and Dailymotion concluded an agreement to announce the appointment of Lava Digital as Dailymotion's exclusive official advertising sales in Vietnam.
The partnership marks Dailymotion's commitment to expansion in the Vietnamese market. 
Through Lava Digital Group, a provider of digital media services and marketing technology with more than 10 years of experience, Dailymotion is now able to deliver a world-class digital video platform and an extensive library of premium publisher content, an innovative player technology and a customizable advertising format in a rapidly developing market, like Vietnam.
Dailymotion's innovative custom ad formats let advertisers' campaigns stand out and capture the audience's attention while publishers can monetize their videos on and offsite with the platform's player solution and revenue sharing program.
Lava Digital will also recommend its local Vietnamese publisher network Dailymotion's video solution, representing the French tech company non-exclusively for relevant onboarding processes and premium video inventory diversification.
In doing so, the partnership strengthens advertisers' confidence to associate with verified publisher content and reach their desired target audience in a brand-safe environment.
"Vietnam is a challenging market for us, and we're thrilled to collaborate with Lava Digital as our exclusive ad sales partner, making further inroads into a growing market like Vietnam, " stated Antoine Nazaret, Dailymotion's VP of Asia Pacific.
"It is our honor to be the exclusive partner of Daily Motion in Vietnam. We believe that our expertise and customer network in digital media for the last 10 years can help bring Daily Motion's Vietnam business to a new level, giving our customers better access to enterprise-type video platforms for content and ad monetization," said Minh Nguyen, Founder & CEO of Lava Digital Group. 
Lava Digital Group is the top 3 independent digital agency, providing digital media services and marketing technology solutions in Vietnam with 10-year experience. Not only does Lava supply a full range of online advertising services on a diversity of channels/platforms such as programmatic, Spotify (exclusive partner) and TikTok, but also about Influencer, SMS, and Wifi Marketing.
While Dailymotion is a global video streaming service that connects over 350 million entertainment-seekers to their personal world of news and entertainment. Built on an intuitive player, a smart algorithm with carefully curated video recommendations, Dailymotion is the one-stop destination for experiencing content from our premium video publishers from all over the world.
Dailymotion is owned by Vivendi and headquartered in Paris with offices in New York and Singapore.