VN's foreign exchange reserves reach US$92.43 billion
Viet Nam News
Monday |

03/13/2023 14:40
---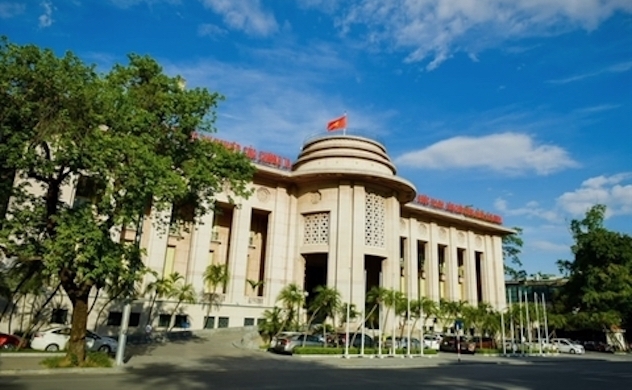 Headquarters of the State Bank of Vietnam. The SBV has resumed to buy the US dollar since January 2023. Photo by sbv.gov.vn.
The State Bank of Vietnam (SBV) last month bought about US$0.65 billion, bringing Viet Nam's foreign exchange reserves to $92.43 billion, according to the BSC Securities Company (BSC).
The SBV has resumed to buy the greenback since January 2023, BSC said.
According to BSC, the exchange rate pressure has returned recently. The value of the dollar increased in February when the US inflation data in January increased higher than expected. The market therefore expected the US Federal Reserve (Fed) to further tighten monetary policy. Accordingly, the Vietnamese dong weakened against the US dollar.
BSC forecast the USD/VND exchange rate by the end of 2023 might fluctuate between VND23,900 and VND24,400 per dollar.
According to BSC, the core consumer price index (CPI) rose by 5.08 per cent year-on-year in February, and is maintaining a strong uptrend. The increase in the core inflation is putting pressure on the SBV's monetary policy management.
At a regular Government meeting earlier this month, SBV's Governor Nguyen Thi Hong noted in the international financial market, the Fed's trend of increasing interest rates continued. Accordingly, central banks around the world, including Asia, were also continuing to raise interest rates.
Since the beginning of this year, there had been an additional of 36 interest rate hikes in the world, which had caused the dollar to start to appreciate again from mid-February 2023. By March 2, the USD Index was at 104.49 points, up 7.29 per cent over the same period in 2022.
The rising movement of the dollar was putting pressure on the SBV's monetary and foreign exchange policy management as it had to meet two targets of reducing the interest rate and stabilising the exchange rate. This was a challenge in the context of an open economy with fast and strong capital flows. Therefore, the Governor said it was necessary to harmonise and synchronise monetary and interest rate policies to support the stability of the monetary and foreign exchange markets.
The Governor noted the SBV would continue to closely monitor developments of the markets to manage the exchange rate flexibly and in line with the situation of domestic and foreign markets.
The domestic foreign exchange market and the exchange rate have been stable, and transactions on the foreign exchange market have been smooth to date this year. As of March 3, the dong depreciated by only 0.6 per cent against the dollar compared to the end of 2022, which was a low devaluation compared with many regional currencies.
Source: Viet Nam News
Same category news