Vietnam's fishery exports hit $4.1 billion in the first half, up 13.6%
Bich Phuong
Thursday |

07/08/2021 15:20
---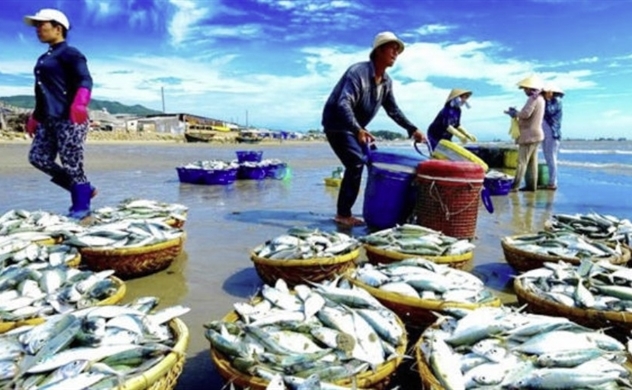 Photo: VietnamNet
Fishery exports are expected to fulfill the $8.5 billion target in 2021, after collecting more than $4 billion in the first half of this year, Ministry of Agriculture and Rural Development said.
The total fishery export was estimated at 4.1 million tonnes, an increase of 3 percent against the same period last year. Despite the pandemic, exports of many seafood products increased, such as shrimp and tra fish.
Fishing output reached nearly 2 million tons, up 1%, aquaculture output reached 2.1 million tons, up 4%. For brackish water shrimp alone, in the first 6 months of the year, brackish water shrimp production is estimated at 371,000 tons, up 12% over the same period in 2020.
Regarding pangasius, it is estimated that by the end of June 2021, the harvested output will reach 704,100 tons, up 0.9% over the same period; pangasius export turnover reached $637.9 million, up 14.7% over the same period.
Compared with the set target, the total fishery output reached 104.3%, of which, the aquaculture production reached 102.3%, the fishing output reached 106.8%; compared with the whole year plan target, the total seafood volume reached 47.6%; in which, exploitation output reached 51.9%, aquaculture production reached 44.2%.
This is a very encouraging result while the COVID-19 pandemic continued to develop complicatedly, affecting life, economy, and society, disrupting global supply chains, and directly affecting production and export activities.
According to Deputy Minister of Agriculture and Rural Development Phung Duc Tien, the fishery industry would continue to reduce the number of fishing boats and fishing output, especially inshore fishing, to conserve fishery resources and at the same time to tackle illegal, unreported and unregulated fishing to remove the EC's "yellow card" and contribute to building a sustainable seafood industry.
Fishery exports brought the country $8.6 billion last year, the ministry reported.   
Source: MARD