Vietnam's agriculture sector posts $5.2bln trade surplus despite pandemic
Khanh Minh
Tuesday |

07/28/2020 15:47
---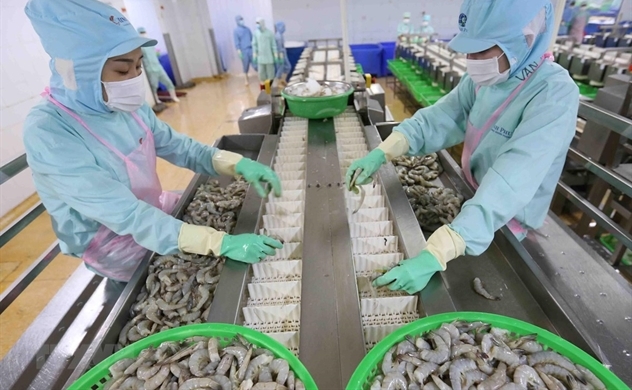 Six-month shrimp exports earned nearly $2 billion, up 12.1%. Photo: VNA
Agriculture sector reported $5.2 billion trade surplus in Jan.-June period though export value fell 2.8% from a year earlier, according to the Ministry of Agriculture and Rural Development.
The agriculture sector earned $22.3 billion from exporting farm produce and forestry and seafood products in the January – June period, while imports of such goods totaled $17.2 billion, for a trade surplus of $5.2 billion, 3.8% higher than the same period in 2019.
Export value fell 2.8% year-on-year while import value was down 4.6%.
Six items had export value in excess of $1 billion, with wood and wooden products' export at $6.5 billion, up 6.7%.
In the reported period, shrimp exports earned nearly $2 billion, up 12.1%, while tra fish export value reached $828 million, down 26.9%.
Rice, vegetables, cassava, shrimp, timber and wooden products, cinnamon and rattan have all increased in export value over the same period.
Rice exports reached $1.9 billion, up 10.9%, vegetables with $414 million, up 9.6%, cassava reached $107 million, up 101.8%. Shrimp exports earned nearly $2 billion, up 12.1%.
However, exports of some items decreased sharply including rubber at $864 million, down 19.5%, tea at $111 million, down 7.7%, pepper at $395 million, down 22.5%).
China is still the largest market of Vietnamese farm produces, with export turnover of nearly $5.4 billion, down 11.1% over the same period and accounting for 24.1% market share.
United States is the second largest market with an estimated export value at $5.2 billion, up 9.5% over the same period and accounted for 23.1% market share.
Exports to ASEAN countries reached nearly $2.3 billion, up 6.2% and accounted for 10.27% market share while exports to EU market was estimated at $2.2 billion, down 2.7% and accounting for 9.9% market share.
► Vietnam's Jan.-Jul. pledged FDI drops 6.9% to $18.82bln
Same category news
The Straits Times | Goh Sui Noi
Hot news of the day