Vietnam's 9-month GDP growth falls to 9-year low at 2.12% on pandemic
Xuan Thinh
Tuesday |

09/29/2020 11:14
---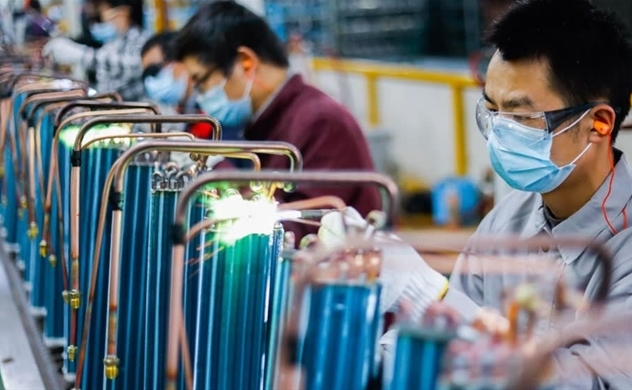 Vietnam posts 2.62% growth in third quarter. Photo: AFP/Getty Images
Economic growth in the first nine months of this year stood at 2.12 percent, a nine-year low, when the economy was hit by pandemic, according to data released by General Statistics Office.
Despite the slower growth, the office judeged this was a success of Vietnamese government which performed well in both Covid-19 pandemic prevention and economic development.
In the third quarter, the government recorded at 2.62 percent, the lowest third quarter GDP growth in the 2011-2020 period.
Vietnam reported 3.68 percent growth in the first quarter, 0.39 percent in the second quarter.
When the Covid-19 pandemic was controlled well and the economy gradually recovered, so GDP in the third quarter increased prosperously compared to the second quarter of this year.
In the reported quarter, GDP of forestry sector and fisheries grew 2.93 percent, while the industry and construction increased 2.95 percent, and service sector increased by 2.75 percent.
Being badly affected by Covid-19 pandemic, the country's economy continues to maintain growth, showing the effectiveness of the government's strategy in fighting pandemic and economic management, GSO stated.
In the first nine months, the agriculture sector recorded 1.65 percent growth, the forestry sector grew 2.02 percent, while the industry and construction sector reported 2.69 percent growth over the same period last year, much lower than the 2011-2020 period.
In the reported period, the Covid-19 pandemic seriously affected trade, services and import-export activities. The service sector achieved a nine-year low growth.
Vietnamese government has lowered 2020 growth target to 2 – 2.5 percent from 6.8 percent decided by the country's legislators early this year.
► Vietnam's 2020 economic growth seen at 2-3 percent, former GSO director says
► Vietnam Jan.-Sept. pledged FDI seen at $21.2bln, down 18.9% on pandemic