Vietnam surpasses Germany to become sixth largest trading partner of China
Khanh Minh
Friday |

01/15/2021 13:10
---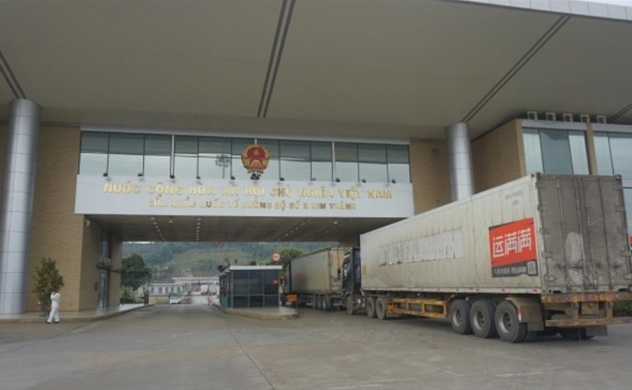 Vietnam - China bilateral trade increases 18.7% to %192 billion in 2020. Photo: nongnghiep.vn
Vietnam has surpassed Germany to become China's sixth largest trading partner, marking a positive achievement in trade relations between both sides, according to data from the General Administration of Customs of China.
With regard to the achievements recorded in trade exchanges between both sides amid the ongoing COVID-19 pandemic, co-operation between Vietnam and China can be seen as a bright spot.
There are plenty of positive results that exceeded initial expectations when the pandemic initially broke out, Dao Viet Anh, a Vietnamese trade counselor of the Vietnamese Embassy in China, told Voice of Vietnam.
Last year's two-way trade turnover reached a record high of $192.2 billion, up 18.7 percent, with the nation's export turnover to China surging by 22.4 percent, thereby allowing the country to assert itself as their largest trading partner in ASEAN, according figures compiled by the General Administration of Customs of China.
Most notably, last year saw the country consistently beat the likes of Australia, and then Germany, to become China's sixth largest trading partner globally. These encouraging achievements largely came about due to several different factors.
The drive and active participation of Government leaders, competent ministries, sectors, and localities to remove difficulties in trade co-operation and the exchange of goods between both sides which were severely hit by blocked border gates and seaports due to the impact of the COVID-19 pandemic.
The active involvement of the Government along with local agencies helped to open up trade flows, thereby greatly facilitating trade exchange activities between the two countries and allowing them to rapidly return to normal.
The complementarity in the import and export structure of both nations was fully utilised as an important premise in trade turnover as a means of growing in a sustainable manner throughout the past year.
The advantage of geographic location has favourable conditions for the transportation of goods and logistics activities between the two countries through a range of diversified types of freight transportation, including roads, waterways, railways, leading to transportation costs and journey times being greatly reduced. Despite these efforts, the impact of the COVID-19 pandemic forced freight charges to continuously increase, causing plenty of difficulties for export-import activities.
Anh described how there remains ample room for trade co-operation between the country and China moving forward providing that bilateral ties maintain stable development momentum, in spite of the effects of the pandemic in 2020. In addition to the complementarity in the commodity structure between the two countries being promoted in an effective manner, it can be said that this year will see mutual trade co-operation continue to grow and reap new achievements in terms of trade turnover.
The signing of the Comprehensive and Progressive Agreement for Trans-Pacific Partnership (CPTPP), the Europe-Vietnam Free Trade Agreement (EVFTA), and the Regional Comprehensive Economic Partnership (RCEP) Agreement can be viewed as a factor in luring large Chinese enterprises.
Indeed, many Chinese firms are keen to be involved in investment and production activities in Vietnam as a means of taking advantage of preferences in the framework of these FTAs, Anh said.
This also represents a contributory factor in promoting trade co-operation between both sides and developing sustainably, he added.
In order to effectively utilise the Chinese market, the Vietnamese trade official underscored the need for domestic enterprises to thoroughly research the needs, samples, packaging, and tastes of Chinese consumers. This is alongside import and export, quarantine, and customs clearance regulations, as a means of devising a suitable and effective access and penetration strategy for their market.
Vietnamese businesses must also seriously comply with regulations and safety standards set out by international organisations. In addition, thorough attention should be paid to the production and processing of agricultural products in line with relevant standards, such as GLOBALGAP, VIETGAP, and other food safety standards implemented by Chinese regulations. This should be done to ensure that the products of Vietnamese enterprises abide by the food safety standards and can pass their customs clearance activities.
It is therefore necessary to be proactive in becoming involved in trade promotion activities, major fairs, and exhibitions throughout the northern neighbour as a means of promoting and introducing products. This can be done in combination with market studies, and direct connection with Chinese businesses and importers.
It is also essential to develop a team of staff who are proficient in the Chinese language and knowledgeable about their culture who can perform well with regard to the task of connecting, maintaining contacts, and exchanging import-export operations with Chinese partners, Anh emphasised.
Source: VOV
Hot news of the day
Latest news