Vietnam posts $9.3bn budget deficit in 2020, higher year on year but still within limit
Vinh Tho - N.An
Monday |

06/20/2022 10:04
---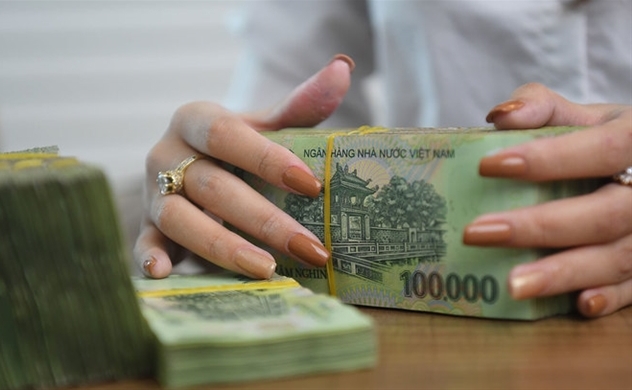 An employee counts Vietnamese banknotes at a bank in Hanoi. Photo by VnExpress/Giang Huy.
Vietnam lawmakers have passed a resolution to approve the government's overspending of about $9.3 billion in 2020, approximately 3.4 percent of the year's GDP and within the limit set by the legislature.
Total budget revenues in 2020 were more than VND1.51 quadrillion ($65 billion), approximately VND216.4 trillion ($9.3 billion) lower than the government's spending for the year, the Vietnam Government Portal cited the Ministry of Finance as reporting.
This deficit was 34 percent higher than in 2019 but far lower than the allowable level of VND368.3 trillion ($15.84 billion), or 5.41 percent of GDP, set for 2020 by the National Assembly, according to the ministry.  
Around VND213.09 trillion ($9.17 billion) of the deficit was attributed to central government spending while the rest came from local government budgets.  
Total government revenues in 2020 fell 1.8 percent short of estimates, with the majority of the shortfall attributed to land use fees accruing to only 72 percent of targets and income from state-owned companies meeting just 37 percent of expectations, according to State Auditor General Tran Sy Thanh.
Public debt in 2020 rose 6.02 percent year on year to VND3.52 quadrillion, or 55.94 percent of GDP, a rate that is high but still below the 65-percent cap set by the National Assembly, Thanh said. 
As such, the 2020 public debt per capita was VND35.1 million ($1,510), higher than both 2018 and 2019, which were VND31.69 million ($1,363) and VND33.62 million ($1,440), respectively.
In 2020, the government borrowed nearly VND436.06 trillion ($18.75 billion) to cover overspending and repay loan principals. 
Chairman of the National Assembly's Finance and Budget Committee Nguyen Phu Cuong commented that the forecasting, making, implementing, and finalizing of the state budget revenue and spending in 2020 had chronic weaknesses.
Accordingly, the proportion of central budget collection in total state budget revenue has been on a downward trend, limiting the leading role of the central coffers. 
Another contributor to the central government's miscalculations was the fact that a number of ministries and localities posted inaccurate reports of their revenue collection sources, including land use charges and natural resource mining fees, Cuong said.
For spending, the State Audit report pointed out violations in the allocation, management, and use of capital from the state budget for development investment activities, and requested that any improper spending be rejected.
The National Assembly proposed that the government take measures to overcome shortcomings in both budget revenue and expenditure, as well as continue strengthening control of overspending and public debt in order to ensure national security and macro-stability.
The legislature asked the government to clarify and handle violations by organizations and individuals in its management and use of the state budget for 2020. 
Source: Tuoi Tre News