Vietnam beats China, India to become next manufacturing hub in Asia
Luu Van Dat
Sunday |

01/17/2021 21:00
---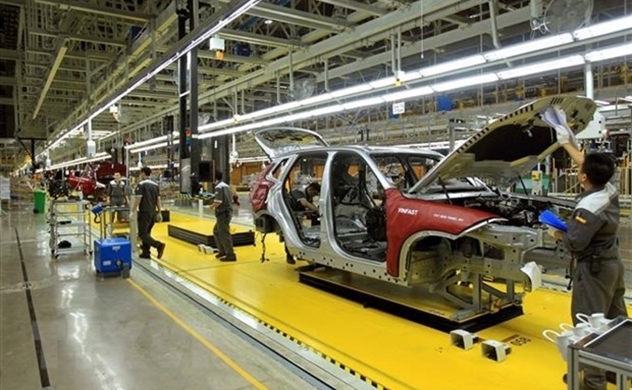 Vietnam has emerged as an attractive foreign direct investment destination in Asia by beating China and India, according to the Economist Intelligence Unit report.
The Southeast Asian nation has received increasing attention as an alternative manufacturing hub to China amid the US-China trade war. It also rise as a low-cost manufacturing base in Asian supply chains predates these more recent international tensions.
The report suggests that factors that make Vietnam better than its peers are the incentives for international firms for setting up units to manufacture hi-tech products, the pool of low-cost workers, and the proliferation of free trade agreements.
In the report, Vietnam was said to have scored more than India and China in the FDI policy. India remains behind both China and Vietnam in foreign trade and exchange controls.
According to the EIU, while Vietnam scored 6 on a scale of 10 in the FDI policy, both India and China have scored 5.5 each.
Similarly, India scored just 5.5 in foreign trade and exchange controls, while Vietnam scored 7.3 and China 6.4. As for the labour market, Vietnam's score was 5.6, against India's 5.4.
However, China here scores over both India and Vietnam with 5.7. While both Vietnam and India see a huge infrastructure deficit, New Delhi scored less than Hanoi (3 vs 3.5 out of 10).
In the labor market, Vietnam has higher score than in India. India, which has a population of 1.38 billion, has been left behind by Vietnam, which has a population of 97.34 million people.
In term of investment incentives, Vietnam is expected to continue to offer generous arrangements for international firms with incentives for investment, with the downside that local supply linkages in more advanced manufacturing will remain limited for the next decade.
Vietnam is beginning to secure vertical integration in the production of smartphones, with the largest foreign investor in this industry, Samsung, opening a research and development facility and a phone screen manufacturing plant, in addition to its existing assembly operations.
Vietnam's proliferating membership of free trade agreements represents a strong point of its trade relations, reducing export costs. There are only modest risks to this advantage, mainly in the form of trade tensions with the US.
The recent free trade agreement between Vietnam and the European Union has benefitted the country as the EU lifted 85 percent of its tariffs on Vietnamese goods in 2020. The report states the FTA's biggest gains were witnessed by footwear manufacturers in Hanoi.
Vietnam's footwear, and textile and garment industries are now well developed with advanced labour specialisation and scaled-up manufacturing operations in multiple areas throughout the country. The highest concentration is in southern Vietnam, in Ho Chi Minh City municipality and surrounding provinces.
Around 40% of exports to the EU in footwear manufacturing faced 30% tariffs, which were completely withdrawn from August 2020. The country had registered FDIs worth over $12 billion between January and April 2020.
Even amid the pandemic, in 2020 the whole country attracted $28.53 billion or 75 percent compared to the same period last year, according to Ministry of Planning and Investment.
Same category news
Hot news of the day