Vietnam aims for a GDP growth rate of more than 5% in 2023
Bich Phuong
Thursday |

11/09/2023 11:22
---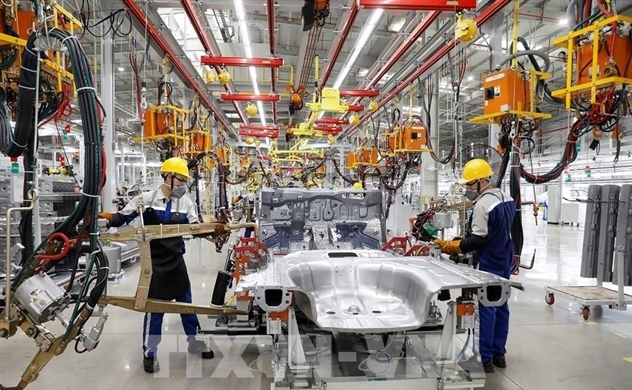 Photo: VNA/Duong Giang
The Vietnamese government is making every effort to attain a GDP growth rate of 5% in 2023, laying the groundwork for even higher growth in 2024.
Inflation, foreign investment, industrial production, budget revenue, and foreign arrivals all showed positive socio-economic performance in the first ten months of this year, which strengthened the government's resolve.
HSBC reported that Vietnam began the fourth quarter positively, with exports undergoing a gradual turnaround.
According to the bank, the country's exports increased by over 6 percent year over year in October. The evidence points to Vietnam's recovery from the global trade crisis.
Bloomberg recently stated that Vietnam, Poland, Mexico, Morocco, and Indonesia are five economic "connectors" amid a fragmenting world.
The countries mentioned earlier are perfectly positioned to capitalize on the altering dynamics of global supply networks.
For the country of Vietnam. The trend of large electronics manufacturers shifting some production lines to the country dates back almost a decade, but it has recently intensified.
The United States receives almost one-third of Vietnamese exports, whereas China is the major provider of raw materials to Vietnamese businesses, ranging from machinery to textile raw materials.
In September, Vietnam formally upgraded its relations with the United States to a comprehensive strategic partnership. The United States has declared that it will assist Vietnam in developing its fledgling semiconductor industry.
Meanwhile, according to a report published by Google, Singapore state investor Temasek Holdings, and global business consultant Bain & Company, digital payment continues to grow in Vietnam, fueled by strong government support, commercial bank investment, and the widespread popularity of QR codes.
According to the analysis, Vietnam's digital economy is predicted to increase 20 percent annually between 2023 and 2025, reaching roughly $45 billion by 2025, the fastest rate in Southeast Asia alongside the Philippines.
Source: VGP
Same category news