Trade ministry tasked with leading Vietnam negotiations for market economy status
Tri Duc
Thursday |

11/16/2023 15:27
---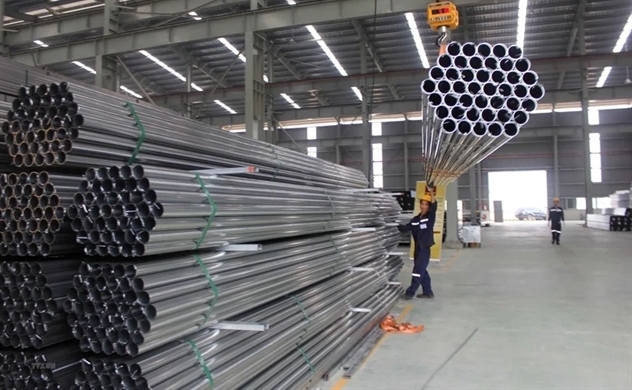 Steel, one of Vietnam's key exports, has been subjected to anti-dumping duties by the U.S. Photo courtesy of Vietnam News Agency.
The Ministry of Industry and Trade has been asked to establish a working group for cooperating with the U.S. to have Vietnam achieve "market economy" status.
According to a decision taken by Prime Minister Pham Minh Chinh, the ministry (MoIT) will coordinate with relevant ministries, sectors, and local authorities to collect information and respond to queries. It has also been tasked with processing legal and diplomatic activities.
Other tasks for the MoIT include the drafting of solutions in cooperating with the U.S.; anticipating developments and preparing draft responses; collecting opinions for offering advice in the process; and joining relevant hearings, conversations and exchanges.
The decision also requires relevant ministries, sectors, agencies to encourage Vietnamese associations and major American major importers and organizations to express opinions backing Vietnam's market economy status.
They are also asked to hold talks and collect opinions from international organizations, embassies, non-governmental organizations and international organizations like the World Bank, International Monetary Fund, and the OECD; as also urge them to support Vietnam.
The U.S. Department of Commerce (DOC) is currently processing Vietnam's request that its non-market economy status be reviewed. According to a department document dated October 30, the Vietnamese government had sent the request in September amid a changed circumstances review (CCR) of the anti-dumping duty (AD) order on raw honey exported from Vietnam to the U.S.
The government has argued that Vietnam has made changes related to the DOC's statutory criteria for evaluating a nation's market economy status. Based on the substantial information submitted by the Vietnamese government on reforms undertaken, the DOC has determined that "good cause exists to review Vietnam's status as a non-market economy". The last review was done in 2002.
The department has said that it intends to issue its preliminary decision no later than 150 days and the final results no later than 270 days after the date on which the review was initiated.
Source: The Investor
Same category news