The plunge in Vietnam's exports has bottomed out
Michael Kokalari*
Thursday |

09/14/2023 12:03
---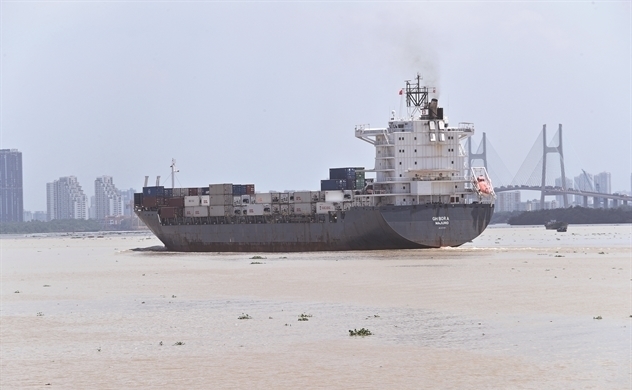 Vietnam's exports will recover and will likely help boost Vietnam's GDP growth from below 5%. Photo: TL.
Vietnam has experienced its longest export decline in more than a decade, but there are signs that Vietnamese exports will recover...
In 2023, the biggest drag on Vietnam's GDP growth has been a plunge in the demand for "Made in Vietnam" products. This year, Vietnam has suffered its longest streak of falling exports in more than a decade, with the country's manufacturing output shrinking by 1% in 7M23 since most products manufactured in Vietnam are sold abroad. 
However, there are concrete signs that Vietnam's exports, which dropped 10% yoy in 7M23, are set to recover in Q4 driven by a bottoming out of the US inventory cycle and by an acceleration in multinational firms' movement of manufacturing from China to Vietnam, which will be the subject of our next Insights report. 
We expect a full recovery in Vietnam's exports and manufacturing activity next year (back to 8-9% growth for manufacturing), which will in-turn drive a recovery in the country's GDP growth from below 5% in 2023 to 6.5% in 2024 (recent Government measures to support the country's economy, including policy rate cuts, will also support Vietnam's economic growth next year, which we discussed in this report). 
The US inventory cycle is bottoming out
The US is Vietnam's biggest export market, accounting for about one-quarter of Vietnam's total exports. But US retailers and other consumer products companies bought too many Made in Vietnam/Made in Asia products last year in anticipation of a post-COVID re-opening boom that never came. 
Instead of buying more manufactured products when COVID lockdowns lifted, US consumers splashed out on services like travel and going out to eat. To make matters worse, companies had "over ordered" products from factories in Asia in response to supply-chain issues and shortages, so the net result was that the inventories of companies like Walmart, Target, and Nike ballooned by over 20% yoy in late-2022, as can be seen below. 
US retail inventories are still up around 5% yoy, as can be seen above, but inventories of "Made in Vietnam" products like home electronics and garments are probably flat year-on-year according to our estimates. Last week, both Walmart and Target announced that their inventories are now down substantially year-on-year following aggressive efforts to reduce inventories throughout 2023. All of this links closely with Vietnam's export figures. 
The aggressive inventory reduction efforts of firms like Walmart and others drove the plunge in Vietnam's exports in H1, but that destocking is now approaching its conclusion, and Vietnam's exports to the US increased by nearly 7% month-on-month in July. 
Consequently, the year-on-year decline in Vietnam's exports to the US improved from a 26% year-on-year drop in June to a 14% yoy decline in July, which helped reduce the fall in Vietnam's total exports from 12% year-on-year in 1H23 to 2% yoy in July. 
Finally, in addition to a cyclical recovery in exports to the US, Vietnam is also benefitting from companies moving their production from China to Vietnam, which helps explain why Vietnam's exports fell 2% yoy in July versus a 15% yoy drop in China, a 16% drop in Korea, and a 10% decline in Taiwan. 
All Asian exporters should be benefiting to some degree from a de-stocking-driven export recovery, but Vietnam is the only country in Asia that is also significantly benefiting from the establishment of new factories in the country. Related to this is the fact that FDI inflows to China hit a record low in Q2.
Sustainable Export Rebound 
The improvement in Vietnam's exports will accelerate in the near future, based on reliable indicators, including: 1) The growth rate of Vietnam's imports is finally "catching up" with exports exports in July after slowing down for many previous months; 2) The decline in export orders in Vietnam improved in July; and 3) Manufacturing companies' inventories of raw materials increased in July for the first time since late 2023.
FDI enterprises seem to be ready to boost production activities in preparation for Christmas. The evidence is that companies' input raw material inventories increased for the first time since the end of 2022, according to S&P Global, and Vietnam's import and export both increased by 2% month-on-month in July.
Export recovery was driven by consumer electronics, smartphones and garments. Vietnam's exports of electronic products have increased sharply, from a 3% year-on-year decrease in June, to 28% growth in July. This is the main factor driving the export recovery. Vietnam's exports last month and helped boost Vietnam's export turnover to more than 30 billion USD for the first time this year.
Samsung just announced that although smartphone sales fell 12% year-on-year in the second quarter, it is expecting a recovery in the second half of the year, thanks to the launch of new models. new phone. Apple and Google also plan to launch important products. Although these new phone models will not be manufactured in Vietnam, many components will be manufactured in Vietnam by Foxconn, Luxshare, Goertek and other suppliers.
Finally, apparel and footwear account for nearly 20% of Vietnam's exports, and exports of these products to the US are unlikely to recover until next year because of the pace of inventory drawdowns by US retailers. for these items is slower than consumer electronics products. However, garment exports to South Korea and Japan spiked about 30% month-on-month in July as demand for fashion products recovered in both countries.
Vietnam's exports will recover and will likely help boost Vietnam's GDP growth from less than 5% in 2023 to 6.5% in 2024. This will also help boost Vietnam's profit growth. listed enterprises, increasing from 6% in 2023 to more than 20% in 2024.
Same category news