Realized FDI up 10.2% in seven months
THUY DUNG
Tuesday |

08/02/2022 15:46
---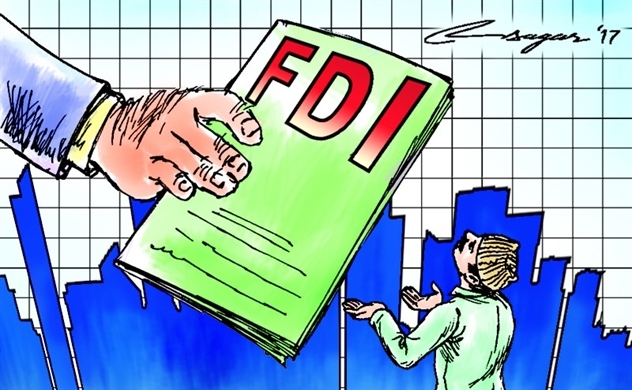 Photo: thehimalayantimes
The accumulated realized capital of foreign direct investment (FDI) projects during the January-July period was estimated at $11.57 billion, a year-on-year increase of 10.2 percent.
The Foreign Investment Agency, under the Ministry of Planning and Investment, announced that, as of July 20, foreign investors pledged to pour over $15.4 billion in Vietnam. 
Of the figure, the processing and manufacturing sector attracted $10 billion, or over 64.3 percent of the total sum in the reviewed time, becoming the most attractive area to FDI.
As many as 927 investment projects capitalized more than $5.72 billion were licensed while foreign investors committed to adding $7.24billion to 579 projects currently underway, respectively up 3.2 percent and 59.3 percent. 
Overseas investors also spent almost $2.58 billion in over 2,072 share purchase deals, an increase of 25.7 percent over the same period last year.
Among 88 nations and territories investing in Vietnam, Singapore ranked first with $4.3 billion, making up 27.7 percent. 
It was followed by the Republic of Korea and Denmark with $3.26 billion and US$1.32 billion, accounting for 21 percent and 8.55 percent, respectively. 
The southern industrial province of Binh Duong was the biggest FDI recipient with nearly $2.6 billion, followed by Ho Chi Minh City ($2.43 billion) and northern province of Bac Ninh ($1.68 billion). 
The export and import value of the FDI sector reached $160.36 billion and US$140.73 billion, up 16.5 percent and 14.7 percent, respectively. 
The sector reported a trade surplus of $19.64 billion in over the time span.
Source: VGP