HSBC says Vietnam remains an appealing destination for global enterprises
Ngo Luong
Tuesday |

09/12/2023 13:11
---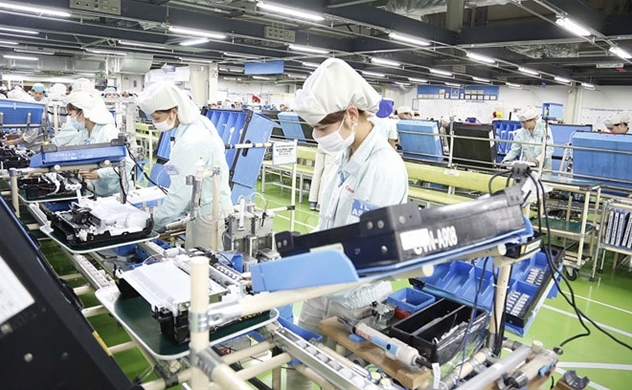 Photo by VNA.
The HSBC Global Connections survey found that Vietnam's economic resilience and competitive wages rank foremost in attracting international firms.
According to the study, 27 percent of respondents ranked Vietnam's trained labor as one of the most appealing features for foreign enterprises, highlighting the country's desirability as a manufacturing base. 
The same percentage is drawn to Vietnam's expanding consumer market, emphasizing the allure of rising consumer income. Meanwhile, 23% believe that the country's rising digital economy is a crucial selling factor for foreign corporate expansion. 
Many respondents stated they were drawn to the country because of its high smartphone penetration rate and thriving start-up scene. 
According to Tim Evans, CEO of HSBC Vietnam, the country, which has become known for its quick economic growth, also stands out as one of the best performers in the ASEAN area due to its excellent economic resilience during and after the COVID-19 pandemic. 
Tim Evans noted that the country's resiliency, together with its hardworking, competent workforce and attractive cost structures, continues to attract significant foreign direct investment (FDI). 
However, Vietnam is more than an "FDI in, export out" story. The country's rapidly increasing middle class is also a great potential for multinational corporations eager to get into the consumer story that will see Viet Nam become the world's tenth largest consumer market by 2030, he observed. 
"Despite some short-term headwinds, Vietnam remains an attractive destination for foreign businesses, and we continue to see very strong interest in the Viet Nam story from customers across the HSBC network," said the CEO of HSBC Viet Nam. According to new research commissioned by HSBC, international businesses from nine major economies are becoming more enthusiastic about their growth prospects in Southeast Asia. 
They anticipate 23.2 percent growth in the region's sales over the next 12 months, compared to 20.1 percent in the previous year's survey, and 4-5 times the pace of GDP development in Southeast Asia. This demonstrates foreign firms' growing trust in the region. 
HSBC commissioned an online survey of 3,509 enterprises from nine markets: mainland China, India, the United Kingdom, France, Germany, the United States, Australia, Hong Kong, and GCC countries (United Arab Emirates, Saudi Arabia, Bahrain, Qatar, Oman, and Kuwait). 
Respondents to the survey were key decision-makers from companies with an annual revenue of at least $5 million that are already doing business in Southeast Asia or are considering doing so. The survey was open from July 25 through August 2, 2023.
Same category news