Fruit and vegetable exports may bring Vietnam $4 billion this year
Bich Phuong
Tuesday |

05/16/2023 16:00
---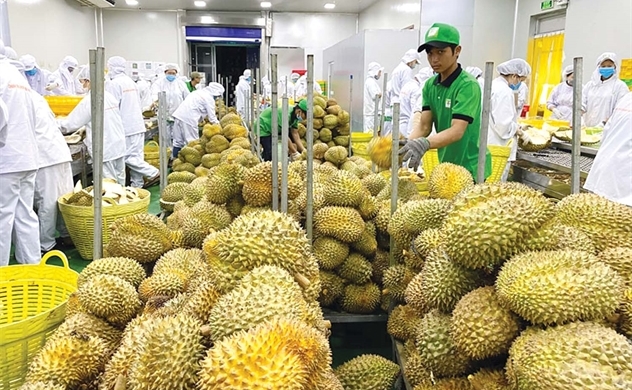 Fruit exports to China may reach $2.5 billion this year. Photo: baodautu.vn
Export of fruits and vegetables is likely to increase to $4 billion in 2023, according to the Vietnam Fruit and Vegetables Association.
The value of exports to China is expected to reach $2.5 billion.
According to statistics from the Ministry of Agriculture and Rural Development, Vietnam earned $410 million in April alone from exporting fruits and vegetables, a 75 percent increase over the same period last year, bringing the total export value in the first four months to $1.39 billion, a 19.4 percent increase.
Dragon fruits, durians, mangoes, and jackfruits were among the most important exports.
During January-April, China remained the largest importer of Vietnamese fruits and vegetables, accounting for 58.7 percent of total imports and a 27.4 percent increase year on year.
Fruits and vegetables were one of seven agricultural products with a total export value of more than $3 billion last year.
According to a recently approved MARD plan to develop key fruit tree cultivation until 2025 and 2030, the country will focus on developing 14 key fruit trees, including dragon fruit, mango, banana, litchi, longan, orange, grapefruit, pineapple, rambutan, durian, jackfruit, passion fruit, avocado, and custard apple.
The area under these fruit trees is expected to grow to 960,000 hectares by 2025 and one million hectares by 2030, yielding approximately 1 -12 million tons and 13-14 million tons of product, respectively.
The ministry plans to increase the total planting area of fruit trees nationwide to 1.2 million hectares by 2025 and 1.3 million hectares by 2030, with yields of 14 million tons and 16 million tons, respectively.
Source: VGP
Same category news
Bloomberg | Mai Ngoc Chau - Nguyen Kieu Giang