ESG becomes mainstream, opening significant opportunities for sustainable businesses
VNA
Friday |

11/10/2023 11:00
---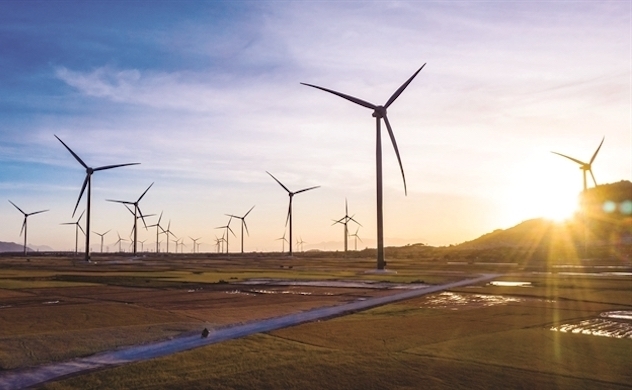 Energy transition plays an important role in ESG practice, contributing the largest part to reducing greenhouse gas emission and achieving the net zero target by 2050. Photo by VNS.
ESG has become mainstream in Vietnam in recent years, especially with a strong commitment on the transition to a carbon neutral economy by 2050, coupled with investors' growing demand for sustainable development.
It has become critical for enterprises to integrate environment, social and government (ESG) practices into their operation to outrank the competition, tap into new markets and attract investment amidst the global trend of sustainable development and responsible business.
ESG has become mainstream in Vietnam in recent years, driven by the Vietnamese Government's strong signal to promote ESG – related practices, especially with a strong commitment on the transition to a carbon neutral economy by 2050 at the 2021 United Nations Climate Change Conference (COP26), coupled with investors' growing demand for sustainable development.
Vietnam has actively improved the regulatory framework towards ESG, highlighted by the national green growth strategy for the 2021-30 period with a vision by 2050, national strategy on climate change for 2050, power development plan 8 (PDR8), decree on greenhouse gas emission and ozone layer production with initial roadmap for domestic carbon market, scheme for circular economy development and national environmental protection strategy to 2030 with a vision to 2050.
The ESG trend is gaining momentum among Vietnamese enterprises, according to the United Overseas Bank (UOB)'s Business Outlook Study 2023 which found that 94 per cent of surveyed companies are aware of the importance of sustainability.
More than half said that sustainability helps to improve their business reputation, attract investors and give them a competitive edge. Some 51 per cent of surveyed businesses had started implementing sustainable practices.
There are still barriers to sustainability implementation, including the increase in cost to end customers, negative impact on profits, lack of good options for sustainable financing, lack of property infrastructure for renewable energy and inadequate non-financial support, the report outlined.
According to the report "From Ambition to Impact" on Vietnam ESG readiness, jointly developed by PwC Vietnam and the Vietnam Institute of Directors, most businesses in Vietnam are just starting out on the ESG journey.
Although 80 per cent have made ESG commitments or plan to do so in the next 2-4 years, there were gaps between ambition and action.
PwC's report showed that only 66 per cent have some ESG programmes in place, 24 per cent possess clear governing structure, 5 per cent have active board involvement on ESG matters and 28 per cent have strong ESG risk metrics to monitor progress, while 71 per cent lack understanding of data required for reporting and 70 per cent have none or very limited ESG reporting.
Don Lam, a founding partner of VinaCapital, was quoted by Markettimes as saying that the economy might lose billions of dollars if enterprises did not switch to green development.
He pointed out that Vietnam's major export markets including the EU, Europe, Japan, the Republic of Korea and Singapore have stepped up the development of carbon finance tools, notably the EU's Carbon Border Adjustment Mechanism (CBAM) which could be translated into considerable tax rates on imports into the EU.
Capital sources and trade partners are also increasingly stricter in terms of requirements for ESG practices, pushing enterprises to take action to avoid losing the capacity to access capital and business opportunities, he said.
To date, more than 100 countries have announced or planned carbon neutrality roadmaps which would require hastened energy transition and decarbonisation efforts.
Small step, big difference
ESG remains new to Vietnamese enterprises and confusion is unavoidable.
"Greening the economy and promoting sustainable development is a journey of comprehensive changes in thinking and policies which will require a roadmap and large resources," said Vu Chi Cong, ESG director of VinaCapital.
He said that enterprises should consider ESG practices as opportunities rather than challenges.
ESG reporting would help enterprises not only gain competitiveness in attracting investment but also expand exports and create new business opportunities, he said, adding that ESG was becoming a minimum standard to participate in global value chain.
Every enterprise with good ESG practices would contribute to creating a wave in building a Vietnam market attractive to investors and international partners, he stressed.
For efficient ESG practices, Vietnamese enterprises needed to have board involvement, appropriate resources and knowledge, together with support from State agencies and non-governmental organisations, he said, adding that transparency and periodic audits were also important.
Nguyen Phuong Linh, Director of the Management and Sustainable Development Institute (MSD) – United Way Vietnam, said that ESG is a long-term solution to bring sustainable development for businesses. "Don't wait to become big to invest in ESG, but invest in ESG to become big," Linh said.
While countries around the world were developing mandatory regimes for ESG reporting, the trend would affect Vietnamese enterprises, both of small and large scales, putting them under pressure for decarbonisation and sustainable development, said Benjamin Soh, founder cum CEO of Singapore – based technology and data firm STACS.
ESG, in return, created significant opportunities for Vietnamese firms to gain a competitive edge in the race to attract investment and customers, he said, adding that sustainability also consolidated market confidence.
The ESG journey would require the coordination of not only the Government but also all economic sectors, in which the private sector would play the key role, he said.
He urged Vietnamese enterprises to make preparations for ESG reporting as the practice was becoming more regulated just like financial reports.
KPMG's survey of sustainability reporting pointed out that the lack of a mandatory reporting regime means that the quality of disclosure and analysis varies among companies.
"It is now time for all Vietnamese companies to publish sustainability reports that are fully aligned with international practice, to meet the needs of stakeholders both within Vietnam and around the world," he said.
Priority on energy transition
According to Nguyen Hoang Nam, ESG leader of PwC Vietnam, energy transition held an especially important position in ESG practice which would contribute the largest part to reducing greenhouse gas emission and achieving the net zero target by 2050.
Still, enterprises were facing barriers when investing in energy transition, including high costs for renewable energy infrastructure systems and energy saving technology, Nam pointed out. Small enterprises would encounter difficulty in ensuring financial resources for energy transition.
Energy transition, however, should be regarded as a competitive advantage in the market and contribute to creating long-term value, including sustainable brand, which would be appealing to investors amid rising global attention to sustainable development projects.
Green transition also became critical for enterprises to ensure compliance with policies and regulations and avoid costs related to carbon emissions.
"Step-by-step roadmap for energy transitions by private enterprises should be put into consideration," he urged.
Private firms, especially family businesses, should give priority to ESG reporting, he said. ESG reporting could be complex at first, but enterprises should start small by focusing on key ESG issues that are directly relevant to their industries and stakeholders. 
Source: VNS
Same category news