DBS lowers 2021 growth for Vietnam to 1.8%; hopeful for 2022 with raised GDP target of 8%
Mindy Tan
Thursday |

10/07/2021 09:48
---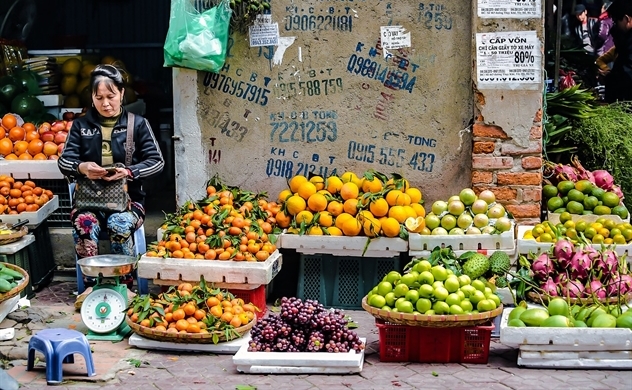 A fruit vendor seen in Vietnam before the pandemic came. Photo: Pixabay.com
THE worst is over for Vietnam, with domestic reopening on the cards as vaccinations rise and infection rates decline, said DBS economist Chua Han Teng in a report on Monday.
Meanwhile, foreign domestic investment (FDI) will remain a key growth engine, while manufacturing activity and exports will likely resume expansion, he said.
Vietnam's economy shrank significantly in Q3 (-6.2 per cent year on year), a reflection of harsh restrictions to curb Delta-driven transmissions, which drove a huge collapse in activity in services and manufacturing.
"In our view, the multi-decade decline in Q3 makes it difficult for growth to recapture last year's 2.9 per cent expansion, much less the government's official GDP (gross domestic product) target range of 6-6.5 per cent," said Mr Chua.
DBS Group Research lowered its 2021 growth forecast to 1.8 per cent (from 5.0 per cent previously); CPI (consumer price index) inflation average was also lowered to 2.1 per cent, from 3.3 per cent previously.
But 2022 is looking a lot brighter for Vietnam. DBS Group Research raised its 2022 GDP target to 8.0 per cent, versus 6.8 per cent previously.
Bottom of Form
"We expect retail and recreation mobility to improve further amid looser curbs and greater adaptation towards 'living with the virus'. Retail sales and 'accommodation and food services', which saw significant double-digit contractions in Q3 2021, are therefore likely to concomitantly rebound and recover into 2022," said Mr Chua.
A recovery in Vietnam's factory activity and exports is also on the cards with the authorities reopening manufacturing plants in industrial parks in Ho Chi Minh City, and plans by the authorities which include putting in place virus containment initiatives such as testing requirements.
Mr Chua noted that Vietnam's factory shutdowns have caused severe production disruptions for multinational companies. These companies are "somewhat hopeful" for a recovery in operations over the coming months, with the aim to ramp up manufacturing capacity into the year-end holiday season.
Nevertheless, recovery from factory closures would take time, and some production has been diverted temporarily to other alternative locations in order to meet higher seasonal demand, he noted.
Finally, digitalisation and tech adoption, a pandemic outperformer, is set to rise in the "new normal".
According to the Google, Temasek and Bain e-Conomy SEA 2020 report, Vietnam's digital economy has strong growth potential, with room to expand by 29 per cent on a compound annual growth rate basis per annum from 2020 to 2025 to record US$52 billion by 2025.
In 2020, it saw the strongest growth among Asean-6, growing by 16 per cent from 2019.
Notably, the government is looking to increase the role of digitalisation in the economy over the next five years; it approved the National Digital Transformation strategy in June last year, and is aiming to expand the digital economy to 25 per cent of GDP by 2025 and 30 per cent by 2030, from just 8.2 per cent currently.
That being said, Vietnam's active population is lagging in digital skills, noted Mr Chua.
"Vietnam therefore has much room for upskilling to equip its workforce with the necessary technological know-how, alongside increasing tertiary education," he said.
"Greater attainment of technical and digital skills, and a higher-skilled workforce over the coming years should not only help to increase productivity but also provide a positive feed-back loop to enable Vietnam to move up the manufacturing value chain and further attracting FDI."
Source: The Business Times