Chinese goods conquer Vietnamese market due to fast, low-cost delivery
Thanh Ha - Duc Thien - Cong Trung - Nhat Xuan
Friday |

11/17/2023 20:00
---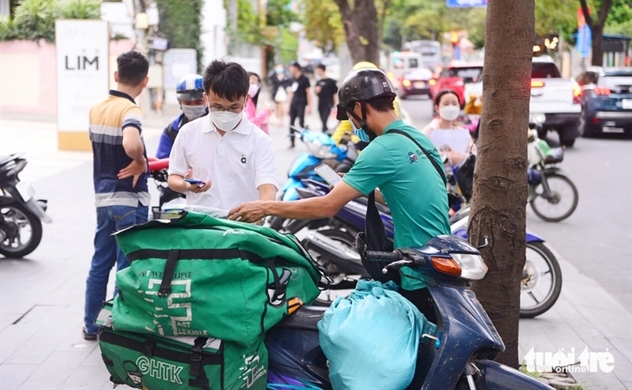 Vietnamese enterprises are facing an influx of Chinese goods with low delivery costs. Photo by Quang Dinh.
Vietnamese consumers have been increasingly keen on buying Chinese products through e-commerce platforms rather than local goods due to shorter delivery time and lower shipping costs.
Vu Thi Thu Huong, residing in District 5, Ho Chi Minh City, a loyal customer of e-commerce platforms such as Shopee and Lazada, said she had ordered products, ranging from cosmetics, phone accessories to housewares, from China for years.
"Low prices and shipping costs, as well as quick delivery are thus more economical than shopping locally, so I and many others have bought products from China," Huong noted.
She took an example that the delivery cost of a 2.5-liter electric kettle from China to Ho Chi Minh City was VND17,000 (US$0.7), while the cost would be VND20,000 if she bought the same product from a shop in Ho Chi Minh City and VND60,000 ($2.5) from Hanoi.
Similarly, Hoang Thanh Hang, living in Go Vap District, Ho Chi Minh City, shared that she purchased clothes only on Chinese e-commerce platforms through intermediaries in Vietnam.
However, well-known Chinese shops have flocked to Vietnamese e-commerce platforms over the past two to three years, so she directly orders products from these shops.
Chinese clothes are cheaper, trendier and more diverse and beautiful than those in Vietnam, Hang added.
Besides clothes, Hang began to buy Chinese household goods and cosmetics.
"Local shops sell a hair band at VND15,000 [$0.6], but international shops offer it at only VND10,000 [$0.4], while the delivery cost is lower and the quality is the same, so I often choose international shops," Hang said, adding that 60-70 percent of her orders are made to overseas shops, especially those in China.
Companies which specialize in transporting goods from China to Vietnam reported that the demand for Chinese goods is huge at the end of the year. Some of them have even sent employees to China for nearly a month to look for storage facilities and prepare goods for the upcoming Lunar New Year holiday, or Tet, in February 2024.
The owner of a shop selling Chinese products said goods were transported to warehouses in China and classified quickly, within 24 hours.
The goods were later carried to northern Vietnam before being delivered across the country.
"Customers in Hanoi will receive goods from China within three days after placing an order. Meanwhile, it takes four to seven days to deliver goods between Hanoi and Ho Chi Minh City," the shop owner said.
Another business said China's logistics activities help optimize costs. In particular, goods are stored at warehouses near the border with Vietnam and goods will be transported to the Southeast Asian country in high volume, which helps reduce transport costs.
Pham Tan Dat, general director of Fado Vietnam JSC, which owns Vietnam's Fado.vn e-commerce platform, said the Chinese government's policies have played an important role in boosting its cross-border e-commerce development.
Since China faced difficulties in exporting goods to Europe and the U.S. due to the U.S.-China tension, the Chinese government has issued policies to support local enterprises in shipping products to Southeast Asian markets, including Vietnam.
The support in costs even helps Chinese enterprises offer free delivery services to Vietnam.
Chinese firms have developed warehouses near the border with Vietnam, so they can send goods to the neighbor within only eight hours, Dat informed.
In addition, goods of canceled orders are not returned to China but are stored in Vietnam. Enterprises later offer these products on e-commerce platforms at even lower prices during promotion programs. These products can be delivered to customers in the course of the day. This is another reason for the fast delivery of Chinese goods, Dat added.
Chinese enterprises have enough resources for large-scale production, reducing products' prices.
The northern neighbor always creates new trends, which helps its enterprises take initiative in production and export, the entrepreneur noted.
According to Vietnamese enterprises, local transport firms have improved their service quality and prices. However, delivery costs in Vietnam remain high due to infrastructure and technology-related reasons.
The competition in the Vietnamese express delivery market has become fierce with strong foreign rivals, such as J&T Express, Best Express, and Kerry Express. They have increased their market shares through franchising, indirect investment, and by offering free transport services.
Meanwhile, domestic firms, including Giao Hang Tiet Kiem, Nhat Tin Logistics, and Giao Hang Nhanh have advantages in technology and financial support from investors.
As they lack a nationwide network, they have to join forces with traditional transport companies to deliver inter-city orders and those to rural areas, thus sending the delivery costs up and reducing competitiveness.
Source: Tuoi Tre News
Same category news