Central bank to speed up foreign currency selling to stabilize exchange rate
Dai Le
Thursday |

06/23/2022 09:07
---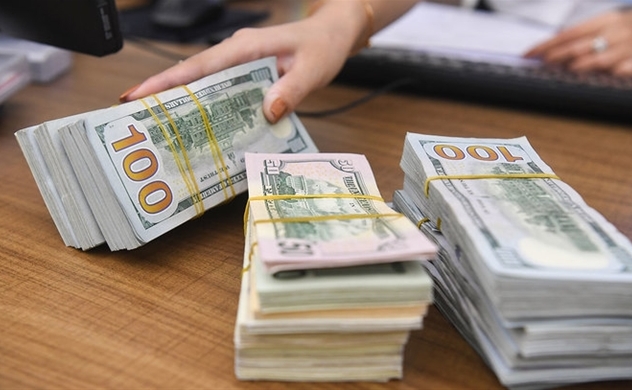 An employee counts Vietnamese banknotes at a bank in Hanoi. Photo by VnExpress/Giang Huy
The State Bank of Vietnam (SBV) will increase the frequency of selling foreign currency amid rising U.S, interest rates, the Government website reported.
The act is to create conditions for the credit union system to fully and promptly meet the needs of the legal foreign currency of organizations and individuals.
With a foreign exchange reserve of over $100 billion, the central bank will continue to sell its foreign currency to stabilize the market, Pham Chi Quang, deputy head of the bank's currency policy department, said.
Since the beginning of 2022, the international monetary market has been complicated with many unpredictable fluctuations. The tension between Russia and Ukraine has negatively affected the global economic-financial system, strongly affecting energy prices and basic goods, exacerbating the consequences of global supply chain disruptions, Quang said.
The central banks accelerated the tightening monetary policy raised interest rates to control inflation pressure from a record high globally.
Earlier, the US Federal Reserve raised the operating interest rate 3 times in just the first 6 months of 2022. The interest rate increase on June 15 (0.75 percentage points) is the largest in the past 28 years and is expected to continue tightening monetary policy in the upcoming time.
Quang said the Vietnamese dong had weakened against the U.S. dollar by around 2 percent so far this year, which shows the dong is stable.
"Despite strong fluctuations in the international market, the domestic foreign currency market still operates stably and has smooth market liquidity."
Therefore, the central bank continues to operate an appropriate exchange rate to achieve this goal, and at the same time, supports the implementation of the Socio-economic Development and Recovery Program.
Accordingly, SBV will coordinate and synchronously manage the dong liquidity to support the stability of the exchange rate, foreign currency market, and interest rates.
In recent years, the central bank has purchased a large amount of foreign currency to increase foreign exchange reserves.
Earlier, at a press conference, the central bank's leaders affirmed that the macro-economy is an important result in economic management in the first 6 months of the year.
However, in the last 6 months of the year, our economy faced many difficulties and challenges due to the impact of the post-COVID-19 epidemic and the international geopolitical situation, inflationary pressure, and rising raw material prices.
The USD exchange rate has increased by more than 9% compared to the end of 2021. Due to the strong increase of the USD, most of the basic currencies in the world and in the region also depreciated greatly The Chinese Yuan depreciated by 5.3%, the Korean Won by 4.7%, and the Japanese Yen even depreciated by nearly 16%.