Vietnam's 6 richest people added $3 billion to their fortunes in 2021
Khanh Minh
Thursday |

01/13/2022 13:46
---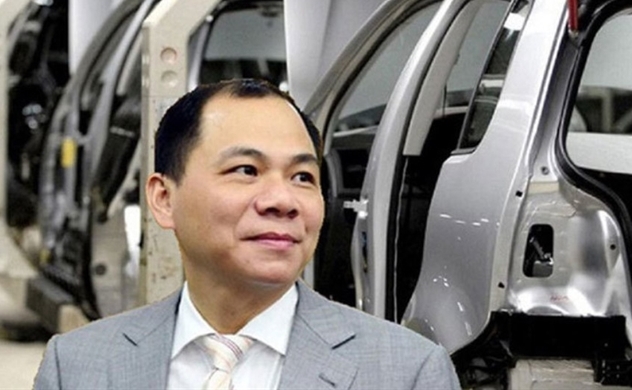 Data from Forbes' real-time ranking of billionaires shows that 6 Vietnamese billionaires continued to grow their wealth in 2021, led by the richest man Pham Nhat Vuong, who owned $7.5 billion fortune.
The total assets of six Vietnamese billionaires by December 23 reached nearly $20 billion, an increase of nearly $3 billion compared to figures announced by Forbes at the beginning of the year.
In early April, Forbes announced the list of world billionaires in 2021, with six in Vietnam. At that time, the total assets of Vietnamese billionaires were valued at $16.7 billion.
On December 23, Forbes data showed that the assets of these billionaires valued $19.5 billion, an increase of nearly $3 billion. This result comes from the sharp increase in share prices of related businesses during the year.
According to the latest update of Forbes, as of December 23, Pham Nhat Vuong - the richest man in Vietnam - owned a fortune of up to $7.5 billion.
Tran Dinh Long, Chairman Hoa Phat Group, ranked second, with $3.1 billion, followed by Ho Hung Anh of Techcombank with $2.6 billion, Nguyen Thi Phuong Thao of Vietjet with $2.5 billion, Nguyen Dang Quang of Masan with $2.2 billion, Tran Ba Duong of Thaco and his family members with $1.6 billion.
Ho Hung Anh and Nguyen Dang Quang, in terms of asset growth, take the lead among the six billionaires. Ho Hung Anh's assets, mainly related to Techcombank, has increased by more than 60% compared to the beginning of the year. The assets of Nguyen Dang Quang, mainly related to Masan, have risen by more than 80%.
CEO of Vietjet Air Nguyen Thi Phuong Thao saw her assets fall from $2.8 billion to $2.5 billion. The pandemic dealt a heavy blow to the aviation industry, including Thao's VietJet.
Tran Ba Duong and his family have been included in the Forbes list since 2018, currently owning $1.6 billion. Truong Hai Automobile Joint Stock Company (Thaco), owned by Duong's family with more than 70% of capital, is the second largest enterprise in the list of Top 500 largest private enterprises in Vietnam, although it has not been listed on the stock market.
Unlike the rest of the billionaires, Duong's assets cannot be determined by daily fluctuations on the stock market. As a result, his fortune changes only during each Forbes review period.
Source: VietnamNet