Vietnamese companies explore alternative protein source from crickets
Viet Nguyen
Tuesday |

05/30/2023 11:58
---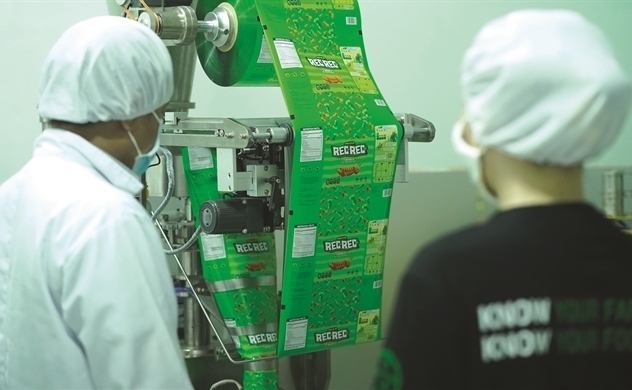 What is happening shows that cricket production and processing is gradually becoming an attractive industry. Photo: TL.
Vietnam has started to follow the global trend of looking for alternative and complementary protein sources by producing foods from insects.
Ten years ago, an enterprise in Vietnam saw the potential of insect-based food. Manufacturing food from insects became the primary focus of Bug Corporation, a pioneering business in this area. However, this protein-rich food was not well received by the market at the time. 
Its cricket snacks were not welcomed, despite Bug's brazen attempts to market them. Consumers were only accustomed to eating potato snacks and powdered snacks.  Cricket snacks were completely strange to them. After some struggle, Bug Corporation was forced to stop producing cricket snacks.
Recently, Cricket One in collaboration with FoodMap introduced a dried cricket snack product branded Rec Rec. This product is already present in restaurant chains, eateries, cafes, and entertainment venues and will enter grocery stores under the traditional channel.
Insects aren't truly a part of the Vietnamese diet yet, according to Ms. Bich Nguyen, co-founder and director of business development at Cricket One, while discussing the market potential for bug cuisine.
Developing this market in Vietnam is a challenge. It is similar to bringing pearl tea into Vietnam. It took more than 10 years of observing the market, noticing the clear trend and big companies started to penetrate and gradually formed a trend.
Creating a value chain for crickets
Cricket One did not stay still and wait, but actively exported. To meet export standards, Cricket One developed into a food technology company, operating a whole food value chain. The company also spends millions of dollars to invest in barns, technology systems, and cricket processing plants.
Cricket One invented a way to raise crickets with the shortest life cycle, only half of the farming process in Europe (only 30-45 days), and set its own standards for the cricket industry. Thanks to these efforts, Cricket One has achieved international certifications such as FSSC 22000 and is the only company outside of Europe licensed to sell in the whole of Europe.
However, Mr. Ho Dac Nguyen Nga, a lecturer at the University of San Francisco (USA), once emphasized: "If you want to sell crickets in Europe as a food, businesses must position it as a food-friendly food. environment".
Cricket One has done it this way when processing crickets, creating cricket protein powder, so that crickets become raw materials for the production of energy bars, noodles, burgers, and sausages... The company also chooses to sell B2B, so only After 6 years of establishment, the company has entered the Top 3 of the world's exporters, earning millions of USD in revenue each year. Cricket One's main markets are the US (60%), EU (30%), and Japan...
Cricket One's results surpass its rivals. Most companies stop at the domestic market. Although Sun Flower is also oriented to the food tech model and has produced salt-roasted dried crickets, crispy spicy dried crickets, cricket powder, and cricket protein bars... but the consumption market of Sunflowers is only domestic, with an average output of 3 tons/month, about 1/15 of Cricket One's output. Or Vinh Oanh (Tay Ninh), Thanh Dung (Long An) ... although they are more diverse, making both dried crickets and cricket powder, the cricket products of these cricket farms are still sold only in restaurants and eateries. and some Vietnamese supermarkets with an output of only about 5-7 tons/month in each unit.
The potential market
Despite being export-focused, Cricket One does not want to disregard the 100 million-person Vietnamese consumer market. Results from a Nielsen poll place Vietnam third globally in terms of the consumption of snacks. According to a 2017 poll by Decision Lab, young people alone spend nearly 13 trillion VND each month on this kind of cuisine.
"Rec Rec's goal is to gain a foothold in the snack market that already has names like Lay, Orion, Mondelez and capture a significant portion of 3% of total income per capita spent on snacks, according to the report. of Statista", Ms. Bich Nguyen affirmed.
Another difficulty is that the regulatory agencies have not paid enough attention to the insect food industry. Therefore, the road to bring Cricket One's cricket products to the international market is also very difficult. The first is to achieve certification to be accepted by the importing country. Next, Cricket One and Vietnam themselves must be recognized and approved for export to different regions and markets. The process and time to overcome these technical barriers can take more than 3 years and it takes more than 150,000 USD to invest to prove the product meets and exceeds the requirements set out.
With many of the above obstacles, although it is estimated that the market size of insect protein can reach $8 billion by 2030, according to Barclays Bank, the dominance of insect food will still account for a very small proportion compared to that of the target market. size of 324 billion USD of the beef market. Experts also emphasized that protein sources from insects can supplement, but are difficult to completely replace, protein sources from livestock and poultry.
The United Nations predicts that by 2050, the world's population will reach 10 billion people. To have enough food for that many people, production would have to increase by 70% from current levels. However, according to the Food and Agriculture Organization of the United Nations (FAO), about 80% of farmland is currently used for livestock, while they contribute only 18% of the total calories consumed by humans.
Same category news