Vietnam firm TMT debuts first mini electric vehicle under Chinese brand
Tri Duc
Friday |

05/26/2023 14:59
---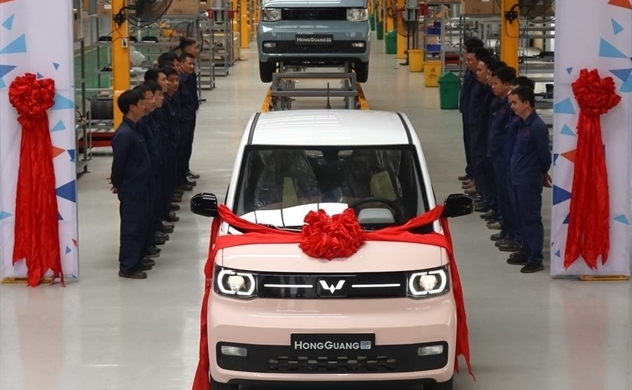 TMT Motors debuts its mini electric vehicle under Chinese brand Wuling HongGuang in Hung Yen province, northern Vietnam on May 24, 2023. Photo courtesy of TMT Motors.
Vietnam's TMT Motors debuted its first mini electric vehicle (EV) under Chinese brand Wuling HongGuang on Wednesday, amid the trend of foreign automakers investing in the Southeast Asian country.
The vehicle was manufactured at TMT Motors' factory in Hung Yen province, northern Vietnam. The factory has an annual capacity of 30,000 units in the first phase and 60,000 in the second phase.
In January, TMT Motors signed a deal with the GM-(Saic-Wuling) joint venture to exclusively manufacture, assemble, and distribute mini EVs in Vietnam. The foreign partner, a joint venture between U.S.-based General Motors (GM) and China's Saic Motor and Wuling Motors, provides components to the Vietnamese automaker.
Wuling HongGuang MiniEV was the best-selling mini electric vehicle in the world in 2020-2022, according to London-headquartered automotive market researcher Jato Dynamics. One of the main strengths of the mini EV is that it can be charged at a normal electric socket. In China, the home market, the vehicle has an affordable price of between $4,800 and $14,700.
Vietnam's vehicle production reached 439,600 in 2022, up 14.9% year-on-year, according to the General Statistics Office. The figure can increase significantly with the upcoming participation of foreign automakers, especially Chinese ones, and the growth of domestic firms.
Skoda
Czech automaker Skoda plans to import vehicles from Europe for sale in Vietnam this year and then produce complete knocked down (CKD) units in 2024. In particular, the automaker plans to import the sport utility vehicle (SUV) models Karoq and Kodiaq, sedan Octavia and Superb in 2023, and then the electric SUV Enyaq iV and Enyaq coupe iV from 2025. For its Vietnam production, Skoda targets to assemble the Kushaq SUV and the Slavia sedan with parts imported from its factory in Pune, India.
In Vietnam, Skoda has already cooperated with local automaker Thanh Cong Motor Vietnam to build a production line. The facility is set to be completed in the first half of 2024 and enter production in the second half. The factory in the northern province of Quang Ninh has a target of delivering 30,000 units annually and 40,000 from 2030.
BYD
BYD, dubbed China's Tesla, will expand its investment in Vietnam with plans to manufacture EVs in the country for both the domestic market and others in Southeast Asia, BYD chairman Wang Chuanfu said at a meeting with Vietnam's Deputy Prime Minister Tran Hong Ha on May 5.
Wang, also founder of BYD, did not disclose the investment size. He said the planned business expansion would include establishing a supply chain in Vietnam focusing on support industries for EV production to diversify its supply chain network.
Geleximco
In September 2022, Vietnamese conglomerate Geleximco group leased 50 hectares of industrial land in the northern province of Thai Binh to build an $800 million gasoline and EV manufacturing facility.
The group expects to start construction of the $300 million first phase in the first quarter of 2023 and put the facility into operation by Q3/2024. It will hire 1,200 people and plans an annual output of about 50,000 cars. The second phase, with investment capital of $500 million, is set to start operations by 2030, doubling the capacity to 100,000 cars per year and creating another 2,500-3,000 jobs.
Though Geleximco has yet to reveal the foreign partner in the cooperation, Chery, a Chinese brand, is one of the sides negotiating with the Vietnamese firm. 
VinFast
VinFast, the automobile arm of Vietnamese private conglomerate Vingroup, inaugurated its factory in the northern city of Hai Phong in 2019. With an initial capacity of 250,000 units a year in the first phase, the factory can expand to 950,000 units in the second phase from 2026.
VinFast's second batch of EVs to the U.S market arrived at the Port of Benicia in California on May 12, U.S. time. The Vietnamese carmaker shipped its first batch of EVs to Canada on May 18, Vietnam time.
The startup delivered 5,487 units to the Vietnamese market in the first four months, including 3,105 VF e34, 2,097 VF 8, 249 VF 9, and 36 VF 5 Plus.
Source: The Investor
Same category news