Vietjet's fourth-quarter revenue increases over four times
Tho Huynh
Friday |

02/03/2023 15:51
---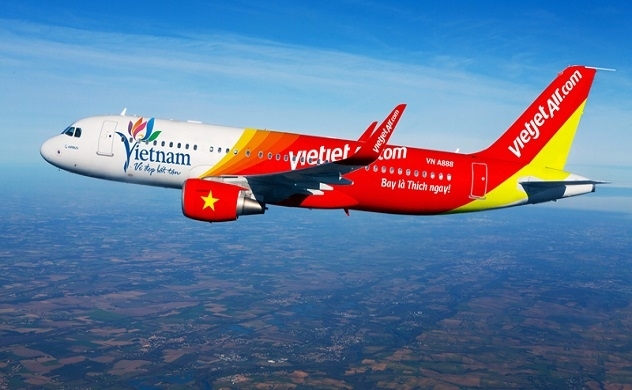 Photo: Internet
Vietjet Aviation Joint Stock Company (HoSE: VJC) reported net sales of VND11,807 billion ($503 million), which is 4.2 times more than the same period in 2021 and back closer to pre-pandemic levels.
Vietjet reported net revenue of VND11,807 billion ($503 million) in the fourth quarter of 2022, an increase of 323% over the fourth quarter of 2021. Vietjet experienced a loss after tax of VND 2,171 billion ($92 million) for the entire year. In the history of the business, this was the first year with a loss.
The firm had a gross loss of VND3,843 billion ($163 million) due to a substantial increase in the cost of goods sold to VND15,650 billion ($667 million). This is the biggest quarterly gross loss ever for Vietjet.
Both financial income and expenditures were much larger than they were during the same period in 2021, totaling VND2,064 billion ($88 million) and VND1,353 billion ($57 million), respectively. The fourth quarter of the prior year only had a loss of VND82 billion ($3.5 million), but the current quarter saw a net loss of VND3,746 billion ($160 million).
In the fourth quarter of 2022, Vietjet unexpectedly reported VND 1,625 billion ($69 million) in "other income," a significant increase from the VND 7.8 billion ($332 thousand) recorded the previous quarter.
Due to this exceptional result, Nguyen Thi Phuong Thao's airline only had a loss after taxes of VND 2,358 billion ($100 million), which is significantly less than the net loss from the aforementioned commercial operations. The fourth quarter result is still Vietjet's greatest ever after-tax deficit, though.
Vietjet reported a net profit of VND39,342 billion ($1.6 billion) for the whole 2022 fiscal year, a threefold increase over the prior year. To VND2,167 billion($92 million), the gross loss grew by 6%. After-tax loss of VND2,171 billion ($92.5 million), in contrast to a profit of VND122 billion ($5.2 million) in 2021.