Vietjet Air to sell shares equivalent to as much as 15% chartered capital
Xuan Thinh
Tuesday |

06/29/2021 13:45
---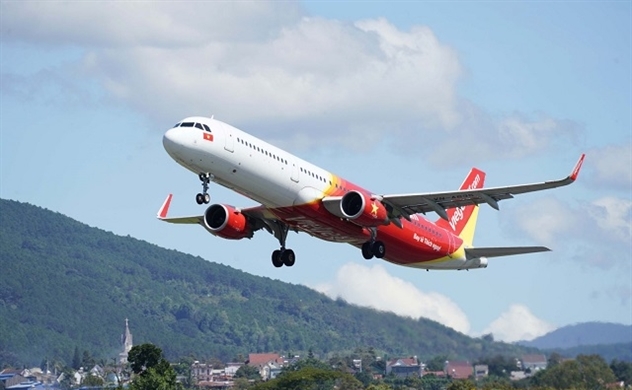 Photo: Vietjet Air
Budget carrier Vietjet Air plans to sell over 81 million shares equivalent to as much as 15 percent stake in a private placement, according to shareholders' meeting held on Tuesday.
Shares offered for sale will be restricted from being transferred for up to 3 years and the specific offering price will be decided by the Board of Directors according to stock market developments but not lower than the book value according to the most recent year's audited financial statements.
The Vietnamese low cost carrier also plans issue $300 million worth of international bonds on the Singapore Exchange in 2021. Bondholders can exercise the option to receive VJC shares. The bond term is expected to be 5 years, the issuance time is expected in 2021, 2022.
In the last 3 years, Vietjet has issued VND4,650 billion of domestic bonds and has not yet issued international bonds. All these bonds have not yet matured for payment of bond principal and interest.
Vietjet plans the share offering and bond issuance to increase asset investment capital, expanding aviation service business, financial investment, infrastructure development.
Vietjet lowers business target
The the air carrier has decided to lower business target in 2021 due to the COVID-19 pandemic. It is striving to avoid loss and consolidated revenue is expected to increase by 20% to VND21,900 billion. Its fleet will be expanded to 76 aircraft.
Before the outbreak of COVID-19 at the end of April this year, Vietjet set a target of transporting 23 million passengers on 124,000 flights, an increase of 53% and 58% respectively compared to 2020.
Air transport revenue and consolidated revenue this year were set to reach VND28,500 and VND32,000 billion, up 87% and 76% respectively. Profit after tax of the air transport segment was set to reach VND550 billion, significantly improving compared to a loss of VND1,453 billion in 2020.
With the recent pandemic outbreak, Vietjet lowered its transport target to 15 million passengers on 80,000 flights, an increase of 2% compared to the previous year. Air transport revenue of 15.00 billion, also increased about 2%. Consolidated revenue is VND21,900 billion, up 20%.
According to data from the Civil Aviation Authority of Vietnam, in the first five months of 2021, Vietjet operated a total of 33,177 flights, down 6.2% over the same period last year and accounting for 34.6% of the entire industry. Compared to the whole year plan, the company has achieved 41.5%.
In 2020, Vietjet Air recorded revenue of the parent company of VND 15,203 billion. Consolidated revenue and profit after tax reached VND18,220 billion and VND68 billion, respectively.
Hot news of the day
Latest news