Thien Long's new growth formula
Ngoc Thuy
Friday |

05/26/2023 13:34
---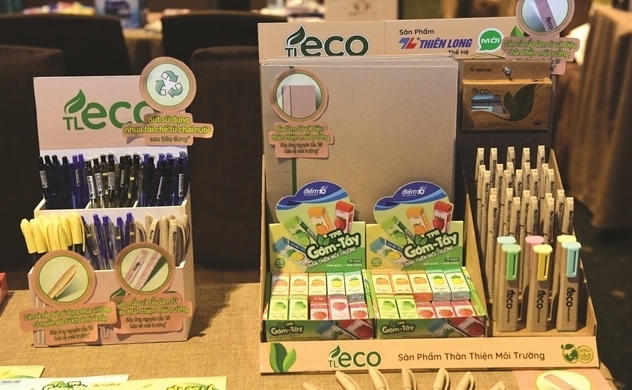 The company invests 25% of equity in PEGA to further expand the reading - writing - drawing ecosystem. Photo: T.L.
Building a complete ecosystem is the formula that helps Thien Long, Vietnam's largest stationery manufacturer, maintain a high growth rate in revenue and profit.
While many businesses have not recovered from the pandemic and unfavorable macroeconomic conditions, Thien Long, Vietnam's largest stationery manufacturer, achieved excellent business results in 2022, when revenue reached VND3,521 billion and after-tax profit reached VND401 billion, up 32% and 45%, respectively.
The figures have been the highest since 2005. The group reports profits of more than VND1 billion per day on average. This was maintained in the first quarter of 2023.
Besides the spectacular business growth, Thien Long has maintained its leading position in the stationery industry since 2016, accounting for about 60% of the market share.
According to Plimsoll, Thien Long has achieved the highest revenue growth in Southeast Asia and is ranked 13 out of 40 stationery companies with the highest revenue growth in the world.
Expansion strategy
This national brand is expanding its business and production. Thien Long has completed two major projects worth tens of millions of dollars, including a new factory in Long Thanh (Dong Nai) and a distribution center in Le Minh Xuan Industrial Park (HCMC).
The projects are expected to help improve productivity, optimize management capacity, and reduce operating costs. The company also invested 25% of its equity in PEGA to further expand the reading, writing, and drawing ecosystem.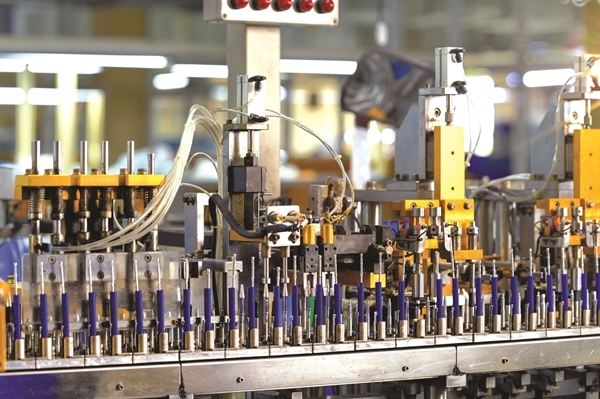 With each product, Thien Long adds features and aims to personalize. Photo: T.L.
At the end of 2022, Thien Long also established Clever World Company and opened Clever Box chain. The stores are important pieces in the development of Thien Long's multi-channel ecosystem.
In addition, Flexoffice Pte. Ltd. also received additional investment, from $814,402 to $1.31 million, to serve the research, exploration, and search for potential markets to promote the purchase and sale of goods to neighboring foreign markets such as Malaysia, the Philippines, and Indonesia.
The report of Sacombank Securities Company (SBS) assessed that Thien Long will have many opportunities in the future when Vietnam's population is large. This business has also expanded its sales channel from offline to online, in line with new consumer trends.
Currently, Thien Long has developed a product line with five diverse product groups: pens and utility products; art tools; school supplies; stationery. Since then, the company has expanded its target audience. 
The pioneer
Thien Long is known as the first ballpoint pen manufacturer in Vietnam. At that time (in 1981), ballpoint pens were mostly imported from Thailand in small quantities. Mr. Co Gia Tho, who at the time was a pen dealer, had a dream of having the "Made in Vietnam" ballpoint pen. Finally, the first ballpoint pens of Vietnam were made in a small workshop in District 6, Ho Chi Minh City.
By 1997, this brand had completely dominated the ballpoint pen market, sticking with generations of students thanks to its quality and low price.
After more than 40 years, Thien Long has expanded its product portfolio into a stationery ecosystem. In addition to ballpoint pens, this business also produces edible play dough, erasers, antibacterial covers, surgical markers, etc. Every year, Thien Long ships more than 1 billion products. Mr. Tho once talked about the goal of developing sales of VND10,000 billion by 2027 and emphasized: "We must respect and become strongmen in one field, then think about encroaching into another industry".
Pressure to change 
The miracle of growth in Thien Long is an important part of this enterprise's constant efforts to change. Mrs. Tran Phuong Nga, CEO of Thien Long, said: "Even when it is very good, Thien Long continues to change to reach a different goal. It is creating products that touch the hearts of customers."
Ms. Nga tells special stories about Thien Long's products that are much different from before—beautiful, creative, full of aesthetics, and with more functions. This is also a way for Thien Long to improve and revalue domestic stationery products. Therefore, Thien Long cooperates with PEGA to bring books to everyone and with major brands in the world to create a world of stationery, toys, and souvenirs with DIY and STEAM items, which are sold in Clever Box stores.
Thien Long has to innovate for many reasons, including reputation. "In the eyes of many people, Thien Long is praised as a whole childhood sky, with products that go into people's hearts and are too familiar.
But when people look at Thien Long according to a deeply imprinted memory, in this most prominent and very limited corner, people only know and remember Thien Long with basic pen products without noticing that the pen industry is not all in Thien Long's product range but only accounts for about 50% of the company's total product portfolio. Even in the field of writing pens, the traditional pens in Thien Long only account for a small part", Nga admitted, admitting that the mark was once a source of pride but also a barrier and challenge for Thien Long.
Thien Long's leader himself also changed when he set out his views on servant leadership and implemented an inverted organizational chart. In it, Mrs. Nga shared, "The CEO is in the lowest position". And instead of defining a business as a machine, Ms. Nga defines "a company as a network, where people are connected not only by the process but also by emotion".
But change can also put the company at risk, disrupting stability and achievements. Therefore, Nga said that although she appreciates change, Thien Long will go step by step, experiment, change from small to big, change each part, and then spread to other departments.
However, the most important thing is how to communicate and convey information. If you know how to communicate, employees will want to change themselves, not you. "Fortunately, there are people in Thien Long who love the company very much. Whenever it's good for the company, people are willing to do it," Mrs. Nga said.
CEO Tran Phuong Nga:
Thien Long does not want to stop at the leading position in the Vietnamese market
Reporter of Nhip Cau Dau Tu magazine met CEO Tran Phuong Nga at 7:30 a.m. when the rows of staff desks were empty. From the office, she can look out over the wide, green road of Sala Urban Area.
More than a year ago, Thien Long moved its headquarters from Tan Tao Industrial Park to the most modern Sofic building in Thu Thiem, marking a change in Thien Long. Along with the change of location in Thien Long, a series of other changes took place.
The CEO is the witness to Thien Long's day-to-day change and makes an effective contribution to that growth process. Nga was CFO (2012) and Deputy General Director of Finance and Accounting as well as assistant to the Chairman of the Board of Directors Mr. Gia Tho (2017) before becoming CEO of Thien Long.
It is because she has been with Thien Long for many years, has experienced many positions, is knowledgeable in many fields, and is eager to learn that Co Gia Tho has trusted and empowered her.
Finding the right innovation formula, moving forward and backward, depends a lot on the talent of the leader?
Using talent to manage can be subjective, leading to imposing or not taking advantage of the strengths of the entire team. Administrative experience may be limited. In my opinion, to make the right change, it is very important to have more empathy. That is, leaders need to know how to communicate, empathize, listen, share, and receive feedback. This is different from the way many financial people weigh opportunities and risks. But it is not enough to pay attention just to finance; it is also important to pay attention to the human factor. Because people create growth and master the game, and numbers are just data, reflecting the past or anticipating the future. Connecting the past and the future requires people.
Motivating people towards personalization requires deep understanding. She originally came from finance; how can she understand people? 
I read books and, at the same time, observe and learn from the people I interact with because everyone has something good to learn. I often spend time contemplating, thinking about what I've done, the people I've met, and what I can learn from them.
Is it natural, or is it only when you are in the position of CEO that you are like that? 
I've been like that since school. Maybe in part thanks to chess. I can be patient and focused for hours on end with a game of chess. Chess taught me a lot about the situation of the chessboard, the position of each piece, and the opponent's move. If I am about to go wrong, I can find a way to reorder, learn the best way to lose or find a way to win. from the lessons of previous lost chess games.
So you have a very good memory? 
I can read a book a day and remember key details, but I also learn to forget if I need to forget, for example, other people's mistakes (laughs). I love to learn and learn quickly, so through each company, for a while, I would like to change positions to have a more challenging experience. I also changed companies to try different fields. I also self-study for international certificates such as ACCA and CFA.
Throughout the story, does she not emphasize financial goals when this is what shareholders are very interested in? 
I believe when I can help people achieve a "happy learning life" and win the hearts of customers, the money will come by itself.
How would you like to see Thien Long innovate in the next 3–5 years? 
We do not want to stop at the leading position in Vietnam but also want to reach out to Asia, with the goal of exporting 25–30% from the current level of more than 20%.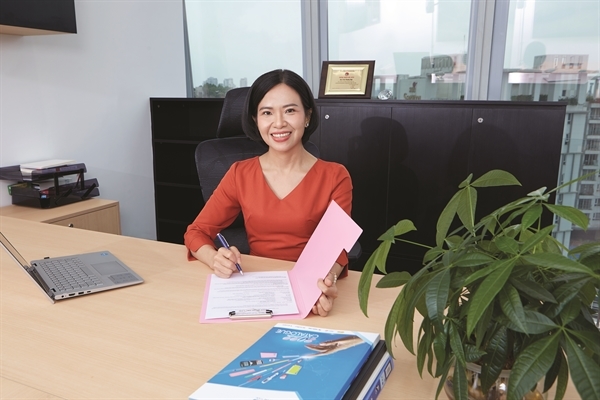 CEO Tran Phuong Nga
Same category news