The story of the man who brought Vietnamese cocoa to the world
Thanh Huong
Tuesday |

05/30/2023 13:33
---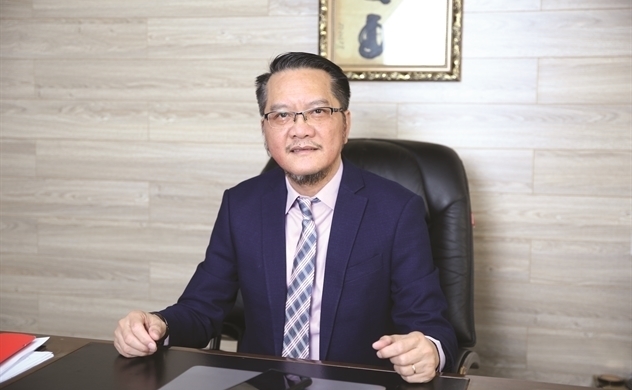 Mr. Tran Van Lieng wants to return to farming at a time when the world economy is in crisis. Photo by Quy Hoa.
Mr. Tran Van Lieng left his high-ranking finance job to promote Vietnamese cocoa.
When the global economy was in crisis, Tran Van Lieng wished to return to farming as Director of Colonial Mutual Group of Australia's Ho Chi Minh City branch.
Many were astonished by his choice.
The company he formed became one of the leading participants in the cocoa industry, accounting for more than 70% of the domestic market share in instant cocoa products (excluding Milo and Ovaltine's barley). Saudi Arabia, Russia, USA, Philippines, China, Korea, and others import his company's products.
Domestic brands on foreign shelves
Recently, foreign newspapers like New York Times, Bloomberg, and Nikkei praised the quality of some Vietnamese chocolate products and mentioned the story of chocolate brands Marou and Kimmy... but the reality is that the man who founded Vietnam Cocoa JSC is one of the first people to step into professional chocolate production and create a sustainable brand since 2007.
Starbucks, Lotte, Big C, Co.opmart, Satra, ... sell his products.
Starbucks' fate is a coincidence. While Vinacacao developed and expanded the market, Starbucks sought supplies and a trusted third party to promote it. However, negotiating for a Vietnamese company to sell to Starbucks and carry its own brand Vinacacao is challenging. The negotiation took both sides must negotiate.
"Starbucks went to Vinacacao's factory, filmed the production process, checked the quality, and tasted samples. With Muslim Halal approval, its goods must be safe for the earth. They have their own standards for quality and need to have things like freezing point, color, and melting point changed to suit their tastes. They need clear details on the package and to be able to track it", Lieng recalled.
Vinacacao had to constantly update product flavors to satisfy market tastes, especially young people, as well as product quality and packaging. the firm added two new bakery goods to Starbucks' lineup of six classic ones.
The special story is that normally, chocolate will not have its own brand on the package, but Starbucks has accepted to put Vinacacao's brand on chocolate bars sold at Starbucks stores.
After that, Vinacacao also cooperated with Lotte almost like it did with Starbucks. Currently, Vinacacao's chocolate bars are on Lotte's shelves. The two sides have cooperated since the beginning of 2017 and had the first order of 17,000 chocolate bars.
Vinacacao wants to sell Vietnamese cocoa throughout the world. In Korea, Vinacacao's brand name and the distribution company's logo. We're negotiating to develop a Vietnam agriculture center. Lieng remarked, "If successful, this will be a focal point for Vietnamese businesses that want to display and introduce goods in the Korean market." "In addition, we are still expanding exports to Arab countries, the Middle East," he said. In Shanghai and Beijing, we've sold our products."
Lieng hopes chocolate would perform like coffee. Because customers like Vietnamese coffee, foreign coffee cannot overtake it. If cocoa grows well and many farmers plant it, the market will produce enough to raise awareness. We'll be supported then. We'll sell Vietnamese cocoa's provenance, like Korea did with ginseng, instead of our brand.
Vinacacao takes a detour to promote Vietnamese goods worldwide. Starbucks, Lotte. Lotte exports 2% of its income to Korea after signing a partnership deal. Vinacacao seeks that. Vinacacao offers chocolate and cocoa milk to Lotte so Vietnamese goods may reach Korea, Indonesia, Thailand, and other areas where they are unavailable. Thailand does not produce cocoa, although Vietnam, Malaysia, and Indonesia do. Thailand is a target market. "Then, Vinacacao's products will go to Japan, China... through Lotte's distribution system," stated Mr. Lieng.
Enter the market niche
Mr. Lieng's past knowledge and cultivation helped introduce Vietnamese chocolate to the worldwide market. Lieng was 36 when he started farming again. Foreign commerce was a state monopoly in 1989-1991. At the time, agencies and businesses needed foreign language speakers to draft contracts and deal with foreign organizations like the Food and Agriculture Organization of the United Nations (FAO) and the UNDP. Quoc... Mr. Lieng was easily chosen due to his strong English and foreign language major. Mr. Lieng studied overseas commerce to better comprehend exporting rice to the government.
"I went to India, Iran, Iraq, and Saudi Arabia on intergovernmental committees to assist Vietnamese farmers better use rice while working for the Ministry of Agriculture and Rural Development. This is a job and a chance to work with international partners," said Lieng.
Mr. Lieng rapidly became the General Director of American Rice, a joint venture firm with the Ministry of Agriculture, after starting at the Ministry of Agriculture and Rural Development exporting rice. 5 years in food at 27.
After five years, American Rice has seen the rice export sector grow and more companies enter it. The State tightened quotas as rice prices rose. Because the joint venture was still foreign, American Rice had quota issues.
American Rice chose to leave Vietnam and invest elsewhere since its facility can produce 150,000 tons/year but only has a 30,000-ton limit. "At that time, I had to choose whether to follow them or stay in Vietnam, and I stayed because my daughter was only 9 months old," Lieng recounts.
He later worked for Prudential and Colonial Mutual Group in Ho Chi Minh City. "In 2007 I thought about returning to the agricultural industry because the world economy was in crisis," he stated.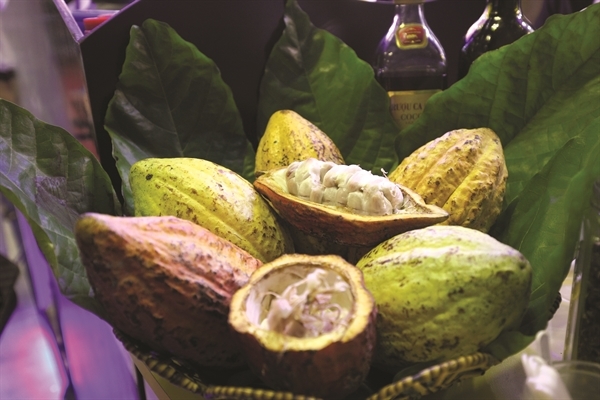 The success of bringing Vietnamese cocoa to the international market is largely attributed to Lieng's experience and cultivation from his previous work. Photo: TL.
When returning to agriculture, Vietnam's rice and coffee industries have flourished, but the cocoa business has virtually nothing. Mr. Lieng estimated that European and North American markets used 3-4 million tons of cocoa each year, but the soil and climate were unsuited for growing this tree.
Indonesia and Malaysia produce cocoa plants well. Young Malaysians don't like farms, and Indonesia's cocoa tree is genetically aging. That excellent weather made Vietnam a potential plant developer. He formed a corporation to collaborate with the government to show farmers that cocoa can be used to make high-value items like chocolate, cocoa powder, and instant cocoa drinks.
In 2008, the crisis demonstrated that service nations, like Vietnam, were badly hit. Lieng's perspective was confirmed. less due to farming. While agricultural resources are accessible, Vietnam's services are not competitive. Another influence is climate. Cocoa trees produced in tropical areas taste better than those in frigid Europe.
"As people get richer, people tend to favor the natural food of basic agriculture. Meanwhile, the agricultural processing industry has mutated products that are suspected of causing health effects. When learning about agriculture, I found that cocoa products help treat cardiovascular disease, and contribute to reducing stress, while the price is not too expensive, so the prospect is better. Fortunately, so far I have been able to do that," Lieng said.
Mr. Lieng faced several decisions over his 16 years of business. The 2008 global financial crisis, which began in the US and expanded to numerous nations, drove bank interest rates in Vietnam to 17% or 21% when the firm was founded. Vietnamese banks had substantially higher interest rates than Korea, Malaysia, Singapore, Philippines, and others (the highest was 8%/year).
"We went through a dark period from 2008-2013, with many businesses struggling, even going bankrupt. To overcome, we had to meet with shareholders to increase capital, take savings and personal assets to pour into the business, and share capital with each other. Overcoming the shock of financial policy is the biggest challenge that thousands of businesses have to experience," said the head of Vinacacao.
Vinacacao had two major challenges at 1-2 years old. Cocoa is a new sector, hence pricing and interest rates are not supported. Second, the fragile global economy lowers market buying power. 
Currently, in addition to domestic consumption, Vinacacao's products are exported to many markets around the world and aimed at the middle class such as UAE, Middle East, Russia, Korea... with a wide range of products from cocoa powder, cocoa milk, chocolate… Vinacacao is prioritizing Asian markets because those are emerging markets, while the European market is almost saturated. In order to enter a large market like Europe, Vinacacao must promote products into niches, products with different flavors to diversify products for foreign consumers.
According to Lieng, the export market will quickly bring in more revenue and profit, in return, the domestic market needs to develop simultaneously such as marketing strategy, sales system... "With exports, In each market, we set up distribution centers to keep the brand," he said.
Before the outbreak, Vinacacao exported 40% of production and consumed 60% domestically. After the epidemic, exports dropped to 30% and domestic consumption slowed. Vinacacao is using this opportunity to promote new product research and provide market-appropriate product lines. 
Same category news