ThaiBev to raise $2 bln from Singapore IPO of beer business
Xuan Thinh
Friday |

02/05/2021 12:12
---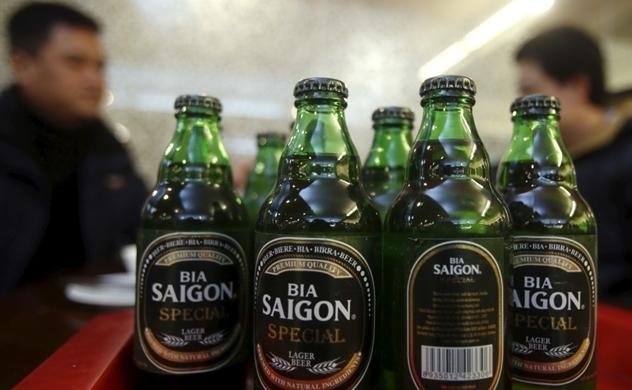 Thaibev plans to sell up to 20 percent of the total number of issued ordinary shares of BeerCo Ltd. Photo: nhdautu.vn
Thai Beverage, parent company of Vietnam's largest brewer Sabeco, plans to list its brewery unit on the Singapore stock exchange, making the the biggest IPO in the city in a decade.
International Beverage Holdings Limited, the maker of Chang beer, has announced to sell up to 20 percent of the total number of issued ordinary shares of BeerCo Ltd.
The IPO could raise around $2 billion, Bloomberg cited information from people familiar with the transaction who asked not to be identified as they are not authorized to speak publicly. A representative for the company declined to comment on the size of the float.
ThaiBev, which owns 53.59 percent stake in Vietnam's largest brewer Sabeco, is best known for producing Chang, a lager whose green bottles are adorned with an image of two elephants.
The announcement to list the brewery unit will be a "massive" boost for Singapore-listed ThaiBev's shares, Nirgunan Tiruchelvam, head of consumer sector equity research at Tellimer, told Bloomberg.
Because ThaiBev is the second-largest beer producer in Thailand and the largest in Vietnam, the beer unit's assets are "exemplary", he added.
ThaiBev's IPO of its brewery unit could be the Singapore bourse's biggest since Hutchison Port Holdings Trust raised $5.5 billion in 2011. It would also buoy first-time share sales in the Southeast Asian country.
IPO volumes plunged to $915 million last year, the lowest since 2015, according to data compiled by Bloomberg. There have yet to be any IPOs in the Southeast Asian nation this year.
ThaiBev had initially planned to spin off its brewery unit last year, but the plan was put on hold after the coronavirus pandemic hit its business, with bars and restaurants closing and alcohol sales banned, people familiar with the matter have said. The planned IPO will likely value the brewery unit at about $10 billion.
Thaibev also brews Archa beer and the German-inspired Federbrau brand. In 2017, ThaiBev's Vietnamese affiliate bought a controlling stake in Saigon Beer Alcohol Beverage Corp., the country's largest brewer, for about $4.8 billion.
The beer business to be listed had revenues of nearly $3.5 billion for the fiscal year ending September 30, with profits after taxes of about S$348 million.
Apart from the brewery business, ThaiBev runs distilleries that produce liquor, including SangSom rum, Meridian brandy and Drummer whiskey. It owns about 28% of Singapore's Fraser & Neave Ltd., which sells 100Plus soft drinks and Magnolia dairy products, data compiled by Bloomberg show.
Charoen is Thailand's richest person with a net worth of about $16.3 billion, according to the Bloomberg Billionaires Index.
BeerCo is a company incorporated in Singapore as an investment holding company. An internal restructuring exercise within the ThaiBev Group was undertaken and completed in 2020 to substantially streamline and consolidate the ThaiBev Group's beer business and operations under BeerCo, except for the sale of Thai beer products outside Thailand. 
The BeerCo Group's business includes the production, distribution and sales of beer, including "Chang", "Archa" and "Federbräu", in Thailand, and through our interest in Saigon Beer-Alcohol-Beverage Corporation, the production, distribution and sales of beer, including "Bia Saigon and "333", in Vietnam.
► Vietnam ministry rejects rumor of repurchasing Sabeco shares from ThaiBev
► ThaiBev considering a Singapore IPO of $10 billion brewery business: Bloomberg
Source: Bloomberg
Same category news
Hot news of the day
Latest news