Thai industrial developer Amata earns $34 mln profit in Vietnam last year
Tri Duc
Thursday |

03/09/2023 15:30
---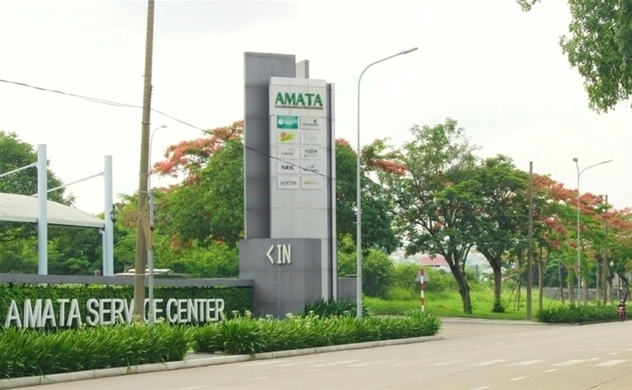 The entrance of Amata Bien Hoa Industrial Park in Dong Nai province, southern Vietnam. Photo courtesy of Amata Vietnam.
Thailand's biggest industrial developer earned an after-tax profit of 1.17 billion baht ($33.88 million) in 2022, up 57.09% year-on-year.
Amata VN Public Company Limited, under Thailand's biggest industrial developer Amata, earned an after-tax profit of 1.17 billion baht ($33.88 million) in 2022, up 57.09% year-on-year, according to the firm's latest financial statement.
Last year, the firm recorded a revenue of 2.68 billion baht ($77.63 million), up 22.41% year-on-year. Of this, sales of investment properties accounted for the biggest portion of 1.33 billion baht ($38.54 million), or 49.68% of the total; followed by utility services with 994.49 million baht ($28.78 million), or 37.1%; and real estate sales with 203.82 million baht ($5.9 million), or 7.6%.
Amata VN attributed the high revenue from investment properties to the sales of 24 ready built factories. Meanwhile, revenue from utility services rose nearly 350% thanks to increases in utilities consumption as a result of strong land sales in the northern region from 2021.
Amata is set to expand in fast-growing Vietnam as part of its modified plans for 2023. Amata VN, founded in 1994 as the first foreign industrial developer in the Southeast Asian country, is building its fourth industrial park in Vietnam to expand its total industrial land to 2,347 hectares.
The 714-hectare Amata Song Khoai IP in the northern province of Quang Ninh will cost about $150 million to build. It is scheduled to start operations in 2026.
Japan's Tenma Corporation and Castem Co., Ltd. plan to invest $150 million and $14 million, respectively, in building factories in the industrial park.
Tenma aims to invest in constructing an 18-hectare plastic molding plant, while Castem plans to establish a two-hectare metal casting factory.
Yaskawa Electric Corporation, specializing in motion control, robotics, system engineering, seeks to invest $100 million in building a 12-hectare factory there.
Source: The Investor