Steelmaker Hoa Sen targets $1.52 billion in fiscal year revenue
Huong Dung
Monday |

03/13/2023 07:00
---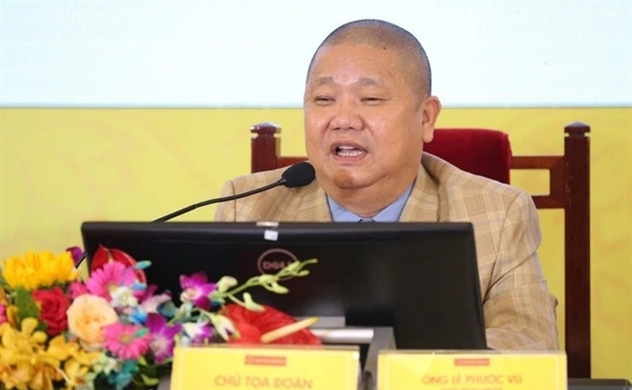 Hoa Sen Group chairman Le Phuoc Vu speaks at the company's annual general meeting of shareholders on March 10, 2023. Photo courtesy of CafeF.
Hoa Sen Group, one of the leading steelmakers in Vietnam, has set a target of VND34-36 trillion ($1.44-1.52 billion) in revenue in the 2022-2023 fiscal year.
At the group's annual general shareholders' meeting on Friday, Hoa Sen also said it aims to sell 1.5-1.6 million tonnes of steel of all kinds for after-tax profit of VND100-300 billion ($4.22-12.67 million) during the fiscal year, which started on October 1, 2022.
Hoa Sen chairman Le Phuoc Vu reported that in the 2021-2022 fiscal year, the firm sold over 1.8 million tonnes of steel products, earning VND49.7 trillion ($2.1 billion) in revenue and VND252 billion ($10.64 million) in after-tax profit, fulfilling 91%, 107% and 17% of its targets, respectively.
In the first four months of the 2022-2023 fiscal year, Hoa Sen suffered a total loss of VND800 billion ($33.79 million). However, the good news is that in February this year, the company reached a net profit of VND50 billion ($2.11 million), and the figure could reach about VND100 billion this month," Vu said.
"Avoiding a loss will be a success for Hoa Sen this fiscal year," he noted.
During the meeting, the chairman affirmed that the worst time for the steel industry in general and Hoa Sen in particular has passed as the company no longer has high-priced inventories.
"Therefore, Hoa Sen will post good profits in the coming months to cover its losses in the first four months of this fiscal year," Vu said.
Currently, the group owns 112 Hoa Sen Home stores which sell building materials and interior decoration items, with average monthly sales of VND3 billion ($126,700) each for small stores and VND7-10 billion ($422,400) for larger ones. Of the total, 100 have made a profit.
Hoa Sen will continue to expand and strengthen business efficiency, and prepare resources and conditions to establish the Hoa Sen Furniture-Building Materials Distribution JSC (Hoa Sen Home JSC).
In the plastic segment, Hoa Sen now ranks third in terms of market share, after Binh Minh Plastics and Tien Phong Plastics. In 2023, the company is expected to earn a profit of VND100 billion ($4.22 million) from this area.
At the meeting, Vu also revealed some of his future personal intentions. He will resign from the position of Hoa Sen chairman to become a monk in 2026 and transfer all his shares to a non-profit fund named Dai Tung Lam Hoa Sen.
Vu is now the largest shareholder in Hoa Sen, holding nearly 102 million shares worth VND1.6 trillion ($67.58 million), equivalent to 17.02% of the group's total capital.
Source: The Investor