Mobile World's five-month net profit rises 26% despite pandemic
Xuan Thinh
Monday |

06/28/2021 11:59
---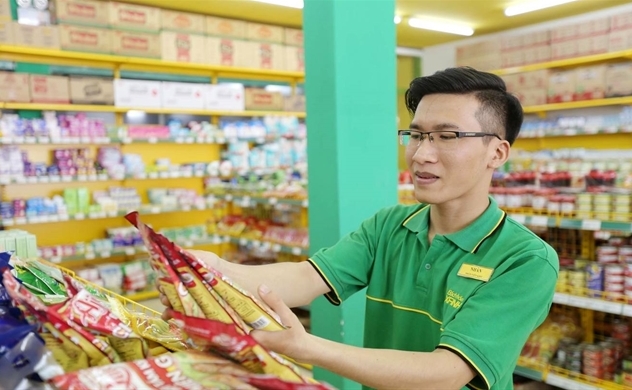 An employee of Bach Hoa Xanh check items in an outlet. Photo courtesy of Bach Hoa Xanh.
Mobile World Group (HoSE: MWG) reported Jan.-May net profit after tax at VND2,172 billion ($92 million) on VND51,830 billion ($2.24 billion) revenue, up 26% and 9% respectively.
With this result, the major retailer of smartphones and electronics has fulfilled 41% of revenue and 46% of net profit target for 2021, according to company statement.
In May alone, the company's after-tax profit jumped 26% year-on year to VND481 billion ($20.8 million) while net revenue reached more than VND11,380 billion ($491.8 million), an increase by 10%.
This result was the company's outstanding effort in the circumstance that Vietnam has been facing with the most serious COVID-19 outbreak so far. By the end of May, more than 630 stores located in lock down or social distancing areas were requested to close or restrict number of customers in the stores.
In the five-month period, online revenue contributed VND4,024 billion ($173.9 million) to the company's overall revenue. Online revenue in May surged by 77% from a month earlier thanks to higher demand of online shopping during the pandemic.
Sale revenue of phones recorded double-digit growth mainly thanks to contribution of iPhone sales while turnover of laptops, white goods and small appliances were similar to that level in the same period last year. Electronics sales still grew negatively as big sport events will start in June 2021.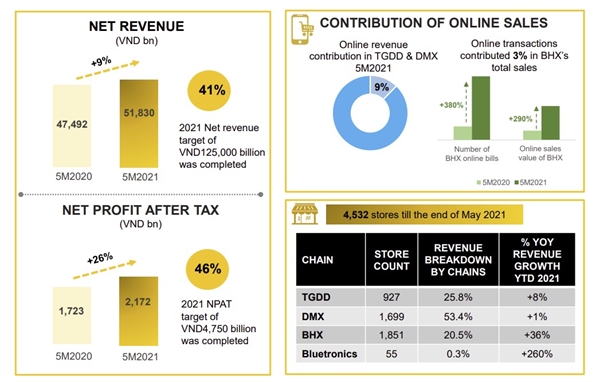 Source: MWG
Revenue of grocery chain Bach Hoa Xanh surpassed the milestone of VND2,500 billion ($108 million) for the first time in May 2021, jumped 56% year-on year. Average sales per store in May was above VND1.35 billion ($58,000), mainly due to higher customers' stockpiling demand of essential goods before the social distancing period.
As of end-May, Bach Hoa Xanh grocery chain had 1,851 stores, with 48 new stores within a month. Bach Hoa Xanh online channel continued to robust in both number of bills and revenue contribution. In cumulative five months, the number of transactions was 4.8 times and the sales value was 3.9 times compared to that level in the same period last year.
As of end-May, An Khang pharmacy chain surpassed the milestone of 100 stores operating in 20 cities and provinces. The pharmacy chain's turnover in the reported period was 3 times compared to that level in the same period last year.  
Hot news of the day
Latest news