Masan's retail arm expects 2023 revenue at VND36 – 40.5 trillion, up 23- 38%
Khanh Minh
Tuesday |

01/31/2023 13:33
---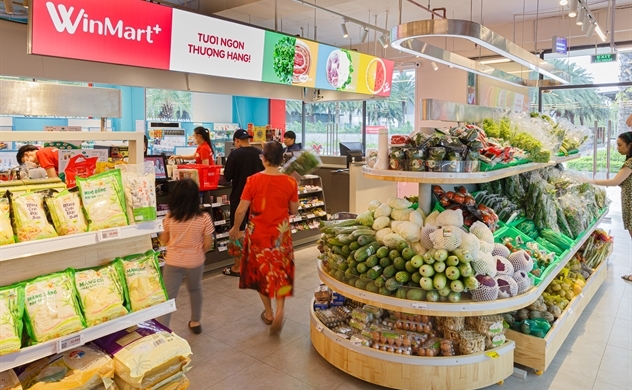 Photo: Masan
WinCommerce, a retail arm of Masan Group, targets to deliver net revenue within the range of VND36,000 billion and VND40,500 billion in 2023, up 23% to 38% year over year.
Key drivers of this growth are continued successful new store openings and store level revenue uplift. The retailer aims to open 800 – 1,200 stores in 2023, while focusing on minimart / minimall models with multi-format ranging from WinMart+ urban, WIN, WinMart+ rural to consolidate urban and rural, the company said in a statement.
WinCommerce will focus on bringing value to consumers via its WIN membership and private label development, targeting to serve 4-6 million members with exclusive value-for-money offerings that drive more traffic to the store. It will continue to work with our its suppliers to invest in its consumer offerings to ensure a competitive offering. These initiatives are expected to drive 5-10% LFL store revenue growth.
The CrownX, Masan's integrated consumer-retail platform that consolidates WCM and MCH, expects to deliver net revenue within the range of VND65,000 billion to VND 72,300 billion, up 16% to 29% compared to 2022.
In 2022, it recorded slight top-line decline in a challenging macro environment and weakened consumer sentiment, delivering revenue of VND56,221 billion, down 3.1% year-over-year and VND15,496 billion in 4Q2022, down 6.5% YoY.
WinCommerce opened 253 and 730 new WinMart+ stores in 4Q2022 and FY2022, respectively, totaling 3,268 WinMart+ locations. This momentum reflects WCM's scalable unit economics model, having achieved 6.5% store EBITDA margin network wide for WinMart+.
WCM has become the only large grocery retailer to open new stores this year, with our net new store openings roughly equivalent to market wide net store closures. This also indicates a challenging year in general for grocery retailers, yet we have stayed resilient. 
Masan's Net Profit After Tax declined by 58.3% to VND3,567 billion in 2022 on a reported basis due primarily to one-off financial income gains from deconsolidation of feed business in 4Q2021 and lowered MML and MHT in 2022 NPAT. NPAT Pre-MI posted VND4,754 billion, down 52.9% on a reported basis. The 52.9% decline is primarily due to the loss of feed business NPAT.
Masan's revenue to increase 31% in 2023
Masan's FY2023 financial forecasts expects a base case consolidated net revenue to be between VND90,000 billion and VND100,000 billion, which presents a growth of 18% and 31%, respectively, compared to VND76,189 billion in 2022.
TCX is still expected to be the key driver for revenue growth with more than 70% contribution to 2023 net revenue. Core NPAT Pre-MI (excluding one-off) is expected to be within the range of VND4,000 billion and VND5,000 billion, achieving a growth rate between 4% to 30% compared to VND3,852 billion in 2022.
In the downside scenario where macro conditions are tougher than expected and negative consumer sentiment persists, management projects top line to grow between 10% and 15%.