Masan strengthens partnership with De Heus, ensures integrated "3F" model via a long-term collaboration
Bich Phuong
Saturday |

11/06/2021 08:00
---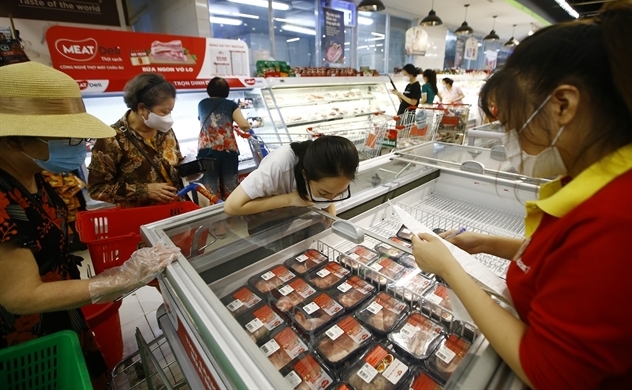 MEATDeli branded meat is available at VinMart supermarkets and VinMart+ stores. Photo: Masan
To realized "Point of Life" strategy, Masan Group and its subsidiaries have worked with strategic partners in order to bring more value to our consumers' daily lives.
Win-win partnership to enhance the productivity of Vietnam's animal protein value chain
On 5 November 2021, Masan Group Corporation announced the signing of strategic agreements with De Heus Vietnam (a subsidiary of the Dutch Royal De Heus Group), pursuant to which De Heus Vietnam will obtain control of the feed related business (the "Transaction") and invest in Vietnam's animal protein supply chain – De Heus will invest approximately USD600-700 million.
The Transaction is part of the implementation of the Memorandum of Understanding (MOU) signed in September 2021 to achieve the following results – Masan MEATLife ("MML") to focus on branded meat while De Heus Vietnam to prioritize providing animal nutrition, genetics, and husbandry solutions.
The Transaction and the ongoing implementation of the MOU are expected to ensure the food safety, productivity, and sustainability of the 3F (Feed-Farm-Food) integrated supply chain model. In particular, De Heus will supply up to 70% of the feed demand of MML's farms and at least 2.8 million live pigs to MML over the next 5 years.The Transaction helps to ensure stable pricing, high quality, and standardized livestock to provide consumers with delicious, safe, and reasonably priced meat products.        
This marks the final step of MML's transformation into a branded meat player and is in alignment with Masan's vision of becoming a pure-play integrated consumer ecosystem from products to services with The CrownX as the foundational platform. Post the closing of the transaction, MML owns 100% equity of the integrated pork meat business (Meat and Farm), and 51% equity of 3F VIET (Meat and Farm).
A view inside the MEATDeli Saigon meat processing complex. Photo: Masan
Mr. Danny Le, CEO of Masan Group, said: "With De Heus as our supply chain partner Masan will purely focus on developing the leading branded meat platform and to invest our entire human and financial resources to deliver safe, delicious, and reasonably priced meat products that adhere to international standards. This is also a testament to our commitment to evolve into an integrated, branded consumer ecosystem."
Viet Capital Securities acted as the lead financial advisor, Credit Suisse (Singapore) Limited and Deutsche Bank acted as financial advisors to Masan Group. The Transaction is subject to regulatory approvals.
Masan Group and its subsidiaries have worked with strategic partners in order to bring more value to our consumers' daily lives. Their current partners are all leading regional and international names such as Alibaba, Baring Private Equity Asia (investing in The CrownX - Masan's integrated offline-to-online consumer retail platform), SK Group (investing in VinCommerce - the company that operates VinMart/VinMart+).
From Feed business to sustainable investment in Meat industry
The animal feed segment was the starting point and core business of MML. At that time, the meat segment was not profitable yet because of heavily investing in technology and meat processing complexes, preparing for a pivotal step. However, MML always believed that meat business would become the mainstay of its revenue and profit.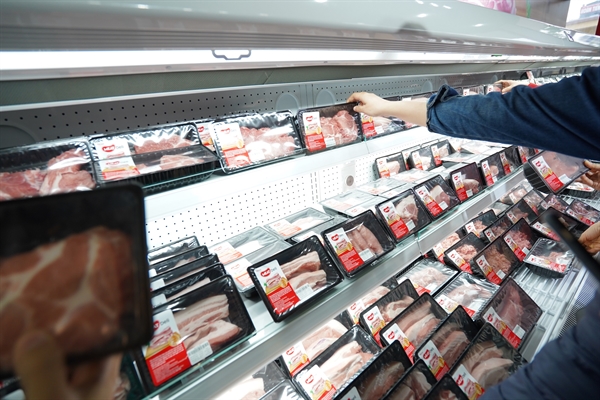 MEATDeli branded meat is available at VinMart supermarkets and VinMart+ stores. Photo: Masan
Although Vietnam's livestock production is constantly expanding over the years, but it has not fully met the increasing needs of nearly 100 million people. The whole industry is still facing many problems such as food safety and hygiene, lack of scalable production and breakthrough products. Diseases such as African swine fever (2019), avian influenza and others continue to cause difficulties, leading to low quality and unstable prices.
In addition to pork, poultry meat also accounts for the majority of total meat sales in Vietnam. In 2020, MML expands into the $5 billion poultry meat market in Vietnam by acquiring 51% stakes in 3F VIET. This is the leading integrated platform with branded poultry meat products. The investment in 3F VIET helped MML officially enter the poultry meat market.
Chilled chicken products with 3F VIET brand have been available in most supermarkets in HCMC and neighboring provinces, gradually expanded to the North as well as nationwide. Thanks to the launch of the MEATDeli brand and its investment in 3F VIET, MML is well positioned to disrupt the $15 billion meat market in Vietnam, unlocking its potential for sustainable growth as well as significantly higher profit margin. The meat brand aims to provide consumers with fresh, safe, traceable meat products at reasonable prices.
The meat industry becomes profitable and creates momentum for breakthrough
In Q3/2021, MEATDeli, MML's branded chilled meat business (excluding farms, 3F Viet and feed) marked an important milestone when it delivered its first ever positive net profit after tax. Net revenue increased by 51.2% while gross and EBITDA margin improved YoY by more than 20%.
Masan's meat products including MEATDeli and 3F Viet can take full advantage of modern distribution channels with nearly 2,500 VinMart/VinMart+ stores and supermarkets nationwide. MML's meat business has grown rapidly over the past 3 years and is on track to deliver USD200 million in revenue in FY2021, while achieving double-digit EBITDA margins.
By 2025, MML aims to achieve 10% nationwide market share of the USD15 billion animal protein market with 20%+ EBITDA margin via a diversified, innovative, fresh and processed meat portfolio.
Same category news