Masan share price to jump as VinCommerce starts to get profits, securities firms say
Van Dat
Thursday |

07/08/2021 00:01
---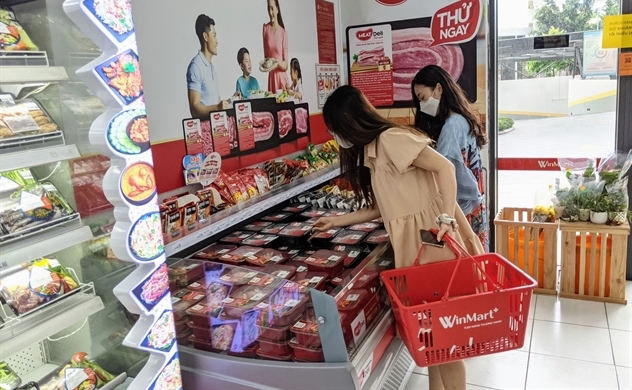 Photo: Masan Group
Leading securities firms have raised Masan share price target with a buy recommendation when its retail arm VinCommerce starts to collect profits.
Credit Suisse has raised Masan share price forecast to VND137,000 ($5.9) in the 2021-2022 period following the Vietnamese private conglomerate's agreement with Alibaba-Baring for a 5.5% stake sale in the CrownX. The transaction enables VinCommerce to leverage Alibaba's e-commerce platform Lazada to enter the online grocery retail space.
Mirae Asset Securities gave a buy recommendation with a target price of VND131,000 ($5.6), a bit lower than Credit Suisse's forecast. Besides the recent cooperation with SK Group and Alibaba, Mirae Asset Securities saw performance improvement in three of four Masan subsidiaries thanks to strong growth in sales. 
Vincommerce reported a reduction in a net loss to VND108 billion ($4.7) in the first quarter, from VND866 billion ($37.6 million) a year ago. The retailer's 2021 net loss is forecast to decline to VND416 billion ($18 million) from VND3,353 billion ($145.7 million) in 2020, the securities firm estimated.
Viet Capital Securities reiterated a buy rating and raised the target price to VND142,500 ($6) following its partnership with Phuc Long. The new partnerships with e-commerce marketplace Lazada and Phuc Long, one of Vietnam's leading tea & coffee chains, should provide a medium and long-term boost to Vincommerce's online business and store profitability, according to the securities firm's report.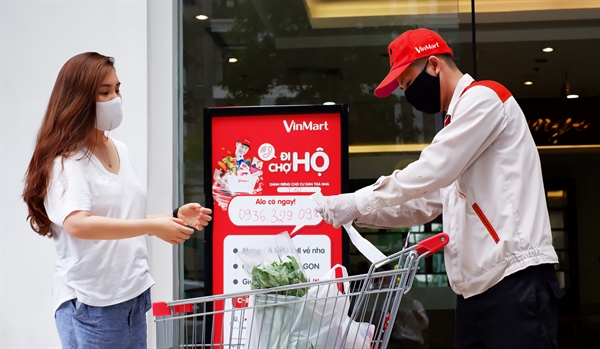 Photo: Masan Group
"Alibaba" or "Amazon" of Vietnam
The Vietnamese leading consumer goods giant's cooperation with foreign partners for accelerating its offline-to-online platform was seen as a strategic step that accelerates its expansion. The bold plans could help Masan to become the "Alibaba" or "Amazon" of Vietnam.
The private conglomerate of Vietnamese billionaire Nguyen Dang Quang has recently acquired shares of The CrownX, a member company of Masan, from minority shareholders. The transaction raised Masan's ownership ratio in The CrownX to 84.9% from 80.2%.
The move was made just two weeks after Masan completed the issuance of a new 5.5% stake in The CrownX to a group of investors, including Alibaba Group and Baring Private Equity Asia. It raised $400 million in a transaction where The CrownX was valued at $7.3 billion.
"I have faith that Masan will become the first Vietnamese company to be recognized as a 'unicorn' in consumer-retail business. It is the core mission of the team as well as each member of Masan," said Danny Le, CEO of Masan Group.
With the recent development, several securities companies and banks have consistently raised MSN's target price above market value, reflecting the confidence of these financial institutions in Masan's bright outlook. This year is considered a turning point for VinCommerce when the Vietnamese leading retailer starts to make a profit.
Previously, Masan announced a plan to raise an additional $300-400 million in investment capital in The CrownX in the second half of 2021. Masan has been known as a consumer retail business that has grown rapidly over the years and has also had remarkable success in attracting foreign capital.
Masan receives $3 billion foreign capital
After more than a decade, Masan raised nearly $3 billion from international capital markets and there is no sign to stop receiving foreign capital.
Recently, on May 24, The Sherpa, a member unit of the group, which holds a controlling stake in The CrownX, signed an agreement to spend $15 million for a 20% stake in Phuc Long Heritage Joint Stock Company.
Masan is accelerating the expansion of the Phuc Long kiosk model at the VinMart+ store chain. Each day, this model is expected to contribute an additional VND5 million in revenue for each store.
Phuc Long kiosk will share 20% of revenue with VinCommerce, equivalent to VND1 million a day. According to the plan, by the end of 2021, there will be 1,100 VinMart+ stores that integrate the Phuc Long kiosk model.
With the above revenue contribution, the EBITDA margin of the VinMart+ store integrated with Phuc Long kiosk is expected to increase by 4%. In a recent report of Yuanta Vietnam Securities, it gave a buy recommendation for MSN stock. Yuanta believes that in the coming time, Masan's growth drivers will be VinCommerce and Masan MEATLife.
According to Yuanta, the price chart of MSN has surpassed the resistance level of VND110,000 and the price chart shows signs of entering a period of strong volatility in a positive direction. Earlier, several other securities firms had positive assessments of blue-chips in the market including Masan.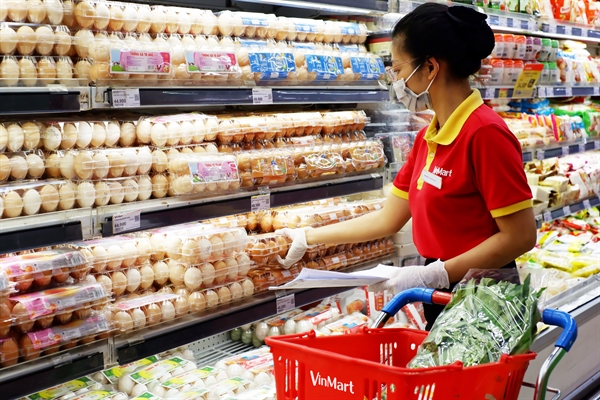 Photo: Masan Group
One of the reasons that caused MSN stock to accelerate is billionaire Nguyen Dang Quang's business has continuously recorded positive information and breakthroughs including receiving huge capital sources from the world's leading investors, M&A deals of leading domestic brands.
For VinCommerce, Masan has set a target to get profit in 2021 by reducing inefficient stores and restructuring operating costs. Masan wants to increase VinCommerce's total commercial profit margin target to 30% from the current level of more than 20% by negotiating with suppliers, sharing revenue from Phuc Long kiosks.
Branded meat producer Masan MEATLife is another growth driver of Masan. With the EBITDA margin flattening out at 10.7%, it shows that MML is starting to enjoy profits.  The 3F closed-loop model also allows MML to keep a stable profit margin when feed prices remain high.
The cooperation with major partners such as Alibaba helps Masan to promote online channel sales. The partnership with Alibaba is a critical step in VCM's digitalization strategy. With the VinMart and VinMart+ systems, the conglomerate aims to bring the number of selling points to 3,000 by the end of 2021.
► Alibaba, Baring Private Equity Asia invest $400 mln in Masan's retail arm
► Masan acquires 20% stake in coffee chain operator Phuc Long
Hot news of the day
Latest news