Masan share price forecast to rise almost 30% on projected stronger sales
Khanh Minh
Tuesday |

08/17/2021 21:29
---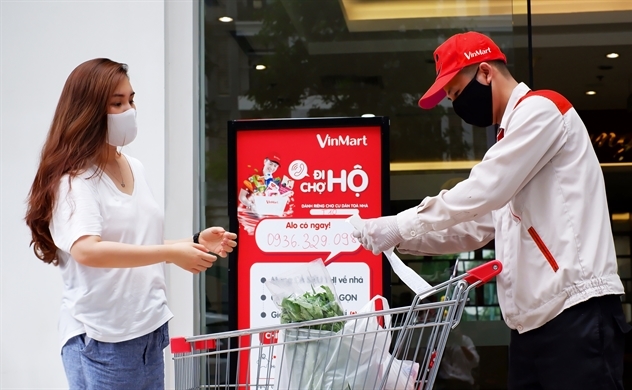 Masan sess solid growth in noodles and seasonings in July, given higher demand amid the ongoing COVID lockdown. Photo: Masan
Major securities firms have recommended a BUY for Masan while giving positive forecasts on the Vietnamese conglomerate 's business results.
Bao Viet Securities, Credit Suisse, Ho Chi Minh City Securities, and Viet Capital Securities have given a positive outlook on stock price of Masan as the corporation's business has witnessed a bight signal.  
Viet Capital Securities has targeted the firm's stock price to increase by 28.8% to VND172,000/share in its latest report on August 16. Masan share was traded at VND133,500 on August 16.
Last month, VN-Index lost 7%, but MSN was one of the stocks that kept the upward momentum with 13% increase. Since early 2021, the share price has increased by nearly 40%, outperforming the 15% growth of VN-Index.
Viet Capital had to raised its target price for Masan by 21% due to a 6% increase in its aggregate 2021F-2023F for Masan's profit, mainly attributed to stronger projected sales for VCM.
Masan is expected to remain strong ability to capture Vietnam's long-term consumption growth on the back of its wide-ranging, leading consumer businesses including FMCG, branded meat and grocery retailing.
The securities firm was optimistic on business of VinCommerce, a subsidiary of Masan, which operates VinMart and VinMart+ chains. The retail chain with 2,504 VinMart+ stores recorded profit in June.
Earlier, in the report issued on August 10, Credit Suisse expected the target price of MSN stock to raise to VND162,000.
According to Credit Suisse experts, Masan's main business segments are on a growth momentum, promising to reap positive results in the remaining months of the year, especially consumer goods and retail.
Management has seen solid growth in noodles and seasonings in July, given higher demand amid the ongoing COVID lockdown in major cities in Vietnam with the momentum likely to continue in the near term and support sales growth for F&B in third quarter.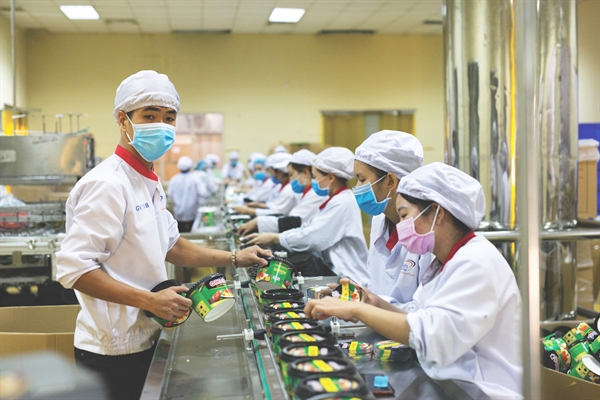 Photo: Masan
Third quarter sales of Masan Consumer is expected to increase by 45% compared to the same period in 2020. MSN expects retail  sales to accelerate by 15% in the quarter. Masan MEATLife's performance is on track, with robust recovery in feed sales and up-scaling of fresh meat, according to Credit Suisse analysts.
Ho Chi Minh City Securities revised up Masan target price by 15.4% to VND154,600 given higher 2021 - 2023 business forecasts. HSC analysts expect Masan's 2021, 2022, 2023 profit to grow by 28.6%, 16.7% and 17.3% respectively. It also expects that VCM will be profitable in 2023.
HSC has revised up Masan's 2021 profit by 28.6% to VND3,315 billion, a growth of 168.7% year-on-year. The outlook for second quarter of seems bright as Masan is a beneficiary of COVID-19 pandemic. Masan's 2022 profit is also revised up by 16.7% to VND5,869 billion.
Bao Viet Securities has also given Masan an outperform recommendation with a target price of VND160,000 on strong earnings growth in the first six months of 2021. Net income was reported at VND979 billion, up 736.8 percent.
Sharing view of other securities firms, Bao Viet have given bright prospect on Masan Consumer Holdings, VinCommerce, and Masan MeatLife.
"We believe MCH has benefit from its strategy focusing on premiumization, diversification and convenience as consumers while temporarily cutting spending, are paying more attention on health-safety issues thus looking for quality convenience products to consume at home," said Bao Viet Securities analysts.
Bao Viet believes the recent closure of wet markets have accelerated the conversion of fresh meat consumption towards the packaged and branded side. It has observed a surge in demand for MeatDeli products in various Vinmart+ stores.
"I am extremely grateful for the thousands of Masaners who are making sacrifices every day to ensure that each and every VinMart is open to serve our consumers and that each essential product we produce is readily available," said Chairman Nguyen Dang Quang.
Masan is committed to providing consumers their daily needs to the best of its abilities and beyond, Quang added.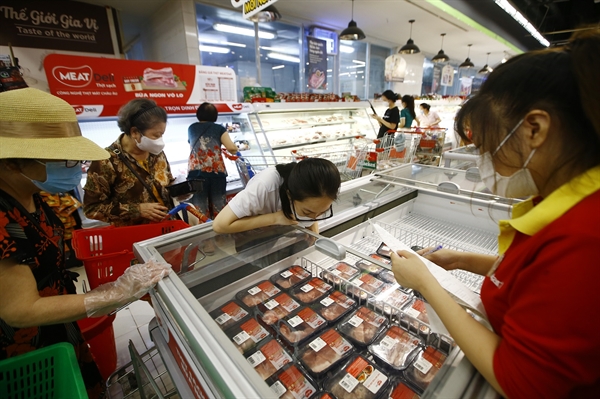 Photo: Masan
Masan reported consolidated net revenue at VND41,196 billion in the first six months of 2021, a 16.4% year-over-year growth from VND35,404 billion a year ago, primarily due to strong double-digit organic topline growth in branded consumer and meat businesses.
Net profit after tax post minority interest grew by 8.4x in the reported period to VND979 billion compared to VND117 billion, driven by significantly better bottom-line results across all business segments.
The CrownX, Masan's integrated consumer-retail platform that consolidates VinCommerce and Masan Consumer Holdings, delivered first half profit of VND2,846 billion, more than doubled compared to VND1,306 billion in 1H2020 as EBITDA margin expanded by 610 bps to 11.2%, Masan said in a statement.
Masan MEATLife's meat category has become a sizeable standalone business, contributing VND2,068 billion in revenue and VND163 billion in EBITDA.
Next milestone is to deliver positive net profits, which management believes will occur by yearend when it's meat processing plants are expected to reach about 25%-30% of capacity utilization in 4Q2021, compared to current capacity utilization rates of about 11%.
In third quarter of 2021, Masan expects to deliver 20% topline growth and increase profit margins by 2x compared to 3Q2020.
Thanks to the strong growth potential in all business segments, Masan Group expects third quarter's consolidated revenue could increase by 30% compared to the same period last year.